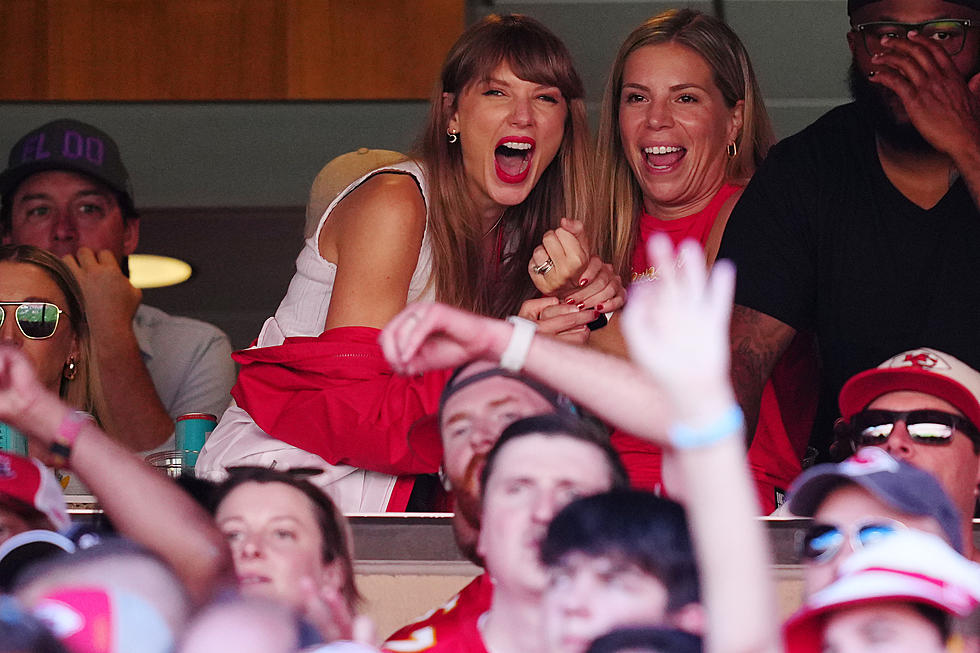 The Biggest Story In America Right Now!
Taylor Swift cheering on Travis in KC last Sunday
Getty Images
As I've said many times the Hometown View often reminds some of Seinfeld as it may simply be a couple of minutes about nothing.  However I feel a great responsibility to at times inform you of things that are important, explain why I feel the way I do about key issues in our community and country and of course have fun from time to time.  Today I feel a great burden to share my thoughts on what is clearly the subject most of us are paying attention to right now.  It impacts young and old, black and white, those on the left and those on the right…simply put everyone has stake in this game.
Mega-star Taylor Swift and football's Travis Kelce seems to make a nice couple, if indeed they are a couple.  They are both 33 years old and his 6'5 frame matches up well with her 5'10, even when she wears heels.  There is a big difference when it comes to money as his $30 million net worth pales in comparison to her $750 million but they can work through that. In a previous relationship Kelce reportedly made his girlfriend go 50/50 with him on all dates to prove she was not just after his money. I don't think that will be an issue with Swift.
There is a lot of speculation that she will be on hand Sunday night when Kelce and the Chiefs play the Jets at MetLife Stadium here in New Jersey.  She lives very close in Tribeca and I would imagine the Jets could find a suite for her and some friends.  Unless they reveal plans in advance all of America will be more interested in seeing her than Jets quarterback Zack Wilson.
Stay tuned.
9 Country Stars Who Dated + Married Pro Athletes
We're not going to say every relationship involving a country singer and a professional athlete is doomed, but the odds of true love lasting aren't great.
Here are nine country singer/athlete couples. Seven went to the altar, and of those seven, just three survive today. A high-profile divorce is a more common result of this kind of relationship, but for the sake of our romantic heart, we'll admit the sample size is very, very small.