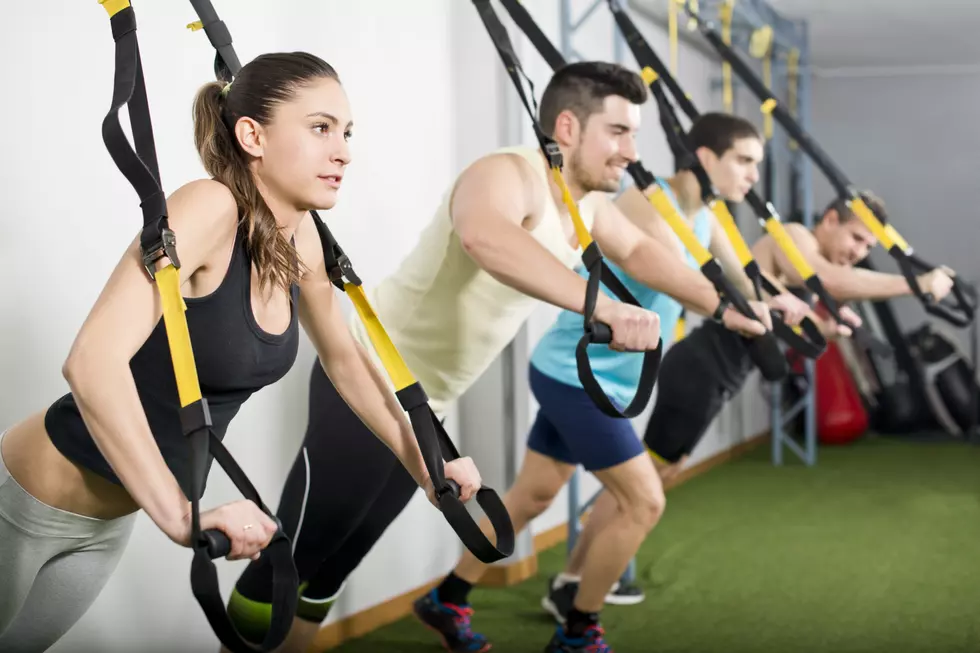 Keeping in shape and enjoying yourself at the Gym
MaxRiesgo,ThinkStock
The warmer weather is here, summer feels like it's all the sudden rapidly approaching which urges some of us to head to the gym and get our bodies ready.
But before heading back to the gym if you've been astray, going like you have been, or even coming in for the first time there are some things gym goers and owners advise you should know as you try and lose weight so you can gain muscle.
"It's a lifestyle dedication you have to whole-heartedly believe in and stay passionate to all day,everyday," said gym goer Frankie from Mount Holly. "While going to the gym is important, if your really trying to lose weight and change your lifestyle, eating correctly and not over-indulging is the key ingredient."
Organization may also be a key component in developing a healthy lifestyle but it's also about consistency not just on how much your eating, but what your eating and, what kind of workouts you have planned for the gym.
Tim DeLorenzo, who is the owner and operator of Crunch Fitness in Toms River, said once you walk into a gym you may find yourself on the same level as someone else inside.
"I'm always of the opinion that no matter how much of an expert you consider yourself, or other people consider you," said DeLorenzo. "There's always something you can learn from every person and from every situation."
He adds no matter how long you've been working out or going to the gym, you may learn something you didn't know from someone younger than you.
"We have our own habits and we do things a certain way because maybe we've gotten results in the past," said DeLorenzo. "And maybe now were missing one component of that and we don't even realize it and were not getting the same results anymore."
It's not necessarily about reinventing the wheel of your workout regime, just making it shine a bit brighter.
If your making your return to the gym after a New Years resolution it may be best to start slow or light and gradually increase what your doing but if you feel you failed last time, there's no need to worry.
"It's not immediately known how to implement a good program for yourself," said DeLorenzo. "It's a multi-faceted approach you need to take. If a couple of those components are not implemented into a person's schedule, that's when they start to fail."
Much like myself Frankie from Mount Holly, who also worked at a gym in college, goes to the gym about 5 days a week, and we seem to both agree it's about splitting up what your doing to avoid wearing yourself out.
"I workout out one body part a day while incorporating one leg workout," said Frankie from Mount Holly. "For example on Sunday's I'll go in and do chest and squats, so I'm giving certain muscles a rest while working the rest of my body."
As the weather starts to get warmer are you more inclined to workout in the gym or outside, more specifically when it pertains to running?
"I am not someone to run inside, so I really don't like using the treadmill and stuff (which is) why I do like running outside," said gym goer Michelle from Toms River. "But I love all of the machines and equipment."
She adds it makes things easier when the machines have pictured instructions that also show you what you are working out.
When it comes down to style or things that seem more appealing about going to the gym and on the flip side some things that make you want to look the other way, just remember there are rules in place and your not the only one who feels that way.
For gym goer Frankie, the main reward is about having respect for yourself and others.
"Everybody that's going there (the gym) has a mission to make themselves better," he said. "If you see somebody working out and they might be doing it wrong, personally I don't give advice unless people ask for it."
Adding on a personal level he 'can't stand' when the shoes on the other foot and somebody tells him he is doing the exercise wrong.
On the other hand does someone throwing the weights, grunting while lifting, or being unsanitary bother you?
"I do have a problem when people don't clean their machines," said gym goer Michelle of Toms River. "The point of cleaning your machines, is so easy with the wipes and stuff. I do it every time I finish the equipment for the next person but a lot of people don't do that and I think it's kind of gross, and I wish that they would."
Going to the gym can be a fun way to use some of the energy you have bottled up or even let out some stress from the work week.
We all have different reasons for going and certainly ones for staying, but staying true to healthy eating habits, a regularly scheduled workout routine and a positive attitude will bring you closer to your goal.
But remember just like many other things in life, patience is a key component in awaiting results because you won't go from one extreme to the other in just two weeks.