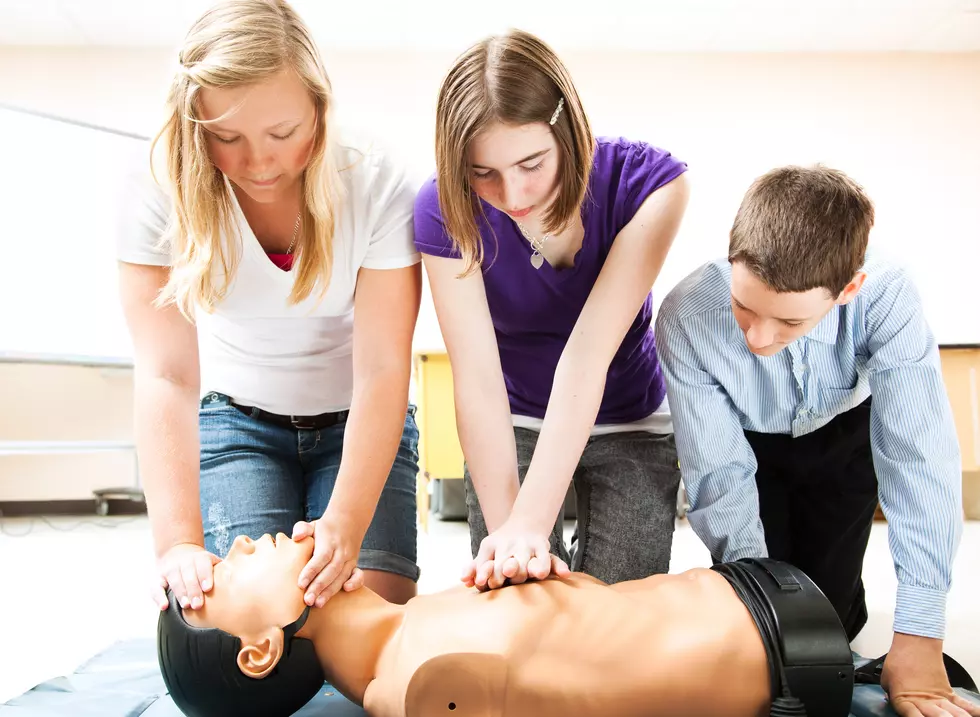 A key to saving a life in New Jersey is knowing how to perform CPR
lisafx, ThinkStock
In the days following the sudden cardiac arrest emergency event of Buffalo Bills Safety Damar Hamlin a couple Monday's ago, we know that the quick response of team medical staff and others responding quickly onto the field and giving CPR (Cardiopulmonary Resuscitation) was what aided in saving this young man's life.
It is such a valuable and easy enough skillset to learn, in CPR, that could be the difference one day in saving a life.
In order to know and take those steps towards being prepared to save a life following a cardiac or respiratory arrest, you'll have to practice first.
"With sudden cardiac arrest, which is what we witnessed (with Damar Hamlin), it's really important that CPR is started immediately following the cardiac arrest. The faster CPR is started, the better the victim's chances of survival," Cherie Garrison-Horhay, owner of 'Hands on CPR Training' in Toms River, said.
You'll have to act quickly and call for help upon witnessing such a cardiac event, explains Garrison-Horhay, by administering CPR and perhaps an AED as well until paramedics and EMT's respond to the scene.
"You want to ensure scene safety for you -- you wouldn't go onto a scene that was unsafe for you, and, as soon as you determine that the scene is safe for you, you want to assess this victim for responsiveness," Garrison-Horhay said. "If there's no response, no breathing, no signs of life, that's when you want to start chest compressions -- if you don't have a barrier device, you would do what's called compression only or hands only CPR where you wouldn't pause to deliver breaths, it's just straight compressions. You want to compress at a rate of at least 100 compressions per minute but no more than 120 compressions per minute, you want to allow for full chest recoil -- chest recoil is necessary for the heart to return to a normal position so it can refill with blood."
From there, Garrison-Horhay explains that using the nipple-line as a guide, you'll want to be ready to compress in the area on the breastbone above where their heart is and then begin.
"You want to compress at least two inches on an adult and what you're doing is your sandwiching the heart between the breastbone and the spine, and with each compression, you're pumping that heart to create blood-flow," Garrison-Horhay said.
If you follow all the steps you need to, you'll know that the CPR was successful if/when the victim recovers and you see signs of life, and, in some cases, you'll need more than just CPR.
"With cardiac arrest, you're most likely not going to see that with CPR alone, if it's respiratory related -- drowning, choking, opioid overdose -- you have a better chance of bringing that victim back with CPR alone because it normally starts off respiratory related," Garrison-Horhay said. "With a respiratory arrest, you're going to start immediate CPR and you have a better chance of bringing that victim back with CPR alone, with cardiac arrest, they normally will need defibrillation with the AED. That's why, by law in the state of New Jersey, all schools, all nursing homes or long-term facilities and all health clubs have to have this life saving machine (AED)."
You being able to know how and execute on performing CPR is a critical lifesaving tool in it of itself.
There are multiple ways to learn CPR and classes that'll help in that effort across Ocean County and Monmouth County including 'Hands on CPR Training' in Toms River, through the Ocean County YMCA, through the American Heart Association with classes being offered across Ocean and Monmouth County, with the American Red Cross, and with Hackensack Meridian Health across the Jersey Shore as well.
Honoring our Military and Veterans
Help Find These 62 Missing New Jersey Children