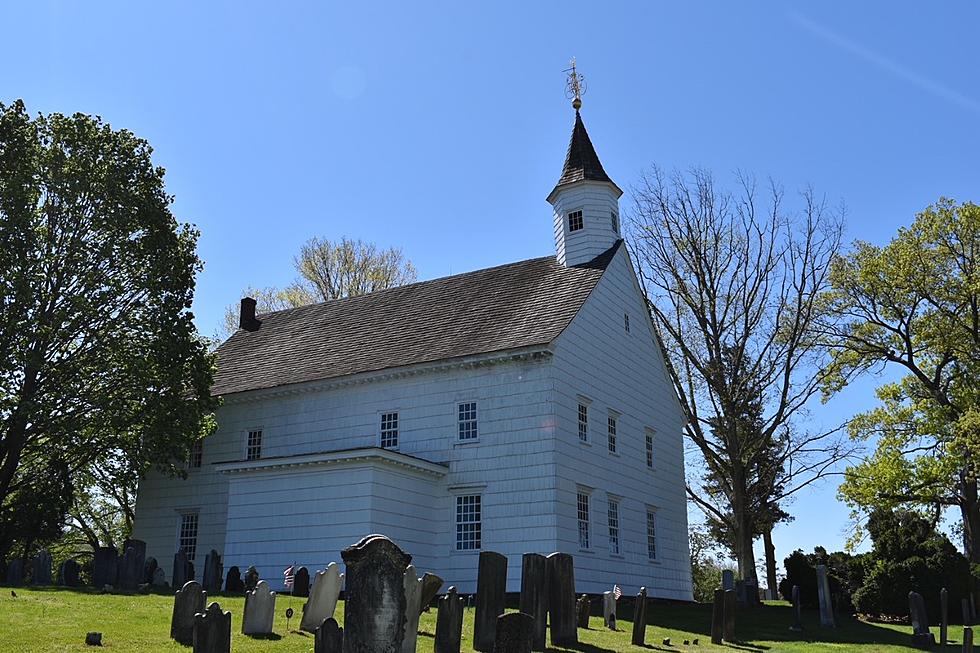 There's centuries of history in Monmouth County, NJ and you can now explore all of it
Old Tennent Church in Manalapan. (Photo: Shawn Michaels)
🔵 Monmouth County Historical Commission hosting A Weekend in Old Monmouth
🔵 You will be able to explore 50 historical sites and buildings
🔵 It's a two-day period open to the public for free
---
Similar to Huey Lewis & The News, you have the opportunity to go Back in Time just in Monmouth County and coming up this weekend!
A Weekend in Old Monmouth takes places on Saturday, May 6 and Sunday, May 7 and it will allow you to explore 50 Monmouth County historic sites including museums and buildings, thanks to the Monmouth County Historical Commission.
"It's a wonderful opportunity for a family to visit the historical sites, whether in their own neighborhood or somewhere in another region of the county," John Fabiano, Executive Director of the Monmouth County Historical Commission said.
You don't need to go 88 mph in your vehicle to go back in time (and then Back to the Future), you just need to head to Monmouth County this coming weekend.
Fabiano explains that while many people know about the Battle of Monmouth during the Revolutionary War, there's some very interesting local history as well.
"There are other small historical societies that do a fantastic job of interpreting their local history," Fabiano said.
You can go at your own pace and hit however many sites as you want and in whatever order you want.
"This is a self-guided tour, you can follow our GIS map online which has information about the individual sites and a suggested tour route," Fabiano said.
"A Weekend in Old Monmouth" tour will take place on Saturday, May 6, from 10:00 am to 5:00 pm and on Sunday, May 7, from 12:00 pm to 5:00 pm.
These are all of the 50 locations you can tour this coming weekend.
All Saints Memorial Church, Middletown
Allaire Historic Village, Wall Township
Allen House, Shrewsbury Borough
Allentown Presbyterian Church, Allentown
Baird Homestead, Millstone Township
Battery Lewis, Hartshorne Park, Highlands
Burrowes Mansion Museum, Matawan
Christ Church, Shrewsbury Borough
Covenhoven House, Freehold Borough
Craig House at Monmouth Battlefield, Freehold Township
Crawford House, Tinton Falls
Dr. Cooke's Medical Office, Holmdel
Eatontown Historical Museum, Eatontown
Friends Meeting House, Shrewsbury Borough
Great Auditorium, Ocean Grove, Neptune Township
Grover House, Middletown
Holmes-Hendrickson House, Holmdel
InfoAge Science Museum (Camp Evans), Wall Township
Jewish Heritage Museum of Monmouth County, Freehold Township
Joseph Murray Farmhouse, Middletown
Keyport Fire Museum, Keyport
Keyport Historical Society, Keyport
Longstreet Farm (Historic), Holmdel
Marlpit Hall, Middletown
Monmouth Boat Club, Red Bank
Monmouth County Historical Association Museum, Freehold Borough
Montrose Schoolhouse, Colts Neck
National Guard Museum, Sea Girt
Oakley Farm House, Freehold Township
Ocean Grove Historical Museum, Neptune Township
Old First Church, Middletown
Old Tennent Church, Manalapan
Old Wall Historical Society, Wall Township
Old Yellow Meeting House, Upper Freehold Township
Parker Homestead, Little Silver
Portland Place (Historic), Highlands
Red Bank Woman's Club, Red Bank
Roosevelt Borough (Jersey Homesteads Historic District), Roosevelt
Saint Catharine Church, Spring Lake
Seabright Lawn Tennis and Cricket Club, Rumson
Shrewsbury Historical Museum, Shrewsbury Borough
Squan Village Historical Society Museum, Manasquan
Stephen Crane House, Asbury Park
Strauss Mansion Museum, Atlantic Highlands
Taylor-Butler House, Middletown
Township of Ocean Historical Museum, Ocean Township
T. Thomas Fortune House, Red Bank
Twin Lights Museum, Highlands
Village Inn, Englishtown
Walnford (Historic), Upper Freehold Township
Best Steakhouses In New Jersey
Famous Athletes Who Came From New Jersey
Professional Sports Teams That Play In New Jersey
Professional Sports Teams That Play In New Jersey
New Jersey Abandoned Sports Stadiums
The Biggest Music Stars From New Jersey