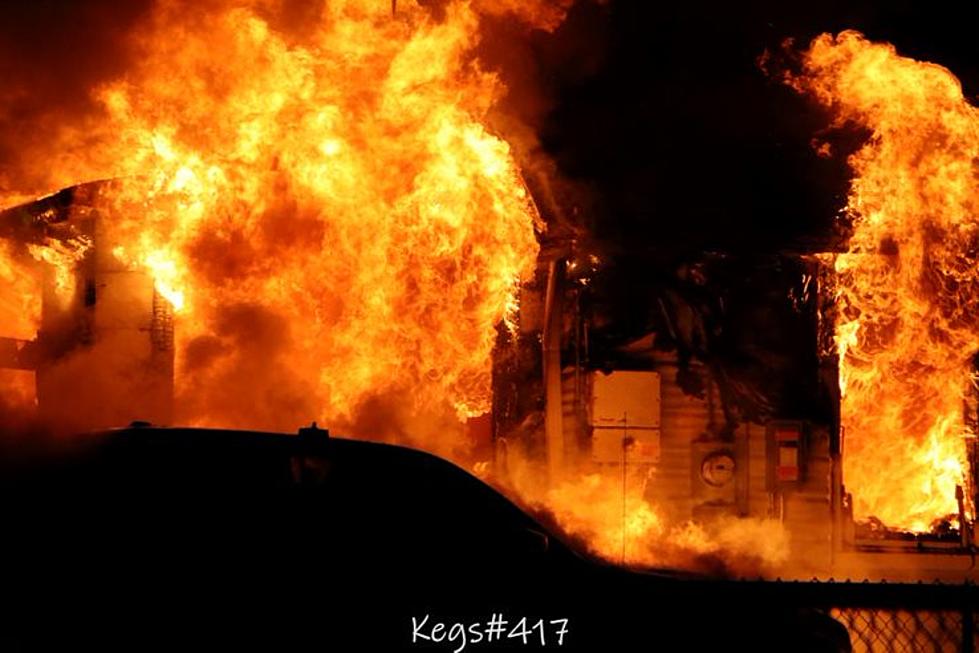 Middletown fire that killed a man under investigation by police, Monmouth County Prosecutors Office
(Photo: Laurie Kegley, Middletown Township Fire Department Public Information Officer Photographer.)
Multiple agencies are investigating a fire on Dakota Avenue in Middletown Friday night that claimed the life of a 71-year old man.
Middletown Police said they arrived around 7:54 pm followed by Middletown Township Fire Fighters who battled the flames that engulfed the entire home.
Middletown Firefighters said a neighbor told them that they felt someone may still be inside which is when search and rescue teams looked within the residence and then found John Dowd deceased inside the home.
Middletown Township Fire Department Fire Chief John Friedman called the fire at 8:25 pm and all units, including 45 firefighters from 3 companies, were cleared by 10:15 pm.
No firefighter injuries have been reported.
The cause of the fire remains under investigation by the Middletown Township Fire Marshal, Monmouth County Fire Marshal, Middletown Police and the Monmouth County Prosecutor's Office.
If you have any information about the fire, you're asked to contact Detective First Class Albert Scott at (732) 615-2120.
Dakota Avenue Home Fire
You can follow Vin Ebenau on Twitter and Instagram and email news tips to vin.ebenau@townsquaremedia.com.
Have You Seen Them? Monmouth County's Most Wanted
NEXT: 10 Jersey Shore School Districts Losing Millions From S2 School Funding Formula
Ten times drunk driving changed New Jersey Lives Forever
12 Times Being High Cost NJ Residents & Towns
Have You Seen Them? Ocean County's Most Wanted
Strange NJ Laws You've Never Heard Of
Marijuana legal in NJ: How do the laws work?
Answers to common questions about legalized recreational marijuana in New Jersey and rules about underage use of weed.
NEXT: INSIDE JOE PESCI'S HILARIOUSLY OVER-THE-TOP LAVALLETTE MANSION
LOOK: GO INSIDE JON BON JOVI'S $20 MILLION MIDDLETOWN MANSION
Go Inside Mike 'The Situation's' NJ Mansion
TAKE A TOUR OF JON BON JOVI'S NEW $43 MILLION PALM BEACH MANSION
Jersey Shore Nor'easter 2021 Listener Pictures
LOOK INSIDE: The Most Expensive House in Rumson
This is the most expensive house for sale in Rumson, NJ in 2021
Peek Inside Snooki's New Toms River Waterfront Home
LOOK: See the iconic cars that debuted the year you were born
NEXT: The 100 Best Places to Live on the East Coast