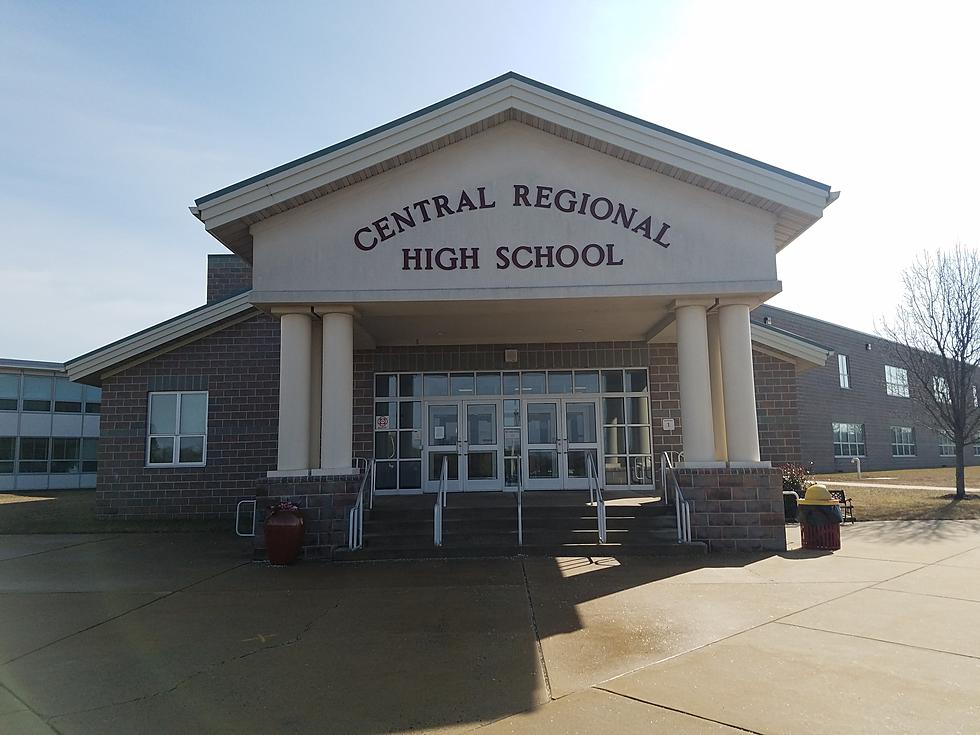 NJ superintendent still being paid after saying he quit over suicide scandal
Central Regional High School. (Vin Ebenau, Townsquare Media NJ)
🔹 A student's suicide prompted accusations of mishandled bullying at Central Regional
🔹 The Ocean County district announced its Schools Superintendent resigned by Feb. 11
🔹 As of Feb. 21, Triantafillos Parlapanides was still receiving a paycheck, while on "administrative leave"
---
BERKELEY — Despite announcing his resignation after inflammatory remarks about a student who took her own life, the controversial superintendent of an Ocean County high school remains on the payroll, according to a report.
Bayville resident Adriana Kuch took her own life on Feb. 3, shortly after she was involved in an in-school assault that was videoed and shared to social media.
Triantafillos Parlapanides resigned as Central Regional Schools Superintendent on Feb. 11, the school board previously announced.
Asbury Park Press reported that as of Friday, the Central Regional School District had not officially accepted Parlapanides' resignation and confirmed he was still being paid his $195,343 salary.
Calling it a "personnel matter," the public relations firm now handling communications for the school district said that Parlapanides' contract terms remained in effect as of Tuesday.
"Triantafillos Parlapanides is not functioning as the Superintendent for Central Regional School District. He is on paid administrative leave pursuant to the terms of his employment contract and as required by law," a written response to New Jersey 101.5 said.
The agenda for the next Board of Education meeting had not been determined, yet, the same spokesperson added.
Parlapanides sparked a firestorm of criticism and anger after the Daily Mail published his responses to questions about the teen fight and subsequent suicide, in which he said the teen had a troubled history and downplayed potential accusations of bullying.
Ocean County Prosecutor Bradley Billhimer has confirmed that four juveniles were facing charges — aggravated assault, conspiracy to commit aggravated assault and harassment.
All four were released to their families, pending future court appearances.
The nine-member school board also said in a joint statement that they would take a closer look at reports of bullying.
Acting Superintendent vows Central Regional will work to  "learn from this tragedy"
A packed house of parents, students and community members turned out to the regularly scheduled board meeting on Feb. 16, during which concerns were repeatedly voiced about the school having a pattern of mishandling bullying situations.
On Feb. 17, Acting Schools Superintendent Douglas Corbett wrote an open letter to the community, thanking those who attended the meeting and outlining what he said were initiatives as the district tried to "learn from this tragedy."
"Looking ahead, I will share more plans to improve the District's programs to identify, prevent and respond to bullying cases, and to support students' emotional and social well-being," Corbett said.
Parlapanides talked on camera about school security four years ago, for Jersey Matters as shared to YouTube.
Most Controversial Celebrity Magazine Covers Ever
Below, discover the most controversial celebrity magazine covers to ever hit the newsstands.
The 99 top paying jobs in New Jersey
How much do you make? These are the occupations in New Jersey with the highest median annual compensation. Source: Federal Bureau of Labor Statistics, 2022
New Jersey's smallest towns by population
New Jersey's least populated municipalities, according to the 2020 Census. This list excludes Pine Valley, which would have been the third-smallest with 21 residents but voted to merge into Pine Hill at the start of 2022.
LOOK: These Are the 50 biggest retailers in America
Here's where NJ legal weed is sold
The number of recreational cannabis dispensaries continues to grow, with close to two dozen state approvals given since the first adult recreational sales in the state back in April. Here is where the open sites are located.
Unbelievably Expensive Divorces
Inventions you probably didn't know are New Jersey born