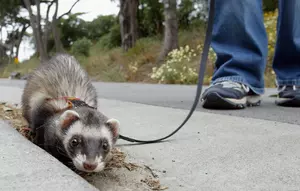 Ferrets, Iguanas, and Other Interesting Pets at The Jersey Shore
Getty Images
It's the day after the Superbowl.  And the day after the Puppy Bowl, the brilliant counter-programming on Animal Planet that gives non-sporty types a chance to oooh and ahhh at adorable dogs playing their version of football.  It is an abundance of cuteness that you and your coworkers are likely talking about at work today.
But as I was reading a lot of posts about Puppy Bowl, it dawned on me that we're not giving much attention to other animals.   Here on the radio station we feature a "Pet of the Week" and it's usually a dog or cat.  Facebook friends are always sharing pictures of cute canines and felines.  YouTube is loaded with precious puppy and kitten videos.  But what about the people who live with other types of pets?  It would be interesting to hear from those of you who care for snakes, iguanas, rabbits, ferrets, and even pot-bellied pigs!
In the Comments section please let us know why you brought that kind of animal into your home and what you like best about your pet?