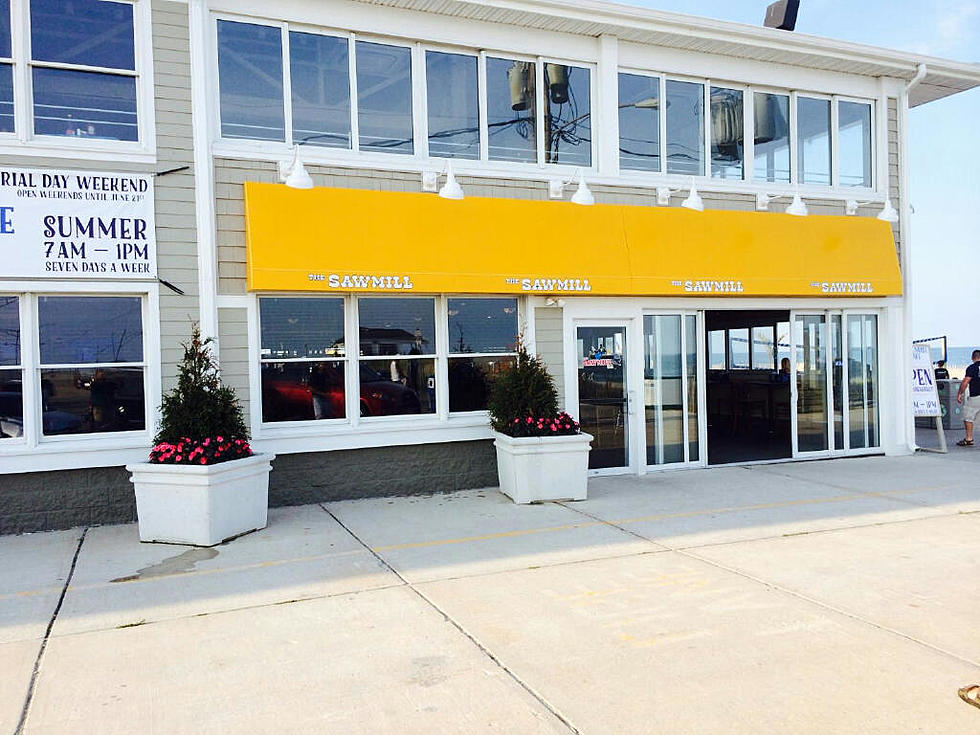 Expect road closures, compliance checks as Ocean County restaurants open for outdoor dining
The Sawmill in Seaside Park (Kevin Williams, Townsquare Media NJ)
The good news is that restaurants will be allowed to open for outdoor dining beginning on June 15 but things will be different this summer in Ocean County so you can get excited, and you should, but just be a little patient with the new safety measures in place.
Ocean County government leaders have been preparing for many of the 3,000 food establishments, be it eateries or restaurants providing outside dining beginning on Monday and they're helping municipalities with needs like extra seating and parking on county roads.
"We have received a number of calls from municipalities asking that we help accommodate restaurants located on county roads that want to have outside dining. We want to do everything we can to make this happen safely," Ocean County Freeholder John  Kelly, who is liaison to the Ocean County Engineering Department, said in prepared remarks.
Kelly said that the County has been in discussions with town officials from Seaside Heights, Point Pleasant Beach and Toms River to determine the best set up that will allow a good dining experience while keeping everyone safe.
In Toms River, the County will allow for the temporary closure of one block of Washington Street, a County road, from Main Street to Robbins Parkway to accommodate outside dining.
In Seaside Heights and Point Pleasant Beach, the County roadways will remain open for drivers but barricades will be positioned to block off the parking spaces along the roadway so people can safely access the restaurants while dining tables will be located on the sidewalk.
Kelly said the county will take each municipal request on a case by case basis.
Ocean County Administrator Carl Block said the provisions will not go beyond the coronavirus emergency.
"We want to do all we can to accommodate them while keeping safety a priority. Their economic health is the county's economic health. We wish Governor Murphy had allowed for this sooner," Ocean County Freeholder Director Joe Vicari said.
There are rules to be followed this summer for everyone's health and safety and Ocean County health officials will be ensuring compliance is met by any restaurant opening up for outside dining.
"As we progress from curb-side pick up to dine-out options, we want people to know that the OCHD Environmental Division will continue to protect diners by ensuring retail food establishments are adhering to all required statewide health standards as New Jersey resumes its COVID-19 multi-phase re-opening plan," Ocean County Freeholder Gerry Little, liaison to the Ocean County Board of the Health, said.
The Environmental Division has performed several hundred cursory compliance checks since April from restaurants that provided curb-side or drive thru service to grocery stores but as of this Monday inspectors resume their routine detailed and comprehensive inspections.
"The main goals of the compliance checks up to this point were to insure substantial compliance with the New Jersey State Food Code," Dan Regenye, OCHD Public Health Coordinator/Health Officer, said. "Official ratings were not given at that time, however a facility that was not in substantial compliance would have been given a full inspection and time afforded to correct issues."
Regenye said that non-compliance with the COVID-19 executive orders issued by the governor will continue to be forwarded to the Ocean County Sheriff's Department for follow-up and enforcement.
OCHD environmental staff will also be making sure that public health measures are followed as well as performing inspections.
"We not only want to make sure you're safe from food-borne illness and other health concerns while dining out but we also want to keep everyone safe when we are in these establishments doing our job," OCHD Environmental Health Coordinator John Protonentis said.
Here are the protocols retail food establishments must follow - and customers can expect - while dining outdoors:
Ensure all areas designated for food and/or beverage consumption are in conformance with applicable local, State, and Federal regulations.
Limit capacity to a number that ensures all patrons can remain six feet apart from all other patrons at all times, except for those patrons with whom they are sharing a table.
Ensure that tables seating individual groups are six feet apart in all directions and that individual seats in any shared area that is not reserved for individual groups, such as an outdoor bar area, are also six feet apart in all directions.
Prohibit patrons from entering the indoor premises of the food or beverage establishment, except to walk through such premises when entering or exiting the food or beverage establishment in order to access the outdoor area, or to use the restroom.
Require patrons to wear a face covering while inside the indoor premises of the food or beverage establishment, unless the patron has a medical reason for not doing so or is a child under two years of age.
Prohibit smoking in any outdoor areas designated for the consumption of food and/or beverages. The requirement that food or beverage establishments impose this prohibition shall automatically sunset once food or beverage establishments are permitted to offer in-person service in indoor areas.
"The OCHD still expect our residents to follow social distancing and health hygiene measures whether dining out or participating in other activities," Regenye said. "Food establishment managers and their staff must encourage customers to follow these guidelines if we hope to contain the spread of the COVID-19 virus moving forward."
More From Townsquare Media Monmouth-Ocean:
Enter your number to get our free mobile app
How To Stay In Touch With Friends While Social Distancing