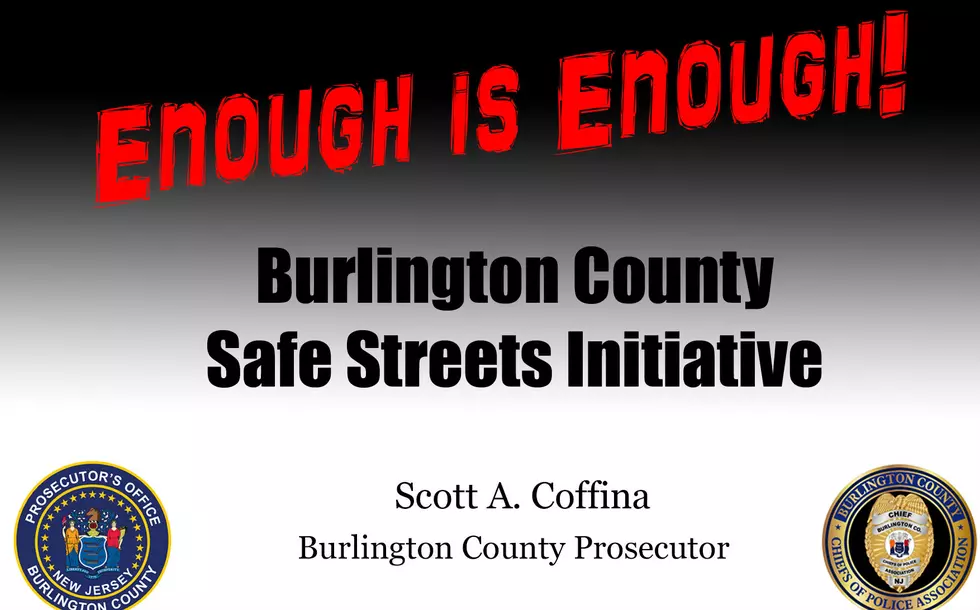 Enough Is Enough! Burlington crime crackdown opens municipal borders
Safe Streets Initiative (Burlington Co. Prosecutor's Office)
As the saying goes, "In unity, there is strength." Also, "Safety in numbers." Burlington County's new, intensive crackdown on gun-related crimes and other violent offenses empowers local police departments to get support from other squads countywide.
County Prosecutor Scott Coffina today revealed details of the Safe Streets Initiative, funded through criminal forfeiture proceeds to address a spike in homicides that has surfaced in the past 18 months - including an April rolling shootout in Willingboro as two cars raced through a neighborhood in broad daylight.
"Local police departments are best positioned to understand the challenges posed by criminal activity within their towns, and to provide proactive interdiction operations," Coffina said in prepared comments.
"Our goal is to support these operations and bring additional resources from across the county to reinforce their efforts to reduce violent crime."
Informally called "Enough Is Enough!" by Coffina, the program allows departments to request additional support by submitting plans for crimefighting operations. Each department pays for its own personnel, and forfeiture funds cover the costs of officers borrowed from other departments.
Seed money consists of $50,000. The initiative is scheduled to run until December 31, 2018, or until the initial funds are spent. The Prosecutor's Office will also consider crime-deterrent or proactive prevention operations.
Medford Township Police Chief Richard Meder, President of the Burlington County Chiefs of Police Association, said that his organizaiton supports the program..
Coffina also announced that during the summer about to begin, investigators in the county Major Crimes, Gun Violence, Narcotics, Crime Scene and Sexual Assault/Child Abuse units will rotate into assigned shifts that extend into evenings, and will increase their accessibility for response to violent crimes when evidence indicates activity across multiple jurisdictions.