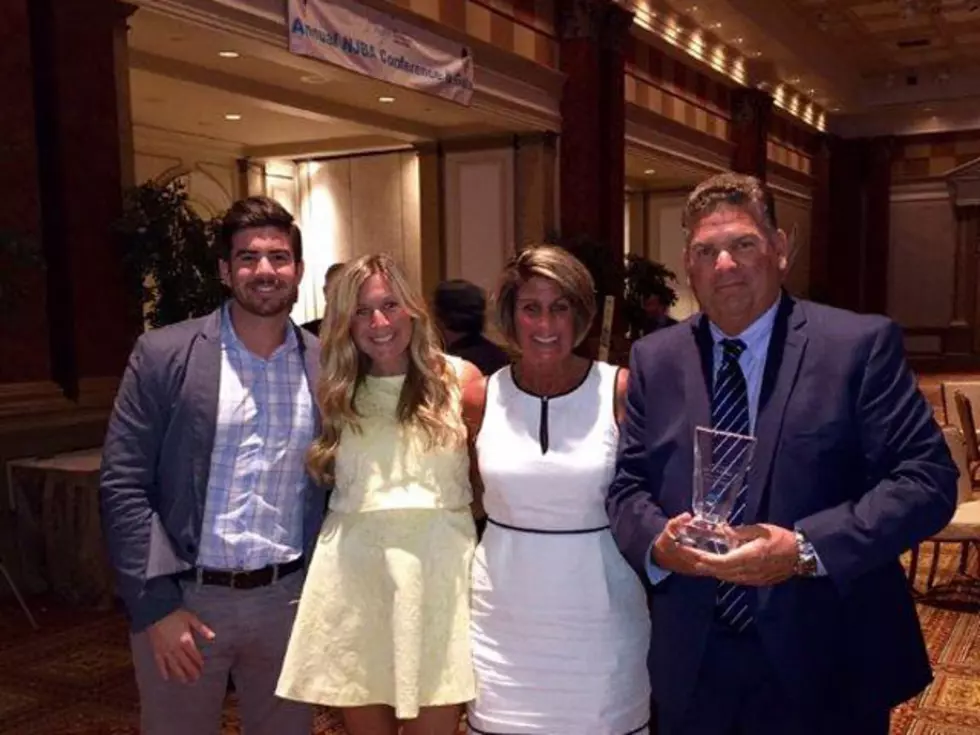 A Moment in the Spotlight
Kevin Williams at the NJBA Hall of Fame induction ceremony with his family. (L-R) Kevin's son Brandon, daughter Alex and wife Jane (Townsquare Media NJ)
Nobody likes people who talk about themselves but I hope you'll forgive me in this instance. 
Last Thursday I received a truly humbling honor when along with three others I was inducted into the New Jersey Broadcasters Association Hall of Fame during their annual conference at Caesar's in Atlantic City. I was honored along with Townsquare Media's Harry Hurley, known as "The Mayor of the Morning" in Atlantic City, Greater Media Vice President and Regional General Manager Dan Finn and longtime NJBA Board Member Richard Swetis.  Our class of four brings the Hall of Fame total to 19 and that includes my longtime friend and broadcasting legend Bob Levy.
For whatever reason I have received more than my share of accolades but this was a bit more special for a few reasons.  First it came in front of several hundred of my peers in the broadcasting industry which is the only career I know, unless you count my teenage years working on the boardwalk in Seaside Heights.
Second was the fact that many of those I work with who mean a lot to me were in attendance and genuinely were as excited as I was.  To be honored by them is just as meaningful because they're the ones I work with on a daily basis.
Last but not least was to share the moment with my wife Jane and our children Brandon and Alex. With both kids on their own and out of the house we don't get all that many moments when the four of us are together and this one was truly special. We even stayed over and enjoyed a night in AC which was a lot of fun.
For the most part I shot from the hip during my acceptance speech which was unscripted and probably a bit too long but you only get one shot at this and anyone who knows me knows that brevity is not my strong suit. I am especially appreciative that those I have worked under, including Greg Janoff and Don Dalesio currently have allowed me to do the things I do, some of which don't fit a normal job description in our business.
Of course when I was done I thought about the things I did not say which I should have but maybe I'll get another shot down the road although Hall of Fame honors clearly come at the end of your career.  Hopefully I've got a bit more time.