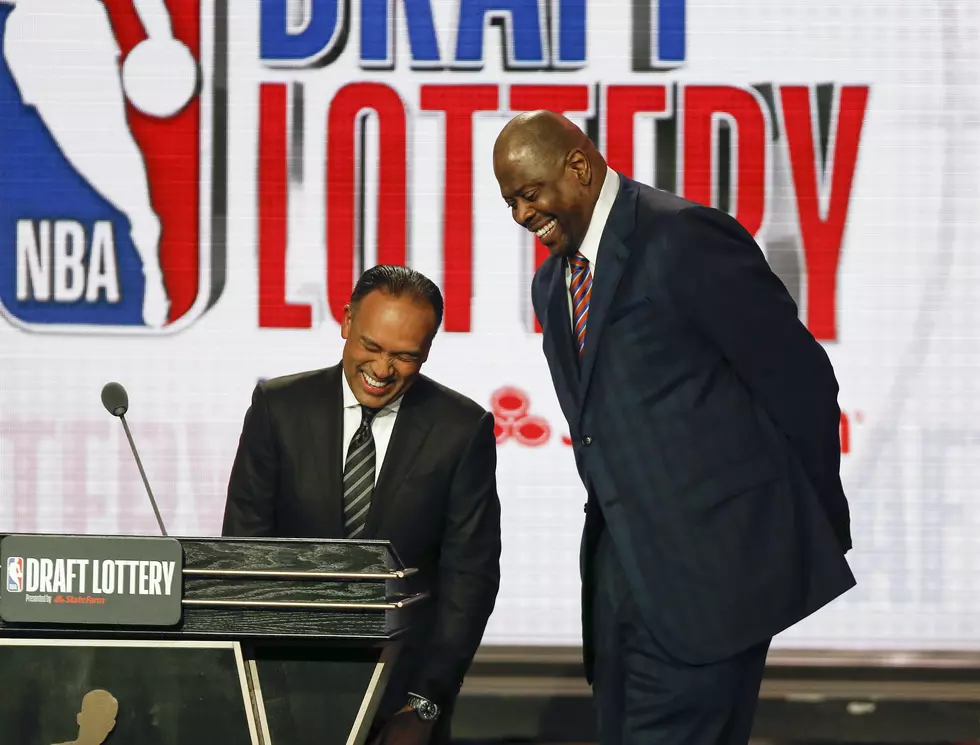 The Future Brightens for the Knicks
NBA Deputy Commissioner Mark Tatum, left, laughs with Patrick Ewing of the New York Knicks during the NBA basketball draft lottery (AP Photo/Nuccio DiNuzzo)
There was a time when my two greatest passions when it came to sports were rooting for the Baltimore Colts and the New York Knicks.
Between the ages of 12 and 15 I was almost consumed with "fandom" when it came to these two teams and I can only imagine what it would have been like if social media existed at that time.
Of course one of those teams no longer exists as the Colts left Baltimore and broke my heart forever in 1984.  In truth the Knicks haven't existed for what seems like decades and don't even resemble the team that brought me utter joy as a youngster.
In their glory era between 1969-73 I would sit in the living room with headphones plugged into a stereo and listen to a young Marv Albert broadcast games on the radio that made me feel like I was sitting at center court at Madison Square Garden.  My father had a connection at MSG so we would go to a game or two each year and walking into that building was for me like being on hallowed ground.
While I loved players like Willis Reed and Walt Frazier my favorite was actually reserve Phil Jackson because like me he was a lefty.  I would take white tee shirts and write his number "18" on them in black magic marker and then go out and pretend I was making baskets in front of a sell-out crowd.  That's what being a kid was like at that time.
Why I bring this up today is because the Knicks are a team that has fallen off my radar for many years.  It's not just because they lose but have been among the most poorly-run organizations in professional sports yet somehow fill The Garden each night at ridiculous prices.
In full disclosure I believe the NBA of today is inferior in many ways to the game I grew up with and loved but that's another story.
Anyway the Knicks have finally put themselves in position to be relevant again and what many fans hope will be a new era started last night with the NBA Draft Lottery.  I won't go into detail but basically all of New York was hoping that the Knicks would end up with the #1 pick in next month's draft and land Duke sensation Zion Williamson.
Well that did not happen and he's likely headed to New Orleans but the Knicks could have done worse then come up with the 3rd pick in the draft which is what they'll have.  They also have a chance to sign a pair of big-name free agents and if that happens just maybe the future will be bright and I'll pay attention to them again.
Now all I need is for the Colts to move back to Baltimore.