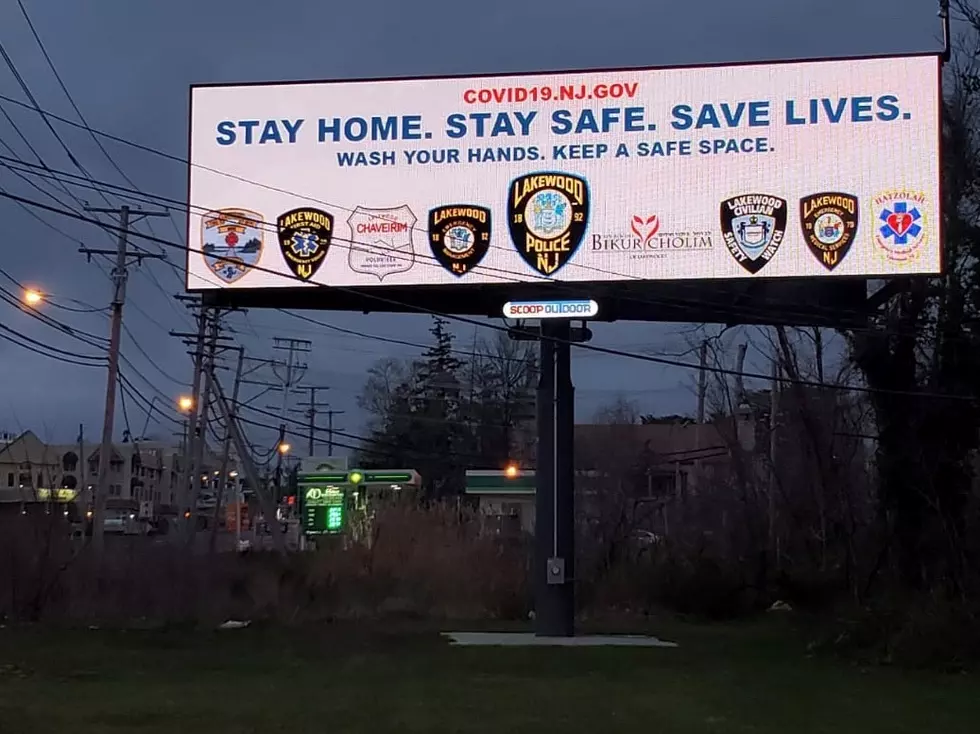 Ten People charged as Lakewood Police break up engagement party
Billboard encouraging social distancing in Lakewood (Scoop Outdoor)
The seemingly daily occurrence of a social gatherings in Lakewood Township led to stiffer charges for everyone involved.
Lakewood Police responded to a home on Spruce Street around 4:30 pm on Tuesday afternoon for a social gathering that was occurring, announced Ocean County Prosecutor Bradley Billhimer and Lakewood Police Chief Greg Meyer.
Police Officers found a group of individuals, including children, both on the front lawn and inside the residence.
This gathering was in violation of Executive Order No. 107 signed by Governor Phil Murphy on March 21, which bans gatherings of individuals, whether they be at weddings, parties, celebrations, or other social events.
Lakewood Police Officers made contact with the owners of the residence Tuesday who hosted the gathering, an engagement party, Yaakov Kaufman, 47, and Eti Kaufman, 45.
Both Yaakov Kaufman and Eti Kaufman were charged with Violating Any Rule or Regulation Adopted by the Governor During a State of Emergency as well as six counts of Child Endangerment, each count relating to one of their six minor children who were in attendance at the gathering.
During Governor Phil Murphy's daily press conference on Tuesday, Lt. Colonel Pat Callahan, the Superintendent of the New Jersey State Police said that there would be certain cases where everyone at a party, wedding or large social gathering would be charged and not just the homeowners.
"We need maybe to shift to everybody at that gathering is going to be cited," Callahan said.
A couple hours after the press conference in Lakewood eight people in addition to the homeowners were charged with Violating Any Rule or Regulation Adopted by the Governor During a State of Emergency for their attendance at the engagement party hosted by the Kaufmans.
Joshua Lichtenstein, 54, of Lakewood, Brocha Lichtenstein, 22, of Lakewood, Tzipora Wolfe, 24, of Lakewood, Shmuel Kaufman, 23, of Lakewood, Syril Lichtenstein, 54, of Lakewood, Samuel Wolfe, 27, of Lakewood, Michael Zimmerman, 99, of Lakewood and Ruky Zimmerman, 21, of Lakewood are now all facing charges as well.
Colonel Callahan said everyone at a gathering may either be exposed to the virus or giving it to someone else.
"When law enforcement has to go to a large gathering, those law enforcement officers are now exposing themselves as well. This is a close-up hands on profession," Callahan said Tuesday.
Ocean County 10th District State Senator Jim Holzapfel, (R), and Assemblymen Greg McGuckin, (R), and John Catalano, (R), announced on Tuesday that they will be introducing legislation to create significant monetary penalties for those who host gatherings in violation of the Emergency Health Powers Act.
"There have been a number of large public gatherings since the Governor has issued the stay at home order, and we feel violators should face significant consequences for failure to comply with a directive that's necessary to save lives," Senator Holzapfel said. "During this public health crisis, the executive order mandating social distancing should not be taken lightly.  Mass gatherings during this pandemic put an unnecessary strain on an already fragile healthcare system, create risk for responding law enforcement officers, and threaten the lives of participants."
The measure would establish a monetary penalty of $10,000 to $15,000 for anyone who willfully or knowingly hosts a public gathering.

"There must be a stronger penalty for violating the social distancing orders during this outbreak," Assemblyman McGuckin said. "The strong financial penalties that would be imposed by our legislation should discourage people from hosting gatherings in violation of the prohibition during this crisis."
"To combat the spread of this disease, we must adhere to the Governor's orders to stay at home and distance ourselves from our friends and family," Assemblyman Catalano said.  "We know that socially distancing is hard, but it's critically necessary to prevent the uncontrolled spread of the coronavirus in a way that would overwhelm our hospitals and result in the unnecessary loss of life. We hope that a substantial fine will make individuals think twice if they are considering to host a party or have friends over."
Previous reporting by David Matthau was used in this report.
Enter your number to get our free mobile app
How to Get Your Stimulus Check Quickly and How Much You Will Get