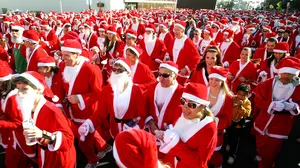 Soaking Up Santa Silliness in Asbury and Around the World
Ethan Miller
The Santa Run happened in Asbury Park on Saturday and I was there to witness a fun and festive event.  I watched my fit friend as she ran the 5K, along with hundreds of others dressed in red.  The race registration fee was a benefit for the charity Lunch Break, based in Monmouth County.  Each runner (and walker) got a Santa suit to wear:  Pants, a red top trimmed in white, a black belt, Santa hat and beard.  The sight of all these costumed people was a treat!  It really got me smiling and feeling some of the joy of the season.
Everyone was friendly and in a festive mood.  I enjoyed witnessing a guy cheer on a group of women friends, telling them they're in the home stretch, and one of the women responded, "And we're jingling ALL THE WAY!"
As I left my friends and drove through the streets of Asbury, I saw even more people dressed in Santa and other holiday costumes.    They were heading to the SantaCon Pub Crawl.
The SantaCon website says there are all kinds and sizes of SantaCon events around the globe.  And the number grows each year.  New York City and Philly held their SantaCon events Saturday as well.  Seaside Heights will host its SantaCon this coming Saturday, Dec. 15th from Noon-11pm.  You can get more information here.
Have you ever dressed up and attended a Santa Run or SantaCon?