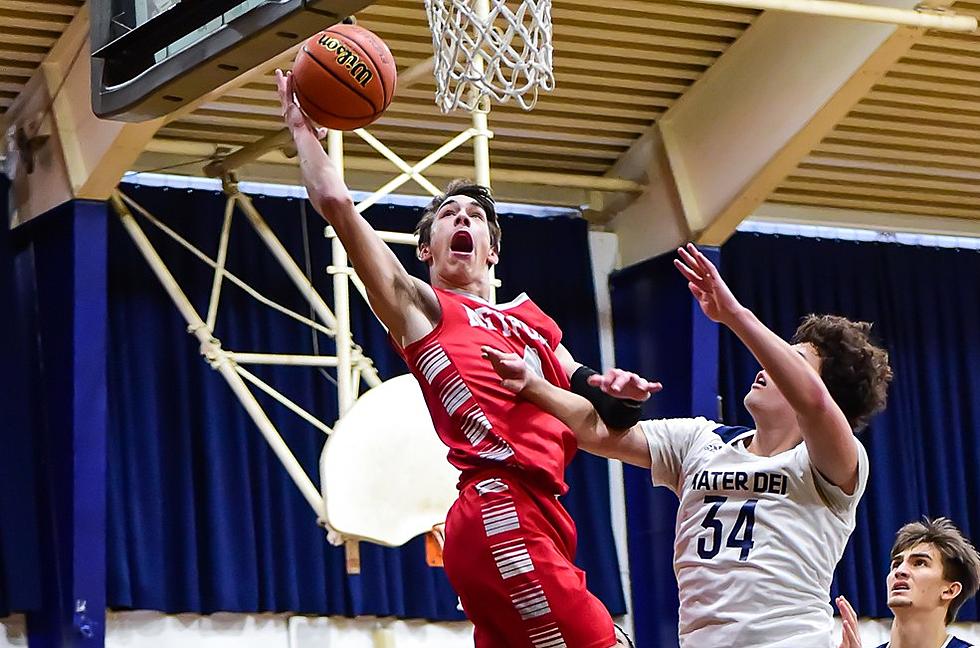 Shore Conference Boys Basketball Wednesday Scoreboard, 1/5/21
Keyport junior DJ Thomson (Photo by tspsportsimages.com)
Want to Watch a Game? Click Here for Streaming Links!
Class B North
No. 6 St. John Vianney 66, Freehold Boro 30
Senior Nate Williams scored 23 points and collected 10 steals to help lead the Lancers (8-1, 2-0) to a rout of the Colonials (0-6, 0-1). Senior Omar Calderon pitched in 10 points and nine rebounds for St. John Vianney.
Non-Division
Point Beach 56, Brick 52
Junior Kevin Burns scored a game-high 22 points and the Garnet Gulls (1-0) picked up a win over the Green Dragons (3-4) in their long-awaited debut in the 2021-22 season, which, in their case, did not start until 2022.
Senior Anthony Longo added 13 points for Point Beach, which led by as many as 12 before Brick ripped off a 13-0 run to take the lead and forced the Garnet Gulls to regroup. Point Beach finished the game off in the fourth, with senior Andrew Seaman scoring six points in the fourth quarter.
Junior Andrew Jenkoski led Brick with 24 points and senior Rob Giovine chipped in 11 in the loss.
Keyport 66, St. Rose 65
Senior Anthony Longo banked in a 30-foot prayer at the buzzer and the Red Raiders (4-0) won a thriller over the Purple Roses (2-2) to remain unbeaten.
St. Rose senior Chris Tallarico drilled a long two-pointer with one toe on the three-point line to give his team a 65-63 lead with 3.9 seconds remaining. Out of a timeout, Longo inbounded the ball from under his team's own basket to classmate D.J. Thomson, who raced to the midcourt line before passing it back toward Longo.
Longo gathered himself and took his shot from two steps inside the halfcourt line and drilled the winning three-point shot off the glass as the final buzzer sounded.
St. Rose erased a 53-45 deficit heading into the fourth quarter to take the lead on multiple occasions, including on a putback by senior Luke Farrell to make it 63-61 with 59 seconds left.
Thomson, however, answered with a drive to the basket with 32 seconds left to tie the game. St. Rose then called timeout with 17 seconds left to set up a play that ended with Tallarico firing an open look from the top of the key and knocking it down.
Thomson led Keyport with 27 points while Farrell paced St. Rose with a career-high 30 points to go with 10 rebounds. Senior George Mitchell also chipped in 11 points and 12 rebounds while junior Max Judson poured in 13 points for Keyport. Senior Nick DiNatale put up 13 points, six rebounds and five steals for St. Rose.
Monmouth 80, Barnegat 40
Senior Kevin Telesford scored a game-high 20 points and the Falcons (2-3) doubled-up the Bengals (2-4) for their first win since opening night.
Senior Gerald Wiggins added 15 point while senior Aiden Denton and junior Ta'haj Wiggins each chipped in 11 points, with Denton grabbing seven rebounds and Ta'haj Wiggins posting six rebounds and seven blocked shots
Non-Conference
Sinai Christian 69, Mater Dei Prep 67
Senior Derek Ragona scored a game-high 25 points, but the Seraphs (1-4) came up one score short in a loss to Sinai Christian (3-1).
Postponements and Cancelations
Brick at Jackson Liberty – PPD, TBA