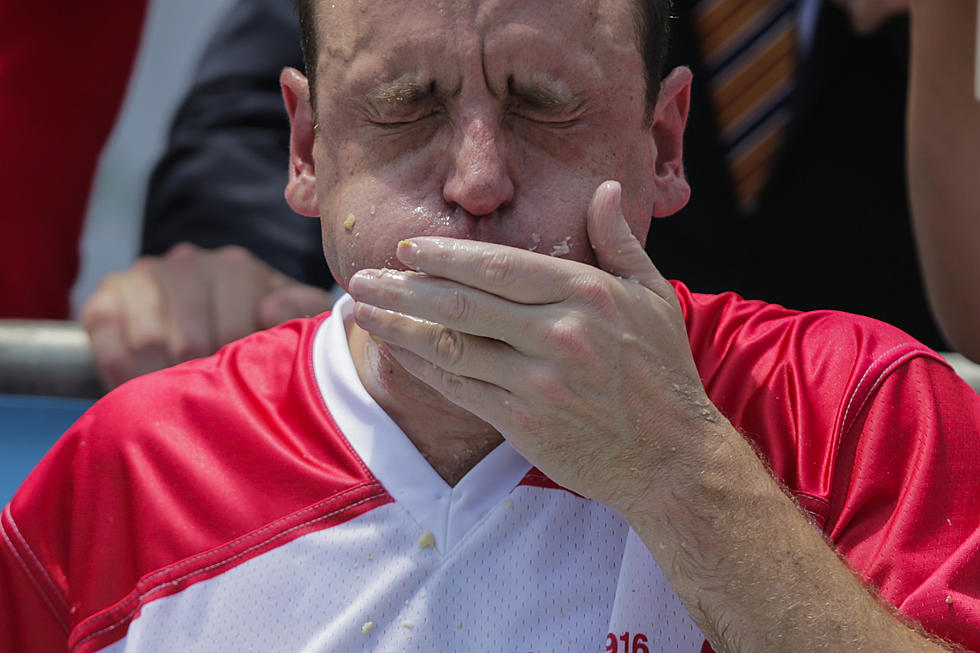 The Pork Roll- Eating Championship Will Return In Trenton, New Jersey
Getty Images
Competitive eating is remarkable. We all might think it's a little gross that someone can shove 85 meatballs into their mouth but we have to give credit where credit is due. Men and women from all over the world continue to break outrageous eating records. For example, in 2018 Carmen Cincotti ate 2.43 gallons of chili in 6 minutes, and how about in 2005, Cookie Jarvis ate over 8 pounds of grapes in 10 minutes. All competitive eaters are highly skilled but no one can compare to Joey Chestnut.
Listen to Jimmy G nights on 94.3 The Point and download our free 94.3 The Point app.
Joey "Jaws" Chestnutt is known as the greatest eater in history. You might know him from shoveling Nathan's Famous Hot Dogs down his throat every Fourth of July. This year, he ate 76 Nathan's Hot Dogs, that's a new world record!
Chestnutt has over 50 eating world records. He once ate 47 grilled cheese sandwiches in 10 minutes and 81 waffles in 8 minutes. The dude is out of control and oh yeah... he holds the record for the most pork-roll sandwiches eaten in 10 minutes. In 2019 at the annual Pork Roll-Eating Championship he ate 61.5 sandwiches!
He plans to break his own record on September 25th at the 6th annual Pork Roll-Eating Championship. The epic event will be held at Arm & Hammer Park in Trenton. The eating competition will begin at 3:30 pm. Chesnutt will be going up against his competitive eating rivals, Geoffrey Esper and Darron Breeden. Expect this to be a wild event!
I am thrilled to see this event return after being cancelled last year. It's important to note, the eating competition is part of River Fest, presented by Case's Pork Roll. The legendary pork-roll shop has been making sandwiches since 1870!
Good luck to all the eaters and everyone else who is involved with the event. Tickets range from $5 to $15. For more information, CLICK HERE!
WHAT ABOUT PANCAKES...
Best Pancake Houses at the Jersey Shore
Best Pancakes in Ocean and Monmouth Counties based on YELP Reviews and Ratings
Where To Get The Juiciest Burgers At The Jersey Shore
Sometimes...you just need a solid burger.