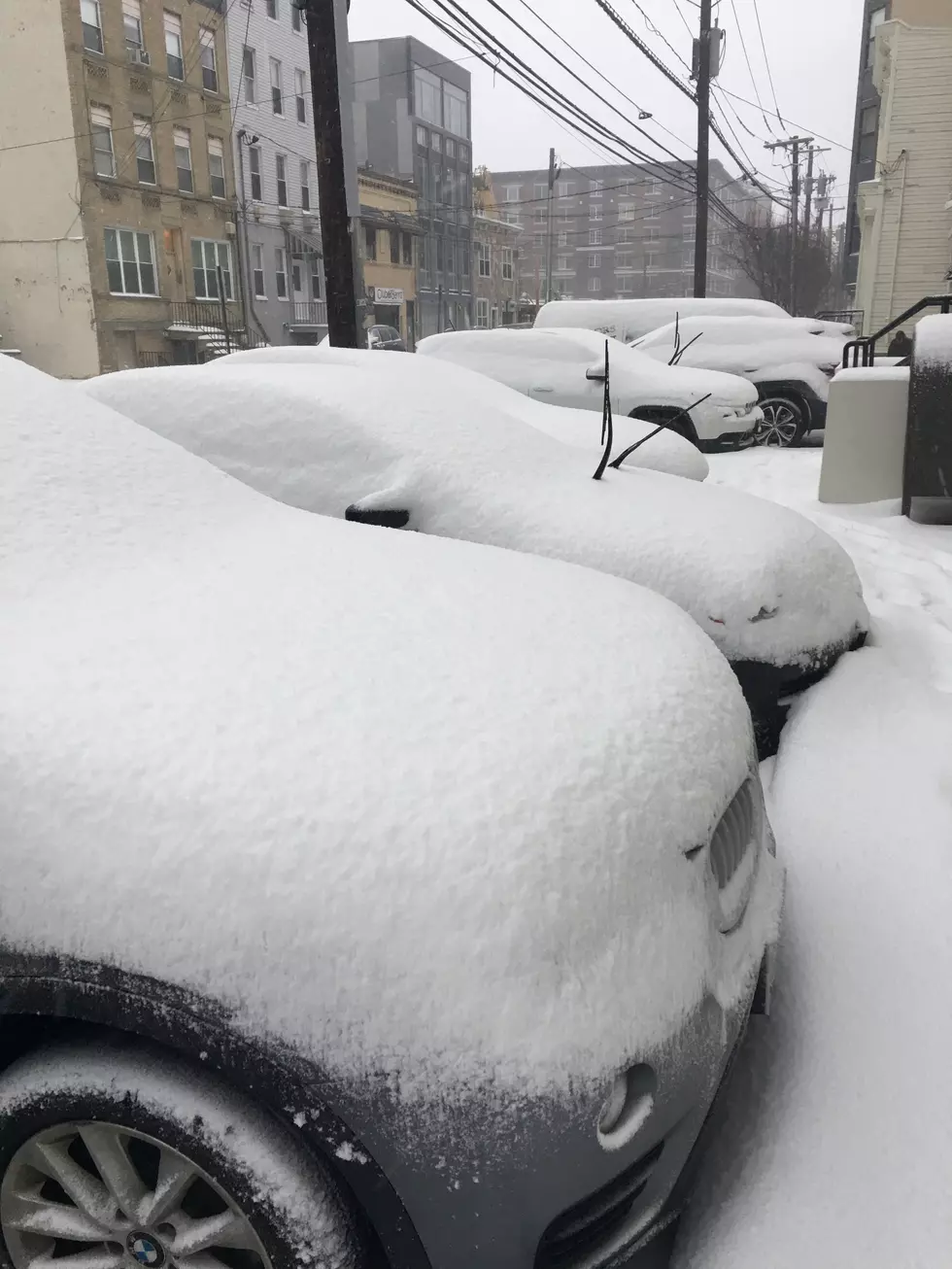 Nor'easter arrives at the Jersey Shore with varying impacts
March 2017 snowstorm in Hoboken. (Chris Scali, Townsquare Media NJ)
Well it's here, a Mid-March major winter storm has entered into New Jersey and looks to have varying impacts across the shore today.
Depending on how severe the storm becomes at the shore, may determine how much snow we get as more of a wintry mix began our Tuesday morning with a swirl of sleet and rain creating icy roads and slush on your cars in Ocean County.
Toms River Emergency Management Coordinator Paul Daley has the first hand view of the waterways across the township this morning, and says things are holding up so far before high-tide later this morning.
"Coming over here (to Ortley Beach), there's a lot of minor localized flooding," said Daley. "I would expect a lot of flooding in the usual areas today."
He estimates that the ocean waves are currently breaking about 50-feet from the dunes.
He feels cautiously optimistic this morning that the high-tide cycle later this morning won't cause as much damage as anticipated but is still expecting some beach erosion and coastal flooding.
"I think we're in pretty good shape today," said Daley. "I think it's going to be a quick storm and that's going to help us since we're probably only going to go through two high tide cycles."
Should the storm remain the status quo, Daley is cautiously optimistic the dunes will hold up unless mother nature has other ideas.
"If it gets real bad nothing is going to hold back mother nature," said Daley.
"It seems we lucked out for the most part in Bayville, no snow at this time but more of a steady rain," said Anthony. "Gusty winds are a factor as well and everyone seems to be heeding the warnings and staying inside."
In Monmouth County, Sheriff Shaun Golden says heading into the mornings high-tide things have turned more into a wintry-mix than snow.
"Along the coast we have very high winds and all rain," said Golden. "We're concerned with some minor flooding that could occur, particularly with our high-tide coming in around 10 am but we expect it to be minor in nature."
He adds there is some water pouring into the road, traffic is minimal and there's no major accidents or power outages being reported.
"Things are relatively calm, all rain right now," said Golden. "As we move into the western part of the county though, there is more of a sleet-snow mix which has been icing up the roadways."
He adds that if you don't have to go out anywhere today, stay home if you can.
"We only encourage essential personal and business," said Golden. "We do have a pool of water on the roadways and a slushy-ice mix heading into the storm drains."
Stay with us on-air and online throughout the day today as we bring you all the information you need to ride out the storm.