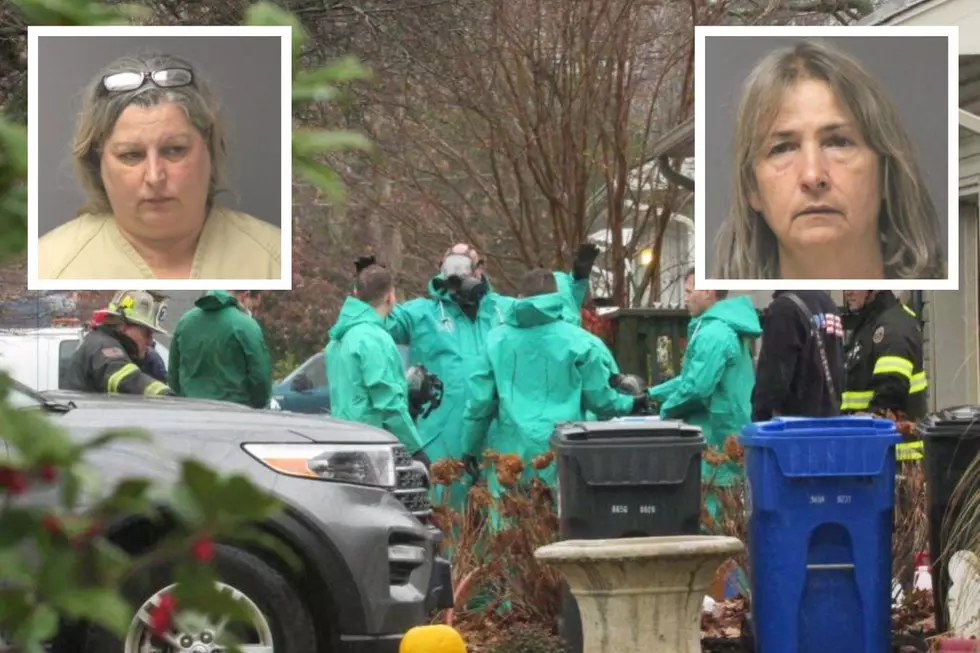 NJ judge goes easy on 'Crazy Rescue Ladies' for violating order
Animal rescue workers in hazmat suits at a house in Brick with 180 animals inside 12/3/22 (OCSN), Aimee Lonczak, Michele Nycz (Ocean County Jail)
🔴 Officials say the animal hoarding suspects broke the terms of their pre-trial release
🔴 A judge denied the Ocean County prosecutor's request to return them to jail
🔴 A judge did add more conditions to their release
---
The women charged with hoarding 180 dogs and cats living in filth at their Brick Township home will remain free despite violating the terms of their pre-trial release.
Aimee Lonczak, 49, and Michele Nycz, 58, were released during their pre-trial hearing on the condition they have no contact with any of the animals and not return to the home on Arrowhead Park Drive without permission from a judge. Nycz was also ordered to have no contact with her 16-year-old daughter who lived at the home.
A judge on Jan. 10 denied Lonczak's request to lift the no-contact order and their joint request to have seven of the dogs they said were theirs returned.
Fake request for the return of their dogs, officials say
Ocean County Prosecutor Bradley Billhimer said Lonczak and Nycz showed up at the Ocean County Animal Shelter in the Manahawkin section of Stafford Township on Jan. 19 requesting the release of their dogs. They were accompanied by Lonczak's 16-year-old daughter.
Ocean County Public Health Coordinator Dan Regenye said the women told shelter staff they had permission to take the dogs but had no documents to back up their request and were refused.
Billhimer asked a judge to revoke their pre-trial release and jail them until trial. The motions were denied Tuesday by a judge, according to Billhimer. He did not disclose a reason for denial.
An additional condition, however, was added that the women have no contact with animal shelters or pet stores.
Dan Alexander is a reporter for New Jersey 101.5. You can reach him at dan.alexander@townsquaremedia.com
Click here to contact an editor about feedback or a correction for this story.
NJ school holidays with the biggest buzz
Just which days NJ schools have off remains a reflection of its community.
Some New Jersey towns now have populations that celebrate religious holidays not previously taken as a district-wide day, such as Diwali or Eid.
Other days off are not religious in nature, but are still stirring up controversy or buzz around the state. The following have been making the most news.
New Jersey Goodwill stores will not accept these items
States with the most registered hunters
Stacker
analyzed data from the U.S. Fish and Wildlife Service to determine which states have the most registered hunters. Read on to see how your state ranks on Stacker's list.