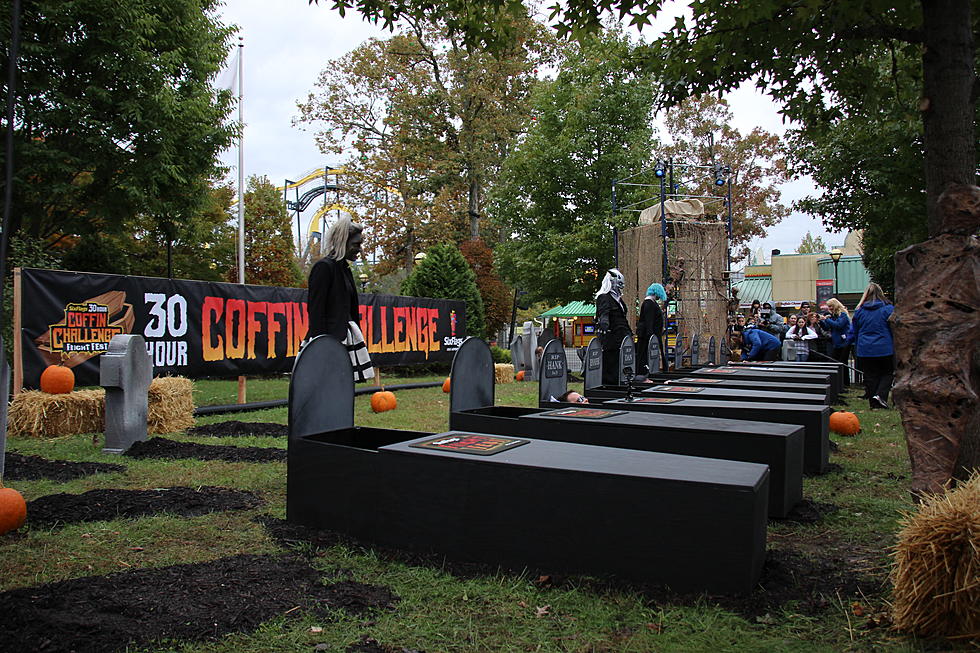 Mother/Daughter Team Among Local Coffin Challenge Contestants
Photo courtesy of Six Flags Great Adventure
Ocean County will be well represented when this year's 30-Hour Coffin Challenge contestants take to their caskets at Six Flags Great Adventure.
A Tuesday press release revealed this year's half-dozen coffin dwellers, which will include a Forked River mom and a mother/daughter duo from Seaside Heights.
Taking the challenge together are 44-year-old LynnAnn Joyce and her 18-year-old daughter, Alairra Craven.
A recent Army basic training graduate, you know that Alairra is tough, but can she tough out 30 hours in a coffin with her mom?
Also repping Ocean County, is 47-year-old Kerri Platt of Forked River, who applied for the 30-Hour Coffin Challenge last year and gets her wish fulfilled this year. Will she end up thinking twice about being careful what you wish for?
The other contestants include a 31-year-old "Halloween fanatic" from Hopatcong, a 32-year-old paramedic from Ridley Park, PA, and a 52-year-old funeral director from Bayshore, NY.
The contestants will be "laid to rest" on Sunday, October 13th at 2:30 p.m.
You can check out the 30-Hour Coffin Challenge for yourself at Six Flags Great Adventure's Fright Fest between then and Monday, October 14th at 8:30 p.m. when those left in their coffins will be "raised from the dead" by Eddie Munster himself, actor Butch Patrick.