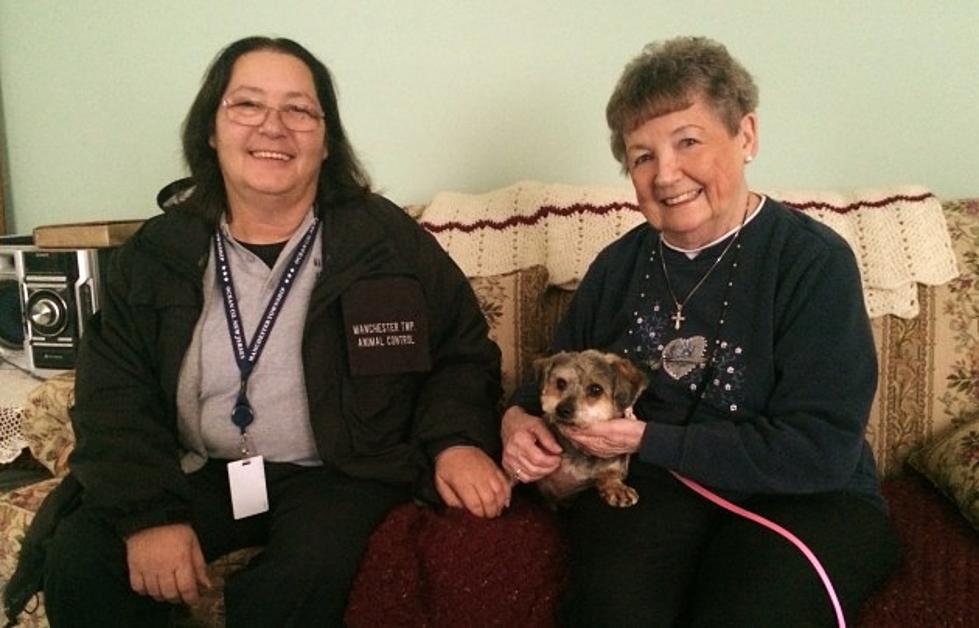 Missing Terrier Reunited with Her Owner in Manchester After Two Years
Photo: From left to right, Manchester Township Animal Control Officer Margaret Dellapietro poses with June Nicolaus and her dog Annie after being reunited this week.
After missing for two years, a black and tan mixed terrier named Annie has been reunited with her owner in Manchester. Police said Animal Control Officer Margaret Dellapietro was able to capture the tiny dog, who snuck away from her Crestwood Village 6 home of June Nicolaus, three months after she was adopted from the Popcorn Park Zoo.
"I was broken hearted," said Nicolaus, in a press release from police. Nicolaus said she canvassed the community with flyers and alerted authorities after Annie went missing.
"For more than two years, Annie survived on her own in the elements and her whereabouts remained a mystery to her owner until this week", according to the press release.
Dellapietro said Annie had been living in wooded areas surrounding Crestwood Village and was being fed by a resident there since June of 2014. The resident contacted the Animal Control office on February 10th and Dellapiertro responded and was able to coax the tiny dog into a humane trap using her unfinished breakfast sandwich.
Though Annie had lost her collar and tags, Dellapietro was able to confirm her identity through the dog's microchip.
Police said "when Annie was reunited with her owner, her fur was matted and dirty, making her almost unrecognizable. But Nicolaus, who was initially in disbelief that Annie had returned, said she immediately recognized her pet's eyes."
"In the back of my mind, I always held out hope," Nicolaus told police. "Miracles do happen. I was over the moon."
Dellapieto called the reunification of pets with their owners the most rewarding aspect of what she does but it also serves as an important reminder to pet owners.
Pet owners are reminded that having their animals micro-chipped can help bring them home safely and expeditiously should they go missing.