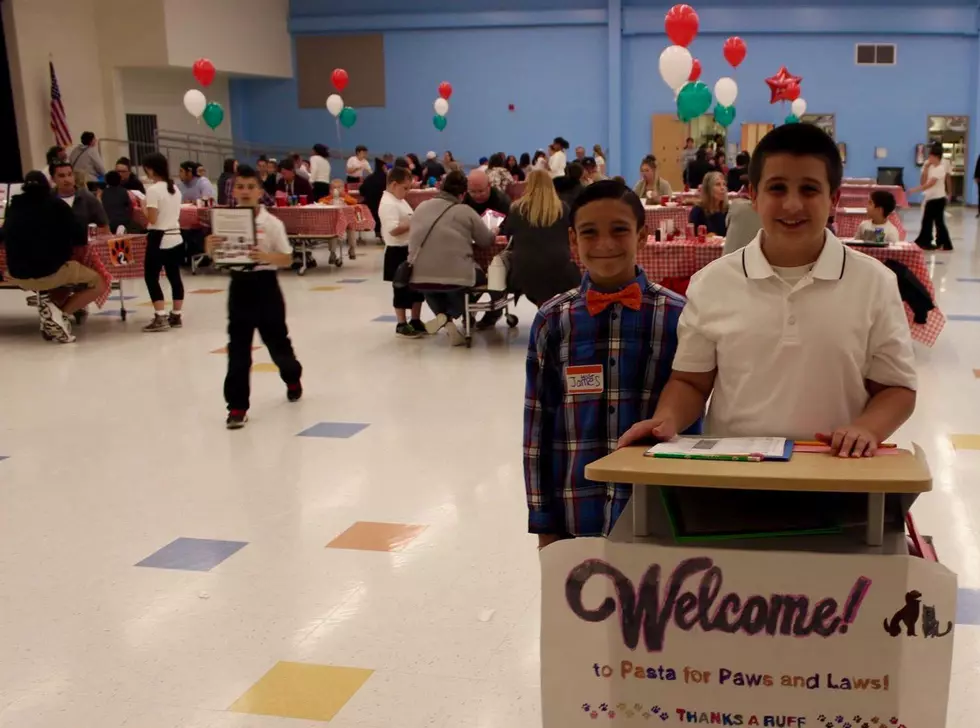 Keansburg students create a yummy way to help our furry friends
Pasta for Paws & Claws, Caruso Elementary (courtesy Barbara Leary)
The shore's youngest entrepreneurs, soon heading off to camps, swimming, baseball, soccer, and family vacations, have really earned their summer fun.
The animal-loving fourth-graders of Mrs. Barbara Leary's class at Joseph C. Caruso School in Keansburg managed not just one, but two, businesses during the term, to raise money for the Monmouth County Sheriff's K-9 squad and the Monmouth County SPCA.
If you saw our article earlier this year, you're already familiar with Paw Prints On Our Hearts. Selling memorabilia they solicited from our New Jersey and New York professional sports teams, the students raised more than $3,000 to purchase protective vests for the furry police officers, and for the care of shelter animals.
That, along with cracking the books and keeping the grades up, would be enough for most students. But Lily, Michael, Gavin L., Jhustinho, Michaela, Janette, Matthew, Brooklyn, Samantha, Timothy, Josua, Morgan, Kayla, Paige, Sarah, James, Milka, Haris, Aiden, Jacob, Gavin B., Mia, Rynell, Raven, Jasmine, Isaiah, Ryann, Caitlyn, Jonathan, Adiranna, Isabella, Lindsay, Candace, Matias,and Erick aren't most kids. They opened up an Italian restaurant, and moved from sole entrepreneurs to a partnership with Mrs. DiVirgiliio's fourth-graders.
Pasta for Paws and Laws opened its doors to the dining public on May 22, and by the time the last dish was washed at the end of the night, the endeavor raised another $1,309.
After developing the branding, they created the slogan, "It's Unpawlievable!."  They drew attention, and new partners, with a series of creative commercials. And, again exercising their business skills, they crafted and sent letters to local restaurants, to solicit appetizers, main courses and desserts.
Once they knew the bill of fare, the youngsters created personalized placemats and menus. The last page of the menus listed their business sponsors, and also animals for adoption at MCSPCA, as well as a missive about the need to keep K9 teams protected.
Then, they gravitated to their fields of expertise, as hosts, servers, table-setters, table-clearers, and cashiers, keeping track of reservations, and allowing scores of eager diners to enjoy a one-of-a-kind gustatory experience.
One can only wonder how many times their efforts have helped a stray find a new home, helped a sheriff's officer and his dog survive a narrow scrape,  what enterprises will pop up in the 2017-2018 academic year at Caruso Elementary - and who among the students will own the businesses we'll patronize in the not-too-distant future.