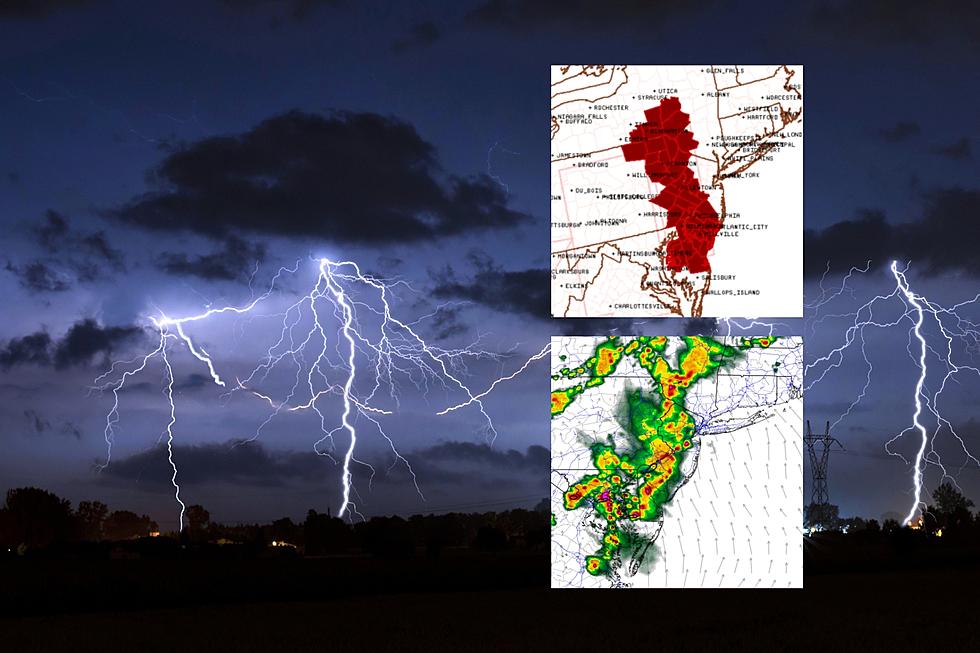 Tornado Watch for part of NJ until 11 p.m. — what it means, what to do
(NOAA / SPC, College of DuPage Meteorology, Canva)
UPDATE as of 7 p.m. Monday...
The watch area has been expanded to now include all of New Jersey.
A Tornado Watch continues until 11 p.m. for Atlantic, Burlington, Camden, Cape May, Cumberland, Gloucester, Hunterdon, Mercer, Salem, and Warren. It also now covers Middlesex, Monmouth, Morris, Ocean, Somerset, and Sussex counties.
A new Severe Thunderstorm Watch has been issued until 1 a.m. for the five counties in northeastern New Jersey: Bergen, Essex, Hudson, Passaic, and Union.
The storms arriving in New Jersey have a history of producing some destructive winds on the order of 60-80 mph. If you are in the imminent path of this storm, you should seek shelter in a sturdy building until it passes.
---
ORIGINAL POST from 3:56 p.m. Monday...
The Setup
For several days now, we have been watching a potentially explosive setup for New Jersey's weather on this Monday. The classic recipe for strong to severe thunderstorms is coming together:
—Instability, or potential energy, in the form of warm temperatures throughout the atmosphere.
—Moisture, or humidity, from this juicy air mass.
—Lift, or a spark, from an approaching cold front.
As I mentioned in my weather blog Monday morning, there is also sufficient shear — that is, winds blowing in different directions at different heights — for supercell (rotating) thunderstorms. That specifically raises the risk of a tornado.
The Watch
The National Weather Service, in collaboration with the Storm Prediction Center, has issued a Tornado Watch until 11 p.m. Monday for parts of western and southern New Jersey.
There are 10 NJ counties under the watch: Atlantic, Burlington, Camden, Cape May, Cumberland, Gloucester, Hunterdon, Mercer, Salem, and Warren.
A watch is a formal heads-up that conditions are ripe for severe weather to occur, including damaging winds, hail, and tornadoes. (Technically it does not cover flooding, although that is a significant threat from Monday's thunderstorms too.) A watch does not mean a bad storm is happening now. Nor are severe storms "guaranteed" to occur.
There is a very good chance the watch will be extended farther north and east as the line of thunderstorms gets closer and exact timing/impacts get clearer. Warnings will be issued when dangerous weather is imminent.
The Timeline
Model guidance has locked the timing of these storms into the Monday evening window.
As of this writing (3:30 p.m.), the leading edge of storms is about 70 miles west of the Delaware River. That would indicate an on-time arrival around 5 p.m.
The worst, most widespread severe weather will probably be in the 7 p.m. to 11 p.m. time frame.
Thunderstorms may linger until Midnight or 2 a.m. before the entire state dries out completely.
The Impacts
Very heavy rain is practically a guarantee, given our high humidity and the strength of incoming storms. A widespread 1 to 2 inches may fall across the state, on top of saturated soil from Monday morning's wet weather. That alone will raise ponding or flooding issues (a.k.a. "big puddles") Some forecast models have shown pockets of 3 or 4 inches of rainfall, which is more than sufficient to cause flash flooding. Never attempt to drive, walk, or swim through flooded areas.
Damaging winds are likely too, on the order of 60 mph. Discrete thunderstorm cells will likely merge together to form a "squall line," which are notorious wind-makers. Keep your phone charged in case of power outages, and stay inside a sturdy building as the worst weather arrives.
Cloud-to-ground lightning, by definition, is a danger in every thunderstorm. I expect Monday evening's storms to be very electric, raising concerns of lightning strikes for anyone out in the open. Remember, such strikes can occur several miles ahead of a thunderstorm cell. If you are close enough to hear thunder, you are close enough to be struck by lightning — that means it's time to head inside.
Hail is possible too. While rarely large enough to cause substantial damage here in New Jersey, it does make for a dramatic and noisy scene. And can make driving and/or walking in the elements especially difficult.
Tornadoes are also a possibility, especially as initial storms arrive in the early evening hours. Therefore, the western counties in NJ (under the Tornado Watch) are most susceptible to strong twisting winds. Once the storms merge into a squall line, the tornado threat will decrease. (But it will not disappear completely.) A "Tornado Warning" is among the most serious and most urgent of weather alerts — if one is issued for your area, you need to immediately seek shelter on the lowest level of a sturdy building.
The Bottom Line
It is very important to stay alert and "weather aware" through Monday evening, as thunderstorms arrive and develop. Carefully consider your outdoor plans for the rest of the day — you do not want to be caught outside when a severe or tornadic thunderstorm rolls in. Think about your travel plans too — much of the state should barely escape the evening rush hour before things turn stormy, but that is not a guarantee.
Our weather, news, traffic, programming, digital, and engineering teams are fully mobilized to cover and respond to Monday evening's thunderstorm threat. As things turn nasty, we will have the latest on-air and online throughout the evening.
BEEP BEEP BEEP: These are the 13 types of Wireless Emergency Alerts auto-pushed to your phone
The Wireless Emergency Alerts (WEA) system allows government officials to immediately and automatically push messages to all cell phones and mobile devices within a specific geographical area. There are a total of 13 types of messages that can currently be sent as a Wireless Emergency Alert. Nine of them are weather-related warnings, including one that is brand new as of August 2021.
Dan Zarrow is Chief Meteorologist for Townsquare Media New Jersey. Follow him on Facebook or Twitter for the latest forecast and realtime weather updates.
A tornado's rapidly approaching - what should you do?