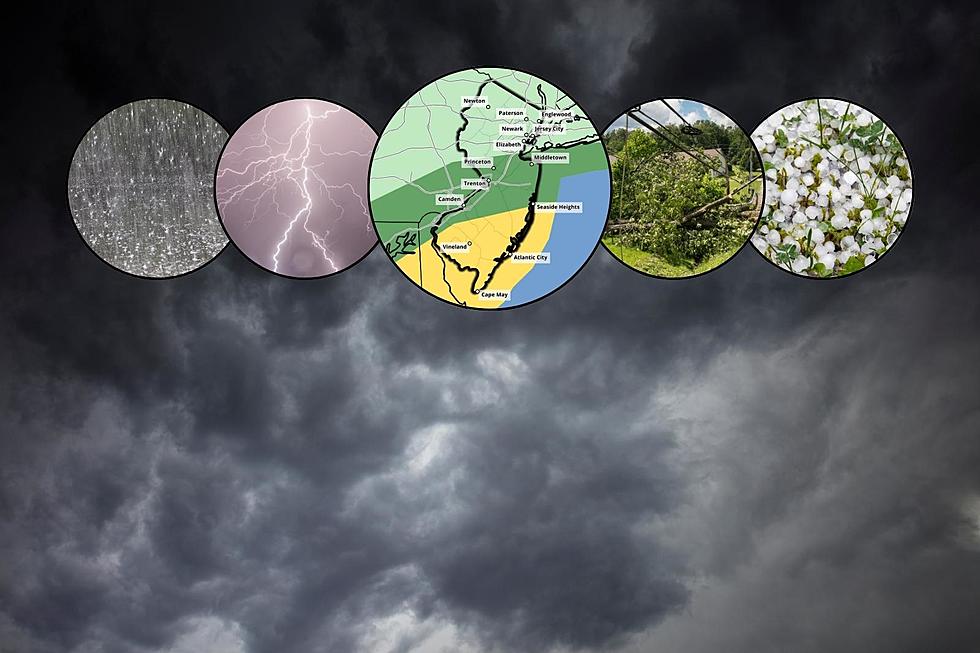 Thunderstorms return to NJ Friday, with wind and hail concerns
(SPC / NOAA, Canva)
UPDATE as of 11:15 a.m. Friday...
The National Weather Service and Storm Prediction Center have issued a Severe Thunderstorm Watch for 13 of New Jersey's 21 counties, in effect until 6 p.m. Friday.
Storms are now developing along the western and southern edges of the state, and have a history of producing strong winds, hail, and even a few instances of tornadic rotation. Through the early and mid afternoon hours, thunderstorms will continue to charge east and grow.
The watch basically includes central and southern New Jersey, as far north as Hunterdon, Somerset, and Middlesex counties. That is where the air is most humid and most unstable, and therefore the most conducive to nasty storms.
A "watch" serves as a formal heads-up that dangerous weather may occur. If a warning is issued for your area, seek shelter immediately on the lowest level of a sturdy building.
For further details on the timing and geography of Friday's active, stormy weather, please continue reading my original weather blog post below.
---
ORIGINAL POST from 7:41 a.m. Friday...
The Bottom Line
This week of yo-yo weather ends with the return of thunderstorms. To be frank, New Jersey's weather is going to turn pretty nasty Friday afternoon — outdoor activities are in trouble.
We still really need the rain. The latest Drought Monitor puts almost 80 percent of NJ in the "Abnormally Dry" category.
The good news: Over an inch of rain is possible by Friday evening. The bad news: The severe weather threat can't be understated.
The last weekend of Spring arrives with this storm system stalled just to the northeast. That means we have to maintain a chance for lingering showers through Friday night and Saturday too.
Father's Day Sunday continues to trend dry. The forecast for next week looks unsettled, but better, with only spot thunderstorms to dodge. After Friday, our next widespread round of rain could be over a week away.
Friday
All the ingredients are coming together for some noisy thunderstorms Friday.
Friday morning is starting off fairly tranquil. As of this writing, there are a few showers brushing past the southern edge of New Jersey. And we will see increasing clouds and rising humidity to start the day.
It is worth noting that wildfire smoke has returned to our upper atmosphere. That's why the sky may appear hazy Friday morning, and the sun a vibrant orange color. Not a whiff of poor air quality at the surface though.
Early temperatures are close to 60 degrees. Thermometers will peak around 75 to 80 degrees right around Noon. That is when scattered strong thunderstorms are expected to arrive from the west.
--When? The window we are watching for severe weather is midday through the afternoon: 10 a.m. to 5 p.m.
--What? The primary storm impacts Friday will be heavy rain, gusty winds, hail, and lightning. Usually at this point, I would tell you which is my main concern. But I think they are all on equal footing this time around — equally possible, and equally hazardous. The tornado threat is low. And widespread flooding does not seem likely, as our ground is still parched and thirsty. But you may find some ponding, along with visibility and traction issues, during and after heavy rainfall.
--Where? The most unstable, most humid air will be found in South Jersey. That is where the Storm Prediction has (rightfully) plotted a "Slight Risk" of hazardous weather. But some model guidance paints stronger storms farther north, perhaps as high as I-78. Above that point, you will likely see rain and possibly hear thunder, but severe weather impacts will be limited.
After about 5 p.m., storms will exit the Garden State. And then we will see a drying and clearing trend through Friday night. (Having said that, a few showers may linger through the evening hours.) Overnight low temperatures will dip to around 60 degrees.
Saturday
Ah, the weekend. We'll do OK weatherwise. But Saturday may be a little iffy.
The storm system responsible for Friday's thunderstorms will still be in the neighborhood Saturday, stalled just northeast of New Jersey. That means I have to keep a few showers and maybe even a thunderstorm in the forecast.
Forecast models are having trouble resolving one important element: How widespread will that rain activity be on Saturday? Will it be scattered, meaning brief but widespread? Or isolated, meaning most of New Jersey stays dry.
I am optimistically leaning toward the drier solution. But I would keep your plans flexible, especially during the morning and midday hours.. Drier air and less prominent lift will negate the risk of big, bad, severe weather.
In any case, skies will be mostly to partly cloudy. Winds may reach the breezy category, blowing out of the northwest up to 20+ mph. And temperatures will be warm, reaching about 75 to 80 degrees again. We will benefit from drier, less humid, more comfortable air too.
Sunday
I think Sunday will be the shining star of this weekend. Fantastic news for fathers all over New Jersey.
Expect partly sunny skies. And warm temperatures, reaching about 80 degrees. Close to normal for mid-June.
The chance for a stray shower is not zero, but it is low. Best chance would be to the north.
Monday & Beyond
Daily thunderstorm chances for next week have faded. But they have not disappeared completely. I have to include a spot shower chance for Monday and Tuesday. The chance of a thunderstorm late Wednesday is probably next week's best shot for rain. Highs should hit lower 80s on Monday and then upper 70s on Tuesday.
The rest of the forecast for next week largely hinges on the track and speed of a coastal storm system that will form over the Deep South, before sliding up the eastern seaboard. If we even catch a hint of easterly wind, temperatures will tank — 60s instead of 80s. And there could be some clouds and rain involved too. We'll figure out those details soon enough.
11 reasons why storm chasing in NJ is a very, very bad idea
Dan Zarrow is Chief Meteorologist for Townsquare Media New Jersey. Follow him on Facebook or Twitter for the latest forecast and realtime weather updates.
BEEP BEEP BEEP: These are the 13 types of Wireless Emergency Alerts auto-pushed to your phone
The Wireless Emergency Alerts (WEA) system allows government officials to immediately and automatically push messages to all cell phones and mobile devices within a specific geographical area. There are a total of 13 types of messages that can currently be sent as a Wireless Emergency Alert. Nine of them are weather-related warnings, including one that is brand new as of August 2021.