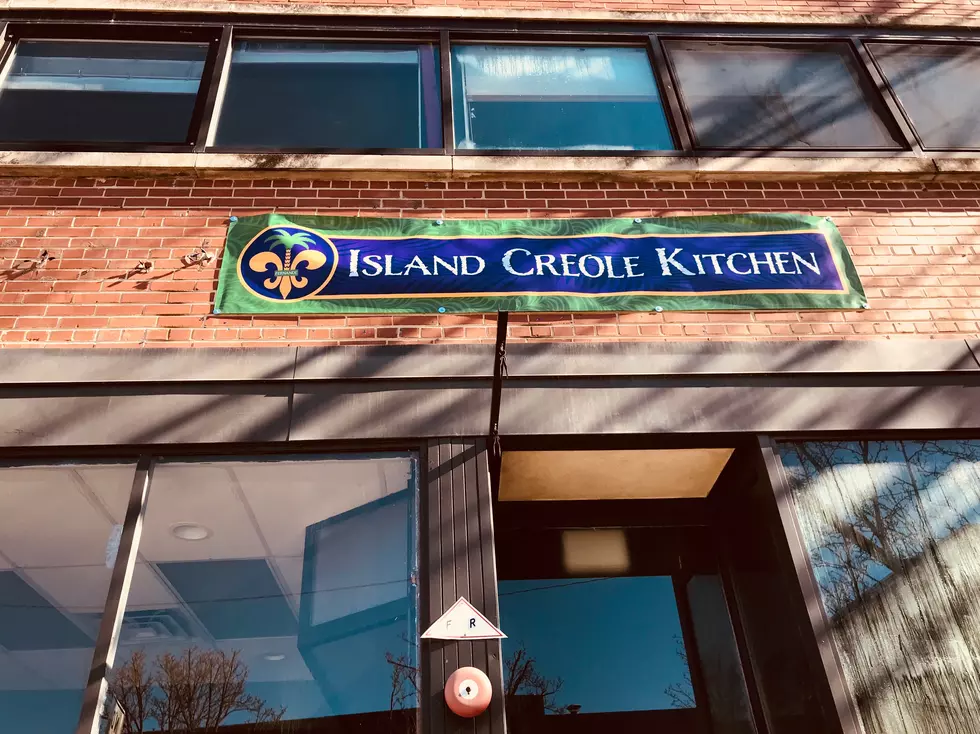 Island Creole Kitchen Opens In Toms River – Our First Taste
Island Creole Kitchen sign (Photo by Justin Louis)
Well, Island Creole Kitchen is now open and is serving up flavors of the Caribbean in the middle of this cold Jersey winter.
I stopped by the restaurant this afternoon to introduce myself and ask the owners a few questions, little did I know that my visit would go from a casual hello from a business neighbor to a full-on tasting session.
Stanley and Marly Romulus have spent many years catering to New York City's Caribbean communities when they decided to move to Toms River 3 years ago.
Stanley told me that they fell in love with the area and saw a gaping hole in the Ocean County restaurant landscape, so they put their Haitian and Jamaican roots to work and opened Island Creole Kitchen last Friday.
Marly whipped up a sampler for me while I was there.
Mind you, this was all unprompted. I literally stopped by just to say hi and ask a few questions for a quick article, but they sat me down and treated me like I was sitting at their own kitchen table.
Out came a plate full of their signature fried pork with black rice, ox tail, and fried plantain.
I'll be honest, I was just a little worried about eating a creole meal in the middle of the day. As I've noticed as I've gotten older, I love spicy food but spicy food doesn't love me.
But this isn't what you might expect from creole food. With a lot of restaurants these days overdoing it to get to blow-your-face-off spicy, this was more like really flavorful, but with a kick.
Don't get me wrong, the flavoring, especially the black rice, wasn't missing anything at all. On the contrary, it's food that isn't shy about letting you know that you're eating it, but it does so politely rather than sending you screaming to the nearest source of water or running for some Rolaids.
They also sent me off with a beef patty.
You might think that you know beef patties from the recent popularity of Jamaican beef patties from the frozen food aisle, but trust me, you don't know Caribbean beef patties until you've had one of Marly's.
One of the things that both Stanley and Marly made a point to tell me is that everything is as fresh as you can get. They're not buying frozen food in bulk and just dropping a fry basket or tossing it in the microwave. They're making this stuff every single day.
In fact, they're so committed to fresh food that on Saturday nights, rather than sticking leftovers back in the fridge to reheat on Monday, they donate all of their leftover food to local charities.
I asked both Stanley and Marly what they'd consider their specialty or their signature dish and they both said pretty much the same thing, with Marly pointing to their black rice. Oh yeah, and the fried pork. But also the jerk chicken. And don't forget about the empanadas and patties!
In other words, it's all good. Clearly, asking them to pick their favorite dish is like asking someone to pick their favorite kid. 
The theme that kept coming up in my conversation with both Stanley and Marly is family.
They're paying tribute to their island roots and the food that generations before them brought from Haiti and Jamaica.
Marly has been cooking since she was 8, and their 12 year old daughter is already in the family's kitchen learning the generations-old recipes.
But the biggest nod to family is right on their sign:
Inside the French fleur de lis sprouting a palm tree is a ribbon with the name Fernande on it.
Fernande was Stanley's grandmother, who had a dream of opening her own restaurant. Fernande has passed, but her memory, food, and the warmth of a family kitchen lives on right at 73 Main Street in Toms River.
You can catch Stanley and Marly this Saturday at the Ocean County Mall. They'll be giving out samples of some of their signature dishes at the Macy's at the mall from 1-3pm.