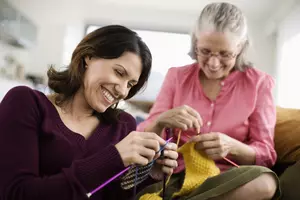 Ideas For Spending Quality Time With Mom
Jupiterimages
Even though Mothers Day is a big day for flower sales, there's a gift that doesn't have to cost any money:  quality time.  Ever since I read that book "The Five Love Languages," I've been aware that many people would rather spend time with a loved one than get a gift.  I wish that I had known that while my mother was still alive.  I would have made more time for her.
So if your Mom is still around, and you're able to get to her, let's make a list of things that mothers and daughters can do together.  I'll offer several and then you can add some in the Comments section:
Cook
Knit
Stroll along the boardwalk
Go to the nail salon
Go to Atlantic City
Look at photo albums
Record her telling stories about the old days
Take her to see a movie or live performance
Help organize her closet, (and maybe play dress-up if she has some retro or glamorous pieces in there.)
Take her out to a restaurant she's been wanting to try
What else would help Ocean County mothers feel special?  Please add to the list and have a great Mother's Day Weekend!