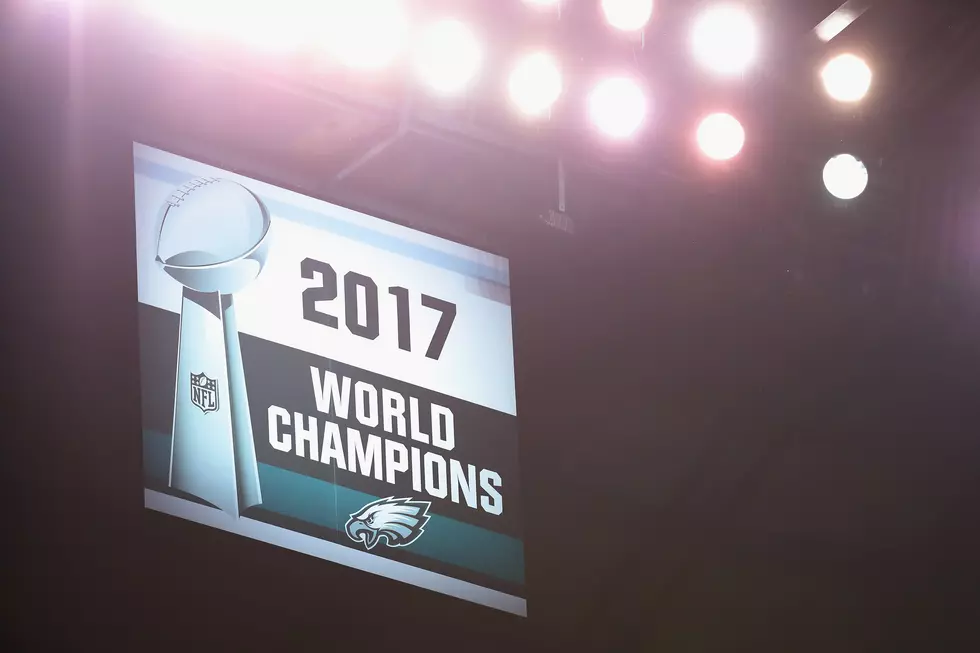 Football, Football and More Football
A Philadelphia Eagles Super Bowl LII championship banner is seen during the game between the Atlanta Falcons and the Philadelphia Eagles at Lincoln Financial Field (Brett Carlsen/Getty Images)
Philadelphia Eagles fans not only had to wait more than 50 years to win their first Super Bowl but had to endure a 45-minute weather delay on the night they would raise that championship banner.
In the end it was all worth it as the Eagles began defense of their Super Bowl title and opened the NFL season with an 18-12 win over the Falcons at Lincoln Financial Field.
This is the first full weekend of the high school football season with 42 of the 43 Shore Conference teams taking the field.  We will be in Manahawkin tonight for the Jersey Mike's Game of the Week powered by Toyota World of Lakewood as Southern Regional hosts Jackson Memorial.  You can listen to the game on 92.7 WOBM or watch the live video broadcast at shoresportsnetwork.com.
Several new head coaches make their debut this weekend including Point Boro's Brian Staub who at 27 becomes the youngest head coach in the shore and maybe the state.  The former Panthers offensive coordinator replaces Matt Cilento who stepped down after two very successful seasons to spend more time with his family.
Staub's debut tonight at Al Saner Field comes against longtime rival Manasquan who Boro beat in the state playoffs last season.  When Point Beach visits Keyport tomorrow it will match a pair of first-year head coaches at least in terms of the schools they are at.  Point Beach's Frank Papalia and Keyport's Andy Carlstrom were both head coaches before and have also worked together in the past.
Monmouth University plays its home opener tomorrow afternoon when they host Hampton in West Long Branch.  Kickoff is at 3pm and I'm looking forward to another season as the public address announcer for the Hawks.
The younger generation will likely know little about Burt Reynolds who died Thursday at the age of 82.  The former Florida State running back, actor and director was one of my favorite Hollywood personalities because he just seemed like a guy who knew how good he had it and never took himself too seriously.
Reynolds was at his best as a guest on the Tonight Show with Johnny Carson and had a laugh that was infectious.