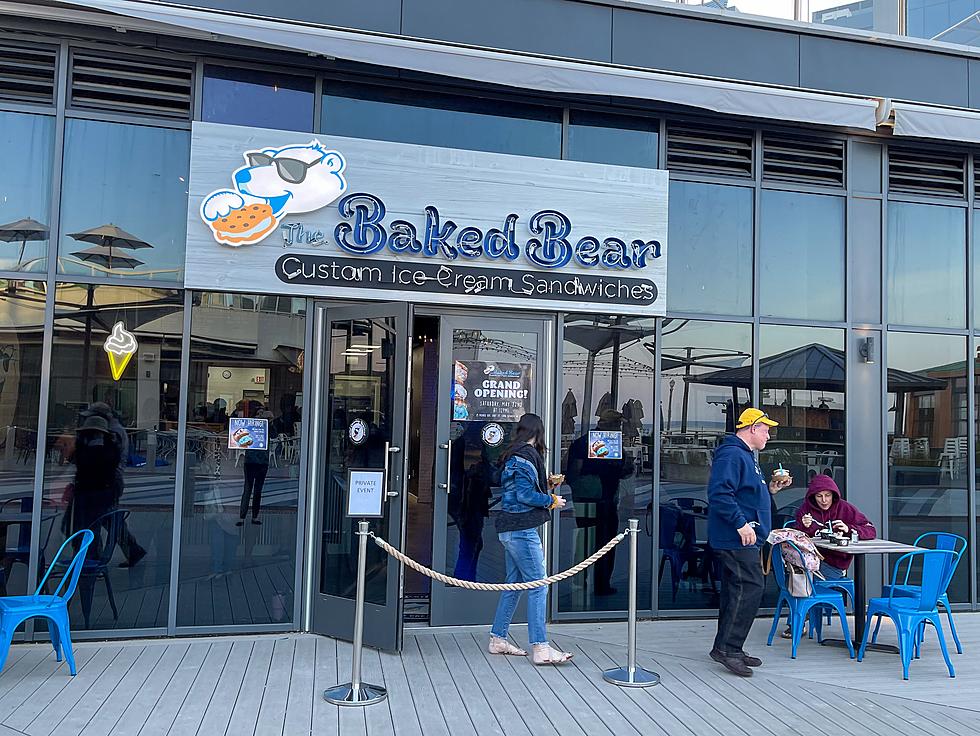 Exclusive Sneak Peek: New Ice Cream Sandwich Shop At Pier Village in Long Branch, NJ
Photos By: The Baked Bear
Once the weather starts to warm up, like clockwork, I start craving ice cream on a regular basis. I can't explain it...it is just how it is.
So you can imagine how thrilled I was to find out that a brand new ice cream sandwich shop recently opened up their very first location at the Jersey Shore.
Listen to Nicole Murray middays on 94.3 The Point and download our free 94.3 The Point app.
Now these guys know what they are doing because they have locations across the country in California, Oklahoma, South Carolina, Missouri, Maryland, Florida, Alabama, Tennessee, Texas and now, NEW JERSEY!
Introducing....The Baked Bear that just opened up at Pier Village in Long Branch on May 22nd.
"We were constantly talking about how much we loved and missed The Baked Bear in San Diego and it just dawned on us," said co-owner, Tyler Hess. "Pier Village would be the perfect home for our very own Baked Bear location."

 

"Just the heavenly aroma alone will keep our customers coming back," co-owner Elly Hess added. "Fresh baked cookies all day, every day. Plus, the absolute best ice cream ever. Who can resist?"
No, we cannot resist.
Here is their unique and delicious premise:
Step 1: Pick from 12-scratch-baked cookie and brownie flavors for the "bread" of your ice cream sandwich!
Your choices are: chocolate chip, cookies & cream, funfetti, gooey butter cake, M&M, red velvet, sea salt peanut butter chocolate, snickerdoodle, vegan/gluten free chocolate chip, white chocolate macadamia nut and the cookie of the month.
Step 2: Choose from 13 super premium ice cream flavors for the middle of your ice cream sandwich!
Your choices are: bear batter, butter brittle cake, dark chocolate, cookie dough, cookies & cream, espresso bean, mint chip, old fashioned vanilla, salted caramel fudge, vegan chocolate chip, toasted s'mores and brownie dough swirl.
Step 3: Choose your toppings that can put on top of or can be mixed into your ice cream sandwich!
Your choices are: hot caramel, hot fudge, Nutella, whipped cream, almonds, brownie bits, fruity pebbles, heath bar bits, mini chocolate chips, mini M&Ms, Oreo crumbs or sprinkles
Step 4: This step is AMAZING. You can have your ice cream sandwich hot pressed so your cookie and toppings are ooey gooey! Ice cream sandwich panini was the first thing this step made me think of.
There are also a few other things they offer: Ice cream scoops & pints, cookies, brownies and a hot fudge sundae.
They also have a Bear Bowl: warm chocolate chip cookie or brownie bowl with any scoop of ice cream.
I KNOW!!!!
For more information, take a look at their website. You won't be sorry.
Thank you to The Baked Bear for giving us an an exclusive sneak peek inside their new location. Let's take a look:
An Exclusive Sneak Peek At The New Ice Cream Sandwich Shop At Pier Village!
This dessert joined JUST opened their doors and are ready with your favorite Summertime treats!
10 Best Waterfront Restaurants in Ocean County