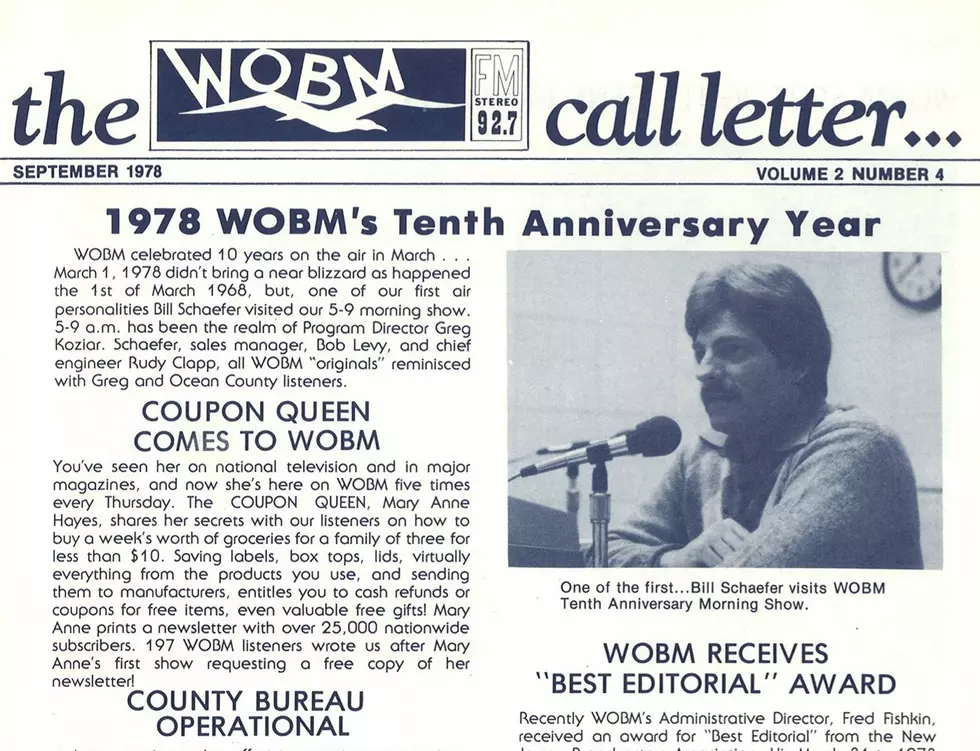 Check Out This WOBM Newsletter From 1978 [50 Memories in 50 Days]
92.7 WOBM/Townsquare Media
As we look back on the last 50 years of 92.7 WOBM, we've been uncovering some incredible pieces of station history. One of my favorite finds has been a station newsletter from September 1978.
As the Digital Managing Editor of WOBM, one of my duties is to build and send station newsletters to our thousands of subscribers. The content ranges from contests & events to local political and lifestyle news. (if you're not a member, now is a great time to join!) Of course, the newsletters that I build are in the form of e-blasts, and they arrive in your inbox. However, back in 1978, there was a slightly different workflow. Scroll through the pages below to see what WOBM listeners received 40 years ago.
There are so many interesting things that jump out immediately:
The headline: Ironically enough, WOBM was celebrating an anniversary in 1978 as well: 10 years on the air. That was their lead story at the time, and 40 years later, we will be sending out a newsletter with a VERY similar headline.
The content: News, community, lifestyle, contests. While the specific stories may be different, the topics that WOBM focused on in 1978 are still the bread and butter of our operation today: keeping Ocean County informed & entertained.
The photos: It's fascinating looking at the various WOBM staff members, Ocean County community members, and contest winners from yesteryear. As cliche as it sounds, it looked like a simpler time. I can't help but wonder the direction that life took these people.
The advertisers: Even back then, the station was only able to stay afloat thanks to the business of local advertisers. While some of the names on the back page don't stand out to me, the Shop Rites and Woodhaven Lumber are still going strong in Ocean County. But what happened to Bonanza Sirloin Pits, Card O'Rama, or Genesee Beer?
I could keep going, but you get the point. This piece of history is so much than just a newsletter: it's a time capsule. What was Ocean County, and the country as a whole, like in 1978? I'd like to think that this paints a very vivid picture.
Do you recognize a person, event, or story from our 1978 newsletter? Do you have a different WOBM or Ocean County memory that should be included in our series? We'd love to hear from you. Fill out the form below: