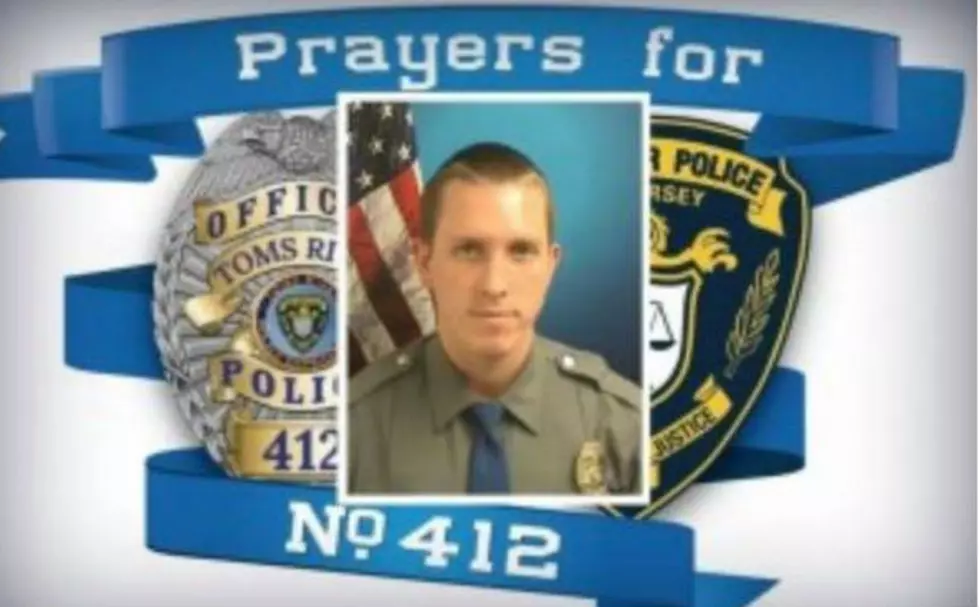 92.7 WOBM News Flash Briefing: October 4
Support for Officer Brett Hansen (Toms River Police Dept.)
Flags on New Jersey state buildings will be raised to half-staff Friday, in memory of the victims of the Las Vegas shooting rampage that left nearly 60 victims dead. Marilou Danley, girlfriend of the suspected gunman and described as a person of interest, returned from the Philippines to meet with federal agents in Los Angeles.
Visitation in memory of Toms River Police Officer Brett Hansen takes place Thursday at O'Brien Funeral Home in Brick Township. A mass will be given Friday at Manasquan United Methodist Church, with burial at Greenwood Cemetery in Brielle. Hansen died last week of injuries sustained in a January car crash.
New Jersey officials commit $20,000,000 to control pollutants entering Barnegat Bay. Municipalities will be expected to monitor storm drains under a plan for a Total Maximum Daily Load of nutrients that degrade oxygen levels and choke marine life.
Eatontown Police Officer Kevin Nicklack was justified in the use of force on an armed robbery suspect in late 2016, says the state Attorney General's Office. Nicklack opened fire on a car speeding straight at him, allegedly driven by suspect Aaron Riley.
The driver who died in Monday's one-car crash in Marlboro is identified as Michael Lyon of Howell Township. Police are still trying to determine what caused his SUV to veer off Route 18, into a bank of trees.
Would prescription drug monitoring programs, now in all 50 states, be more effective if they worked together, instead of individually? Worth a look, says shore Congressman Tom MacArthur, co-chair of the Bipartisan Heroin Task Force. He's creating a measure that would incentivize interstate cooperation through access to federal resources.
New Jersey's minimum wage inches ahead. The tie to the federal inflation rate means a 16-cent-per-hour hike. The new $8.60 rate takes effect at the start of 2018.
Getting one day's rest after their 8-4 rout of the Twins in the American League Wild Card matchup, the Yankees gird for their best-of-five division series against Cleveland. First game is Thursday night at Progressive Field.