NJ Faces Construction Worker Shortage [AUDIO]
As the rebuilding process from Superstorm Sandy continues, towns are facing yet another obstacle: a shortage of construction workers.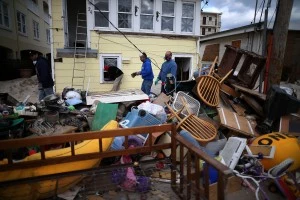 During the economic downturn, thousands of laid off construction workers left the field, retired or moved to other states to find work, leaving some states with a lack of workers.
"Construction has been in a slump for almost six years, construction employment has declined by 28% over that time," said Ken Simonson, chief economist at the Associated General Contractors of America.
He says New Jersey's low supply of workers will affect post-Sandy reconstruction efforts.
"There will be shortages and slowdowns in getting some projects completed and I think it will affect the rebuilding process there, absolutely. It will be hard to find workers with a specific set of skills at a particular time," said Simonson.
Congress' delay on voting for a supplemental spending relief measure for Superstorm Sandy ravaged states will also affect the construction industry.
"New Jersey will see a lot of workers coming back to help with the rebuilding process, but with Congress' failure to pass spending relief, that may be a slower process than people might be expecting."
The good news, however, is that New Jersey is one of the top ten states forecasted to add the most jobs in 2013.
"Overall, it will be a positive year for construction activity. I think we will see a strong upturn in homebuilding, home family construction and private construction, but it will be a challenge for contractors to find experienced workers to do all those projects."
Audio clip: Adobe Flash Player (version 9 or above) is required to play this audio clip. Download the latest version here. You also need to have JavaScript enabled in your browser.
Source:
NJ Faces Construction Worker Shortage [AUDIO]