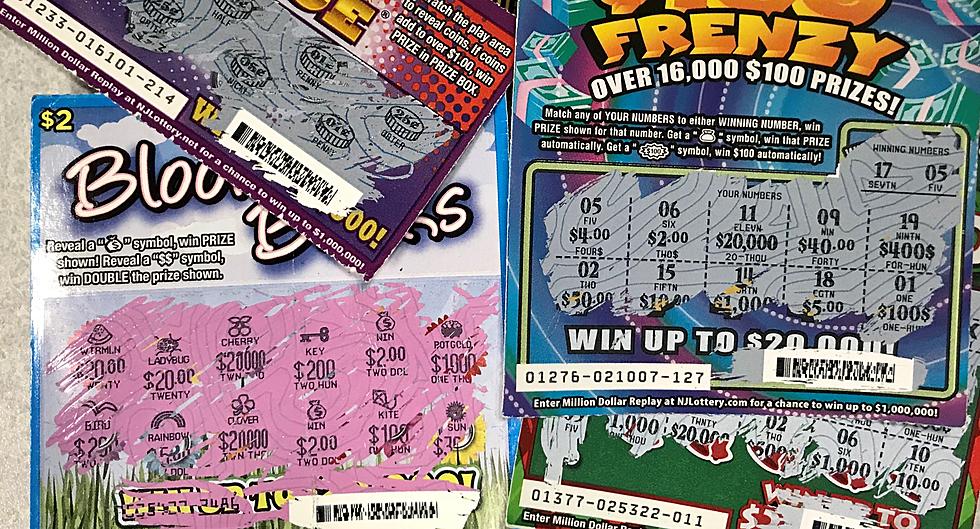 Your Old Lottery Scratch Off Tickets Could Be Worth Millions
Photo by Justin Louis
I admit that I'm a procrastinator which sometimes manifests with a small collection of New Jersey Lottery scratch-off tickets that haven't been cashed in yet.
Today, I learned the hard way that they do expire.
When I went to get lunch at the Beachwood QuickChek, I figured I'd bring the tickets with me. I thought if it wasn't too busy maybe it could pay for my lunch with my small hoard.
When the clerk scanned them, though, they were all expired and now worthless.
I was only out a few bucks, but hey, free money is free money, right?
While it was disappointing to lose a few bucks, don't let yourself lose considerably more than just lunch money.
According to the New Jersey Lottery, there are millions of dollars out there in scratch-off tickets whose games have ended but the tickets haven't expired yet.
You have a year from the time that the games end until the tickets expire.
When you take a look at the NJ Lottery's page of ended (but not yet expired) scratch-off games, you can see that there are hundreds of tickets out there that are worth $100 or more, including at least 4 one-million dollar tickets.
There's even one unclaimed "Win for Life" scratch-off ticket that pays the winner $5,000 a month for life out in the wild.
Here are the million dollar tickets and when they expire:
1,000,000 Spectacular - Expires 2/4/2020 (that's tomorrow, everybody!)
Million Dollar Multiplier - Expires 4/29/2020
50x The Bucks - Expires 7/28/2020
1,000,000 Lucky 7s - Expires 11/3/2020
The Win For Life ticket, by the way, expires on 4/29/2020.
You can click here for a full list of the New Jersey Lottery's ended but not yet expired scratch-off games. Click on the individual games to see when they each expire.
Enter your number to get our free mobile app