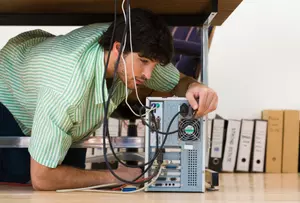 Who Fixes YOUR Computer Problems?
Jupiterimages
Yesterday I blogged about a computer problem that was bugging me at home for a couple of days. The whole experience got me thinking about our reliance on computers.  When they work they are awesome, making our work and personal lives efficient and productive.  We use them every day to stay connected to the news, our entertainment, friends and family.   But when they break, it's just terrible!
Your workplace probably has a designated techie to deal with computer problems.  But what happens when your HOME computers are messed up?  I'm curious how you handle technical glitches in your house.  Do you have someone in-house who can usually fix things?  (Is it a child or grandchild?  They tend to be very tech-savvy these days!)  Can you call a friend who works in I.T.?  Do you call the "Geek Squad" or some other computer repair service?  (If so, who do you use/where do you go in Ocean or Monmouth Counties?)  Or do you try to troubleshoot by yourself?