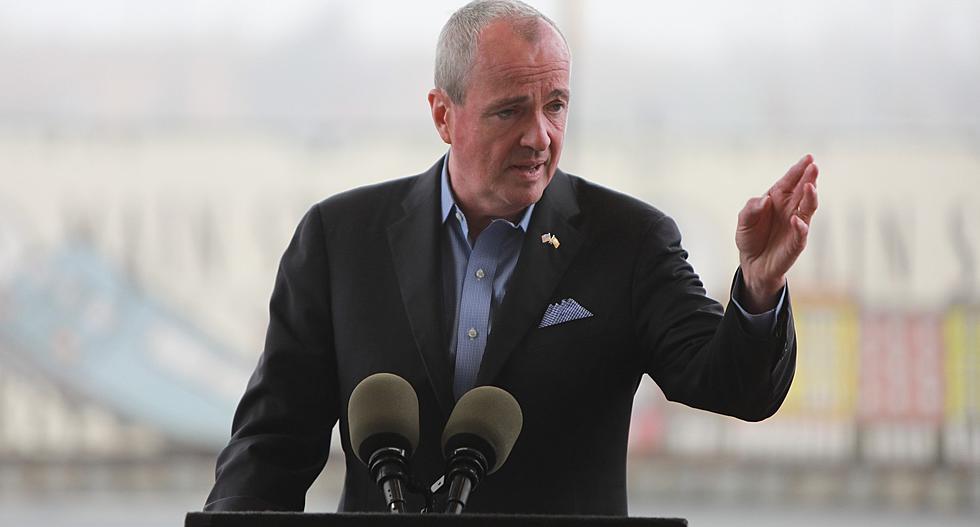 'When, not if' all schools close; NJ coronavirus cases jump to 50
Gov. Phil Murphy on October 30, 2019. (Edwin J. Torres/GovernorÕs Office)
Gov. Phil Murphy, in Friday's update from state health officials on the ongoing novel coronavirus pandemic, said it's "when, and not an if" New Jersey will order all public schools closed — even as hundreds have taken the measure on their own.
"We are actively working toward the inevitability that every district will be closed for a prolonged period of time," Murphy said.
According to the state data published by mid-day Friday, 354 New Jersey school districts — of more than 600 in the state — had already announced closures on their own. Of those, 215 were for professional development and staff training to prepare for extended home instruction. Forty-four were doing precautionary cleaning.
Another 90 were concerned about potential COVID-19 exposures, four were responding to confirmed exposures in their communities and 1 had a confirmed positive test.
But the governor stopped short of any universal order to close. He said the state and schools must make plans to provide home instruction, and  to connect those who need it with free or reduced-price meals and other services normally obtained through schools.
"We cannot take that lightly, and we will not," Murphy said.
He said of 1.4 million students in New Jersey schools, 259,000 don't have smart devices that could be used for home instruction.
But Murphy said he expected a closure of all schools could happen "in a matter of days."
The announcements came as state health officials announced 21 new presumptive positive cases of coronavirus, taking the state's known total up to 50. Cases are considered "presumptive positive" until confirmed by the Centers of Disease Control.
Health Commissioner Judith Persichilli said the 21 new presumed positive cases come from at least 10 counties: Bergen, Burlington, Essex, Hudson, Mercer, Middlesex, Monmouth, Morris, Ocean and Passaic.
For Mercer and Ocean, those were the first presumptive positive cases announced so far. Bergen has seen the highest concentration of cases in the state.
She did not specify how much are from each county, except to say that two were in Bergen, which accounts for 15 of the state's 50 positive tests. The counties for five of the positive tests were still being determined Friday afternoon, she said.
The state's largest city saw its first positive case on Friday — a 41-year-old woman who lives in Downtown Jersey City. City officials say the woman was "proactive when she felt symptoms and initiated testing with her private physician." The test result was shared with the city's Health Department Communicable Disease Reporting Surveillance System. The city said seven other people have been tested with negative results.
Also in Hudson County, Hoboken on Friday reported its first positive case: a man in his 40s who is experiencing mild symptoms and is expected to recover. The Hoboken Health Department has been tracing people that the man has been in contact with.
On Thursday night, officials in Old Bridge said that a resident had tested positive and that the resident's child, who attends public school, also was showing symptoms. The news resulted in the late announcement that township schools would be closed completely on Friday and Monday as officials prepare to implement possible online and remote learning for the remainder of the week.
State officials said Friday there were 80 cases under investigation in public labs, but they don't have information on the tests being done in commercial labs. They said they're only notified in the event of a positive result.
Other steps announced Friday:
• The Motor Vehicle Commission will extend driver's license renewal deadlines for two months, for all licenses due by May 31.
• State officials have asked the federal government to extend their deadline for compliance with the federal REAL ID license program
• Murphy said all public utility shutoff orders have been voluntarily suspended.
• He said New Jersey has sought from the federal Department of Transportation flexibility that would help keep truckers able to maintain supply lines, including for resources that have been flying off shelves in New Jersey, like water and baby formula. It wasn't immediately clear from the governor's remarks what form that help would take
• The state is seeking federal waivers to make sure districts can retain access to lunch programs for students
• New Jersey is expecting a large shipment of medical supplies from the federal government of respirators, face masks and face shields. "This is not remotely the entirety of our ask of the federal government," Murphy said, adding he hopes further shipments will be on the way.
This is a breaking story and will be updated.