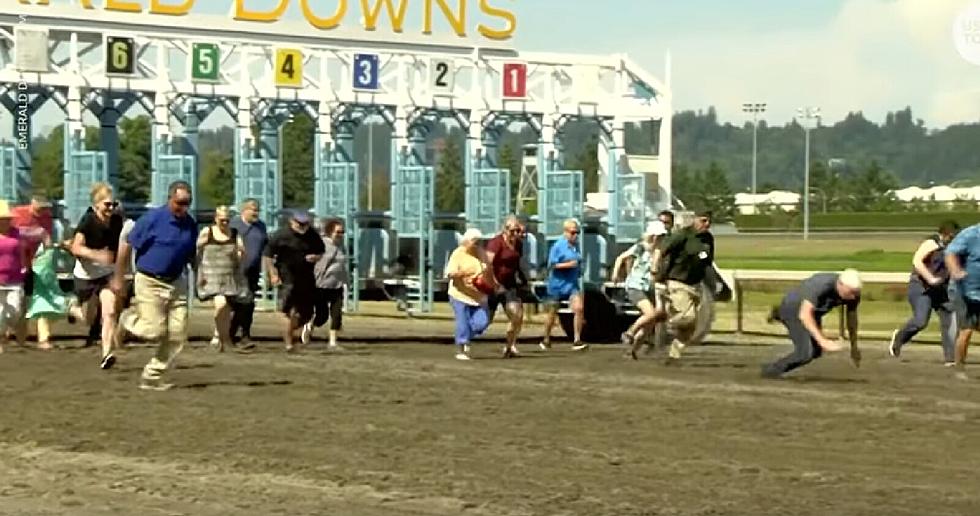 Video of Grandparents Derby is Most Hilarious Thing You'll See Today
YouTube USA Today
Mays Landing, New Jersey for years and years was home to the Atlantic City Race Course.
For years and years, a few times a week, horses would race around the track, drawing thousands of people - from locals to visitors to celebrities.
Then one day, the track died.
The track is still there, covered by the ravages of time, grass, and weeds.
What if the track survived and was still operating today? What would have it taken for the track to continue operating?
Maybe a little diversification.
In the state of Washington, the Emerald Downs Race Track has diversified to the point that now, instead of horses, there are people races. More specifically, grandparents races.
And down goes Frazier! And that other guy!
Wouldn't this be great to watch in person?
Emerald Downs is the same place that gave us T-Rex Races a few years ago:
Someone, please save and revive the Atlantic City Race Course so we can see some fun like this!
SOURCE: USA Today via YouTube
30 famous people you might not know were college athletes
Stacker
dug deep to find 30 celebrities who were previously college athletes. There are musicians, politicians, actors, writers, and reality TV stars. For some, an athletic career was a real, promising possibility that ultimately faded away due to injury or an alternate calling. Others scrapped their way onto a team and simply played for fun and the love of the sport. Read on to find out if your favorite actor, singer, or politician once sported a university jersey.
See Inside Garth Brooks and Trisha Yearwood's Malibu Beach House: