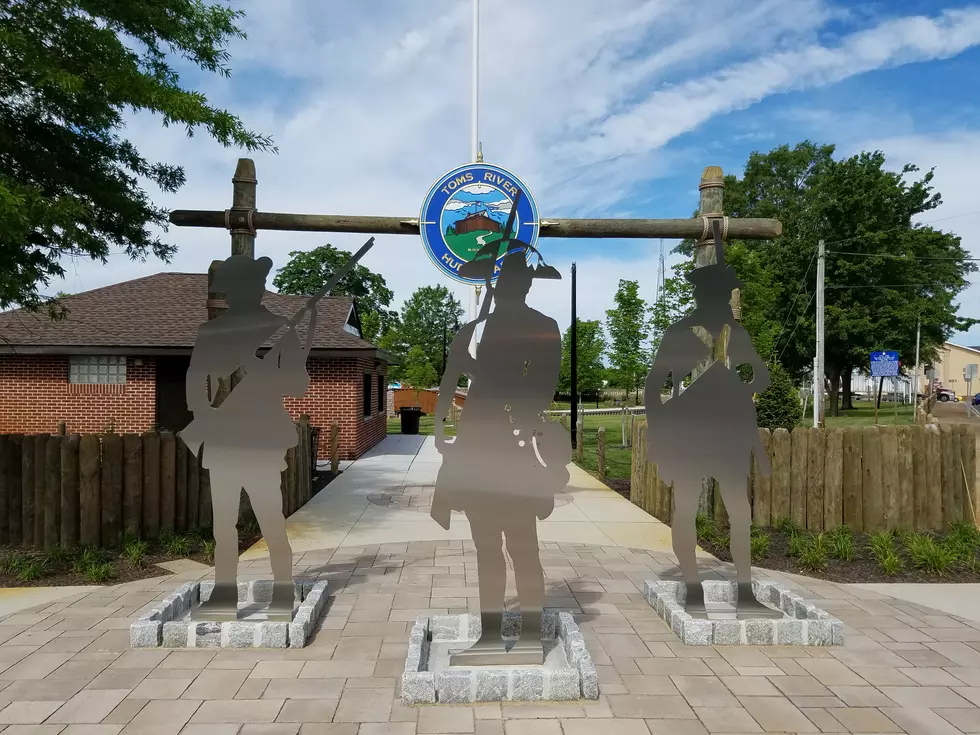 This week is 239th anniversary of the Battle of Toms River in Revolutionary War
Huddy Park in downtown Toms River. (Vin Ebenau, Townsquare Media)
Toms River has a deep history along a lot of different avenues and one of a pretty cool interest is the township's ties to the Revolutionary War.
On March 24, 1782 the Battle of Toms River took place, more a village than a township back then of course.
The people in the village were fearful prior to March 24, 1782 of an attack by British Troops so they asked New Jersey Governor William Livingston to send down a man named Joshua Huddy, an American Patriot who had been commissioned by the continental congress.
"The residents of Toms River were afraid that there would be another attack," former Toms River historian Mark Mutter told Townsquare Media News in a June 2017 interview. "The British had come here twice in the 1770's but unsuccessfully. The fear was that they might come a third time"
Huddy arrived in Toms River in February of 1782 to defend its blockhouse, which now is where Robbins Street in Toms River is in the space between our studios and Town Hall,
British troops surprised the village of Toms River and on March 24 1782, chaos ensued along with panic and destruction all the way down to Huddy himself.
"Nine Patriots are killed in hand-to-hand combat, Huddy is captured, the blockhouse is overtaken and the village is burned to the ground," said Mutter.
Huddy was then taken to a prison ship in New York Harbor.
"Several weeks later he was removed from that prison ship and summarily hung," Mutter said. "Without justice, without trial Huddy was hanged by the British setting off an international incident that goes all the way to Paris where the peace talks were ongoing to wrap up the Revolutionary War."
The British Troops had grown tired of Joshua Huddy prior to their arrival in Toms River.
Mutter said that Huddy had become a major thorn in their side throughout the entire war, "whether on land or at sea."
However, the Americans of course went on to win the war and their independence.
In a social media post Wednesday commemorating the anniversary of the Battle of Toms River Wednesday, Mutter said, "Today is the anniversary of the Battle of Toms River--March 24, 1782--in which the British came to our small village, attacked and overran the Patriot fort, and burned our town to the ground. The British may have won the battle, but we--we the Americans---we won the war for independence. It was right vs. might, liberty vs. tyranny, good vs. evil--and we remember it today in our history."
You can follow Vin Ebenau on Twitter and Instagram and email news tips to vin.ebenau@townsquaremedia.com.
10 Ocean, Monmouth School Districts losing multi-millions from S2 School Funding Formula
12 Times Being High Cost NJ Residents & Towns
Ten times drunk driving changed New Jersey Lives Forever
Have You Seen Them? Ocean County's Most Wanted
Have You Seen Them? Monmouth County's Most Wanted
Strange NJ Laws You've Never Heard Of
Marijuana legal in NJ: How do the laws work?
Answers to common questions about legalized recreational marijuana in New Jersey and rules about underage use of weed.
NEXT: INSIDE JOE PESCI'S HILARIOUSLY OVER-THE-TOP LAVALLETTE MANSION
LOOK: GO INSIDE JON BON JOVI'S $20 MILLION MIDDLETOWN MANSION
Go Inside Mike 'The Situation's' NJ Mansion
TAKE A TOUR OF JON BON JOVI'S NEW $43 MILLION PALM BEACH MANSION
Jersey Shore Nor'easter 2021 Listener Pictures
LOOK INSIDE: The Most Expensive House in Rumson
This is the most expensive house for sale in Rumson, NJ in 2021
Peek Inside Snooki's New Toms River Waterfront Home
LOOK: See the iconic cars that debuted the year you were born
NEXT: The 100 Best Places to Live on the East Coast
KEEP READING: Here are the best places to retire in America