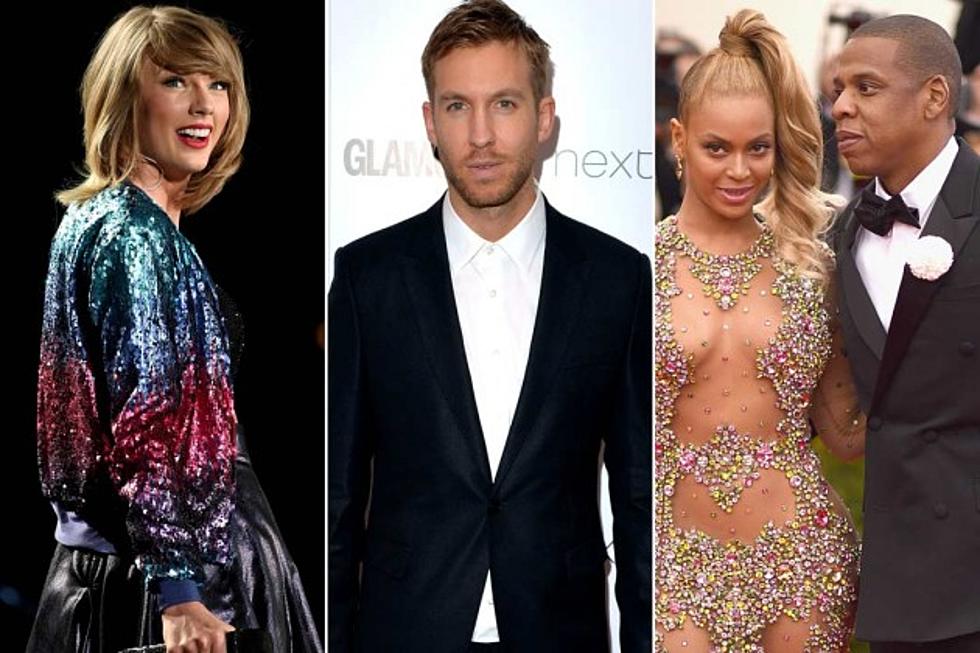 Taylor Swift + Calvin Harris Dethrone Bey + Jay as Highest-Paid Celeb Couple
Dimitrios Kambouris / Anthony Harvey / Dimitrios Kambouris, Getty Images
We always knew someone would eventually come for Beyonce and Jay Z's crown. We just never thought Taylor Swift and Calvin Harris would be the couple to dethrone them -- which is a demonstration of poor judgment on our part, when you consider Taylor's track record of breaking every record ever set by anyone on Earth.
According to Forbes (so this is real and legitimate, we promise), the combined wealth of Taylor and her new boo, Calvin, is so great that they've officially knocked Jay Z and Beyonce off the top spot as the highest-paid celebrity couple of 2015.
It's not all that surprising. Taylor's fanbase is still growing steadily and consistently, earning her more than a million album sales during 1989's 2014 debut week. She also has a bevy of endorsement deals (Diet Coke, Keds and Sony), as does Calvin (Giorgio Armani and Sol Republic headphones), who has a successful career in his own right. Together they've amassed an annual earning of $146 million, which is such a large amount that we can't even conceive of it as an actual, tangible thing.
Beyonce and Jay Z, meanwhile, come in second place, bringing in a combined $110.5 million together. Their co-headlining On the Run tour was the fifth-highest grossing of 2014, which is made more impressive when you consider the fact that the entire tour consisted of only 22 shows. Jay Z has his own business endeavors with his company Roc Nation, Armand de Brignac champagne and D'Usse cognac while Beyonce has endorsement deals of her own with huge brands like Pepsi and H&M.
Blake Shelton and Miranda Lambert come in third place, earning a combined annual income of $57 million. While impressive to those of us who will inevitably pass along our student loan debt to our children once we die, $57 million is such a huge difference from $110.5 million that it's like, does that even count?
50 of the Best Celeb Disses