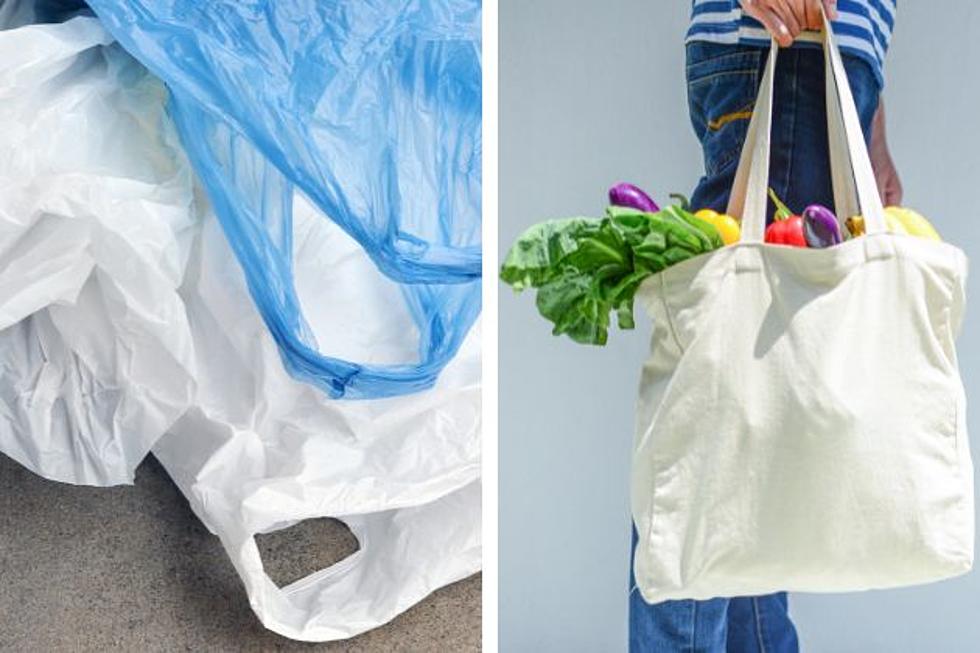 Poll: NJ plastic bag ban losing some support, 9% don't know it exists
Canva
⚫ A smaller majority of NJ adults support the plastic bag ban
⚫ Some aren't aware the ban exists, 19 months into the law
⚫ Fewer residents support NJ's limitations on single-use paper bags
---
It's down a bit from right before the major change went into effect, but support for New Jersey's ban on single-use plastic bags at stores is still at a majority level, according to the latest statewide poll out of Monmouth University.
In the poll conducted across a handful of days in August, 56% of New Jersey adults said they support the New Jersey law that blocks retail establishments from giving out or selling single-use plastic bags to customers.
Support dipped just five points since the poll last asked New Jerseyans in April 2022, right before the rule took effect.
"When you consider the fact that most New Jerseyans have had to change their habits when they walk into the store and make sure they have their own bag with them, that is a big deal," said Patrick Murray, director of the Monmouth University Polling Institute. "Before the ban went into effect, less than four in 10 New Jerseyans brought their own bags to the store. Now it's more than nine in 10."
Republicans haven't budged much in their opposition to the ban, the poll shows. Meanwhile, support among Democrats is at 72%, the same figure recorded in April of last year.
"The real change that we've seen ... has been among independents, where support has dropped by 10 points to 52%," Murray said.
Surplus of reusable bags
The poll also asked New Jersey residents how many reusable shopping bags they have acquired over the past year, including ones they've purchased and others that were given to them at stores or with deliveries.
Sixteen percent of respondents said they've accumulated more than 50 bags over that time. Overall, a majority report accumulating more than 10.
Of those who have gotten more than five bags, 62% said they hold on to their extra bags. Twenty percent said they recycle some of their surplus, and 7% throw at least some in the trash. The odds of disposal and recycling go up among those who've accumulated more than 25 bags.
New Jersey Clean Communities Council, one of the groups charged with educating the public about New Jersey's bag law, is weeks away from launching a statewide reusable bag collection program with its partners, according to executive director JoAnn Gemenden.
"While reusable bag collection programs began in tandem with the launch of New Jersey's single use bag ban, organizations quickly learned that the additional step of cleaning/sanitizing bags was necessary," Gemenden said. "Great strides have been made to ensure the cleanliness of bags, the funding for these initiatives, program promotion and that partnerships were in place to ensure the statewide success of this launch."
Clean, new or gently used reusable bags are currently being collected by nearly 300 partners of the Community Food Bank of New Jersey.
In the poll, 45 percent of respondents said they believe that all stores in the state are following the plastic bag ban, based on their own experience. Another 45% said most stores are following the rules.
NJ's views on paper-bag and Styrofoam ban
Fewer than half of the poll respondents (44%) are in support of the part of New Jersey's law that prohibits large supermarkets from distributing single-use paper bags. Support was at 47% in April 2022.
Most (56%) are on board with the part of the law that bans takeout food containers and cups that are made of polystyrene (Styrofoam).
New Jersey's law also blocks restaurants and eateries from distributing plastic straws unless they're requested by the customer. New Jerseyans are essentially split on their views of this rule.
Nine percent of respondents in August said they weren't even aware of New Jersey's plastic bag ban.
Report a correction | Contact our newsroom
LOOK: Food history from the year you were born
From product innovations to major recalls,
Stacker
researched what happened in food history every year since 1921, according to news and government sources.
LOOK: Longest-living dog breeds