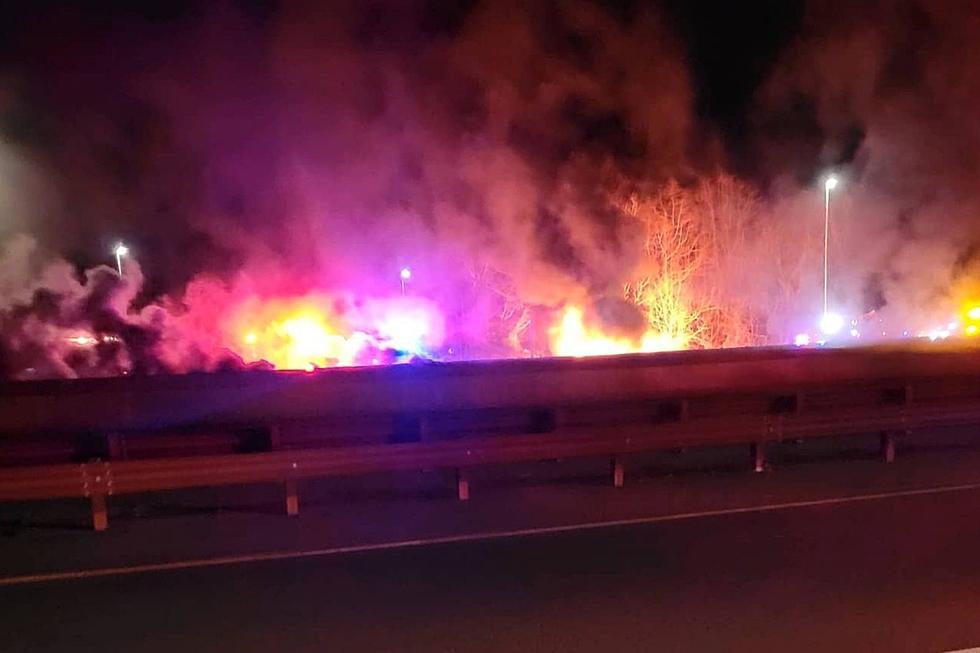 Police arrest two juvenile arsonists for starting fire on Garden State Parkway in Brick, NJ
Parkway brush fire in Brick (courtesy Ramstown Fire Company)
Two juveniles have been arrested for their roles in starting a fire on the Garden State Parkway near Exit 91 in Brick Township, Acting Attorney General Andrew J. Bruck and New Jersey State Police Superintendent Colonel Patrick J. Callahan announced on Wednesday evening.
Their arson led to the parkway being shutdown in both directions for about 10-hours on January 19 shortly after 5:00 pm and, long-term, caused at least $1-million in damages after the inside of a drainage culvert was destroyed in the process.
It was the culvert that New Jersey State Police Detectives determined was where the fire was started.
That culvert -- which is a pipe that's about 300 feet long and five feet high -- runs between the Exit 91 north entrance ramp and the Exit 91 south exit ramp.
As the investigation moved forward, and through "various investigative means", police were able identify the two juvenile suspects who are responsible for allegedly starting the fire.
Their inferno came shortly after they allegedly burglarized a building owned by the New Jersey Turnpike Authority, which happens to be right next to the Parkway 91 North commuter parking lot.
Both of the juveniles are now charged with arson, burglary, criminal mischief, interference with transportation, and defiant trespassing.
Following their arrest, processing and being charged, New Jersey State Police said that both were released from custody, pending a future court date.
The arson case they are involved in is being prosecuted by the Ocean County Prosecutor's Office, NJSP announced.
Previous reporting by Dan Alexander was used in this article. 
How Firefighters training helped put out major fires