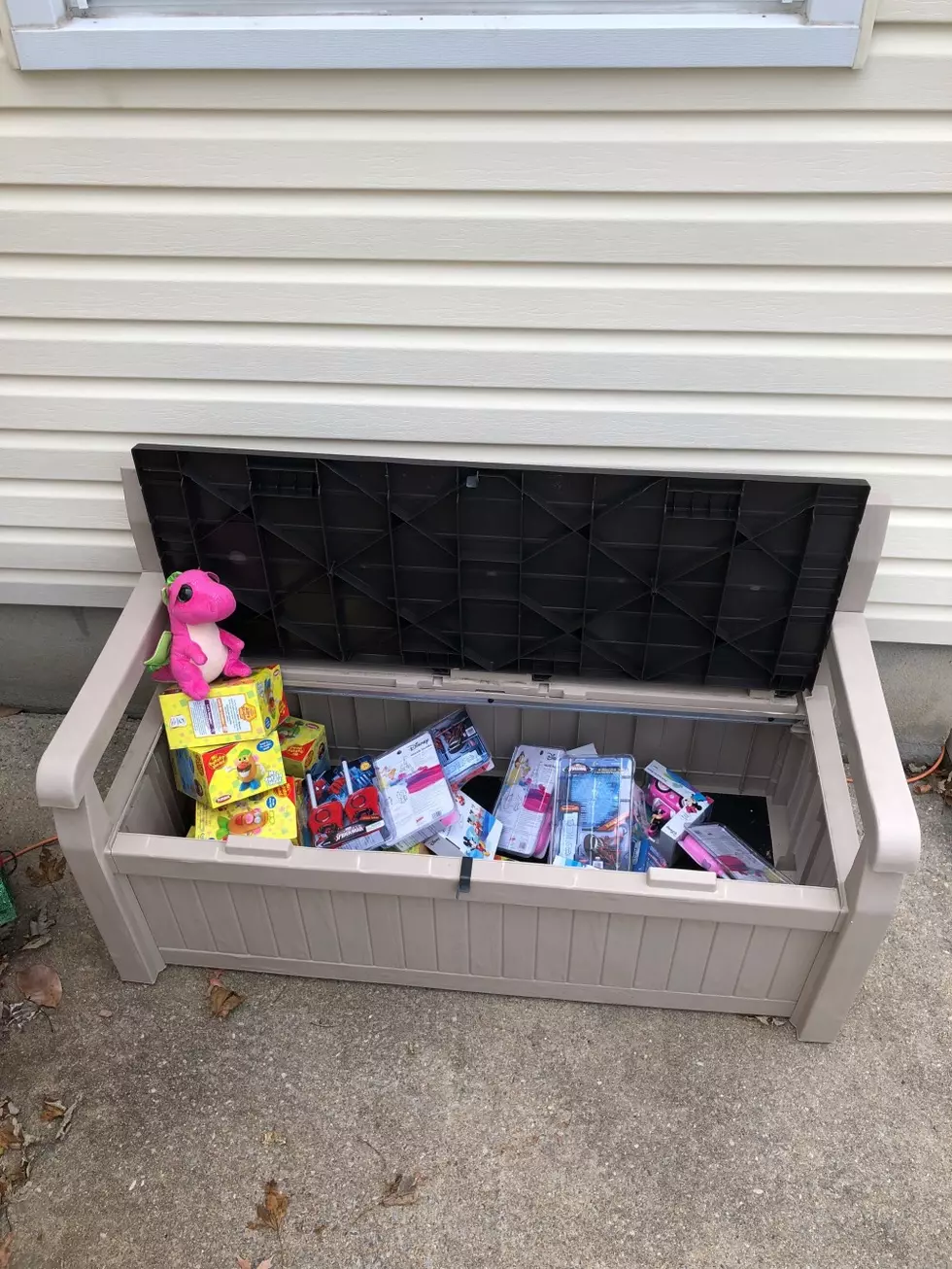 Ocean County, NJ based non-profit doing outstanding work for many communities
JF Party Dragon donates to Chris' fight for a cure. (Photo Credit: Justin Greco)
There is a uniqueness about the Ocean County-based non-profit JF Party Dragon and that's in part because they are middle-man -- there to help out wherever the need is great.
Tom Nuara, President, Chief Executive Director, and Co-Founder of JF Party Dragon along with Justin Greco, Treasurer, and CFO of JF Party Dragon, joined us on 'Shore Time with Vin and Dave' on Sunday morning to discuss who they are, what they do, and how they continue to be there for all of you.
"We help everyone, pretty much, in Ocean County," Greco said. "We wanted all the money that comes in to go back out to those people in need. We have a purpose of helping everybody that lives in the area, so the money comes in locally and goes back out locally, so, we help Toms River Schools, the local police departments, the (Ocean County) Sheriff's Department -- Ocean County Sheriff's Office helps with our toy drive at Christmastime, we help people with Autism in the area -- we work with local businesses."
"The important thing is that we break our calendar down and it really helps us keep a focus on what tasks and people we want to help for that section so we can stay focused on what we're doing and it allows us to really finetune what we're doing and pick the appropriate people to help as we go," Nuara said. "It's important to us that the money that we raised goes to people in need."
JF Party Dragon works with a couple of organizations to help individuals with Autism and their families -- POAC located in Brick Township and New Horizons which has locations across New Jersey and beyond.
"One of our favorite projects is the bike event that we do for Autism," Nuara said. "This year, we took 25 Autistic kids and young adults to Walmart and we surprised them by buying them a brand new bicycle."
The non-profit helps out a great number of organizations and people throughout the course of a calendar year overall, and one way of doing that is by holding events.
"In a couple of days (September 16), we have our first ever 'Concert For A Cause', we have from NBC's 'The Voice' 'JSoul' who will put on a concert for Veterans at the 'Shut Up and Eat!' parking lot (Main Street in Toms River)," Nuara said. "We're a big believer that nobody works for free, J (Soul) offered to do the concert for free for us and we were like 'no', you're doing work, you get compensated. The tickets for this event are $25 each and the great thing with this is every dollar from these tickets -- since there's no overhead -- will go to feeding Veterans in our area at Shut Up and Eat!, we will pick random Veterans and then we're going to extend it to active duty soldiers that we see in uniform, police officers, firemen, and women, EMS workers -- this money will go -- and we won't tell them until they (go to) pay their bill, 'hey, I took care of your food, thank you for your service'. It's a new event for us, it's something that we've never done before but J (Soul) came to us and wanted to do this."
Outside of this upcoming event on Friday night, they also hold 'Comedy For A Cause' and that's coming up in October at the Strand Theater in Lakewood.
"We have as our emcee for that night is the opening act from the 'Impractical Jokers', which is Chris Johnston, we have a comedian who we had open for us -- Billy Cheng -- unless you're a huge comedy circuit person, you won't know that name, but, our feature act is Julia Scotti from Season 11 of 'America's Got Talent' and our headliner is the owner of the Stress Factory Comedy Club in New Brunswick -- Vinnie Brand," Nuara said.
You can hear more about what JF Party Dragon does from Tom Nuara and Justin Greco on 'Shore Time with Vin and Dave' on 94.3 The Point and 105.7 The Hawk, right here.
LOOK: 50 famous memes and what they mean
With the infinite number of memes scattered across the internet, it's hard to keep track. Just when you've grasped the meaning of one hilarious meme, it has already become old news and replaced by something equally as enigmatic. Online forums like Tumblr, Twitter, 4chan, and Reddit are responsible for a majority of meme infections, and with the constant posting and sharing, finding the source of an original meme is easier said than done. Stacker hunted through internet resources, pop culture publications, and databases like
Know Your Meme
to find 50 different memes and what they mean. While the almost self-replicating nature of these vague symbols can get exhausting, memes in their essence can also bring people closer together—as long as they have internet access.
The Top 15 Best Movies That Were Filmed At The Jersey Shore
The Top 15 Most Talented & Successful Actresses From New Jersey