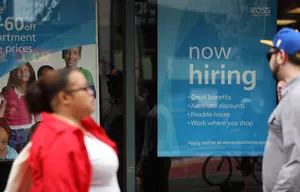 NJ libraries now helping the unemployed find jobs
(Photo by Justin Sullivan/Getty Images)
If you are job-hunting or about to graduate and start a career, the state Labor Department wants you to know that help may be as near as your local library.
Acting New Jersey Labor Commissioner Aaron Fichtner says their Career Connections program is expanding to include 42 library branches in 19 library systems across the state.
The libraries are helping people develop their resume and search for work.
"Every New Jerseyan at multiple times in their life is going to need help making a decision about a career or a job, whether they are in high school or in college, whether they have had a career or they have lost a job," he said.
The program provides uniform career guidance and job search assistance to state residents in libraries and at community colleges. Fichtner also says there's more help online at careerconnections.nj.gov.
The Christie administration has just committed an additional $1.4 million to the program. Fichtner says it is their hope that nearly every library in the state will eventually be a part of the network and will be prepared to provide services to individuals and help them make career choices.
Joe Cutter is the afternoon news anchor on New Jersey 101.5