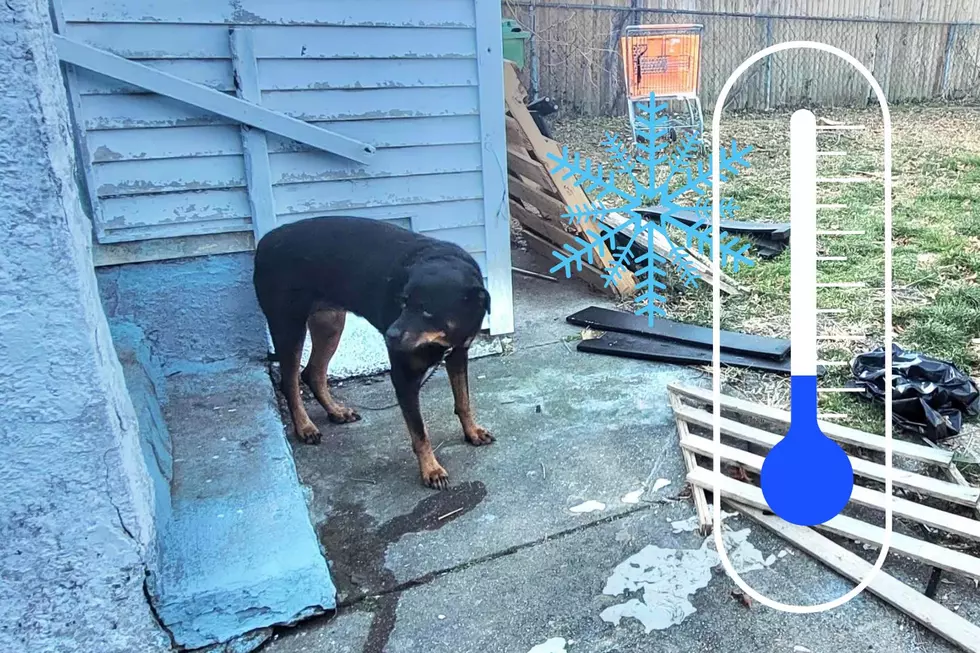 NJ couple leaves dog in single digit cold when pipes burst, officials say
Coco outside her Neptune Township home (Monmouth County SPCA)
NEPTUNE TOWNSHIP — The owners of a rottweiler who left her outside in the bitter Christmas cold for three days face a count of animal cruelty and the anger of MCSPCA Executive Director Ross Licitra.
The residents of a Neptune Township home, Iquan Carson and Shonquel Lindsey, left for a hotel when the pipe burst. Temperatures ranged between the teens and 20s for several days before and after Christmas, according to New Jersey 101.5 Chief Meteorologist Dan Zarrow.
Licitra, who is also a Monmouth County Commissioner, said police found "sweet senior" Coco outside on a short chain with no food, water or protection from the elements. She was brought to the MCSPCA's shelter in Eatontown and given food, water and a place to warm up.
"These people are really just uncaring bad people. I guess they had an issue with their apartment where they were living where the pipes froze or they lost heat. They take their dog Christmas Eve and they actually tie it with a four-foot leash to a metal railing on a set of concrete steps at the bottom and walk away from the dog. That was the night of that incredibly sub-freezing weather," Licitra told New Jersey 101.5.
Zarrow said Christmas Eve was New Jersey's coldest day of the season so far with lows in the single digits and a high of only 15 in the area.
Owners didn't know what to do with Coco
Licitra said the owners told investigators they didn't know what to do, which makes him angry.
"It's unbelievable. It's unconscionable. It really truly is," Licitra said. "You can't even talk to people like that. They can't even remotely give you an explanation as to the stupidity or cruelty that they have. They were just, 'Well, we didn't know what to do.' So you just leave it?"
Licitra said that the MCSPCA would have taken the dog in had the owner asked. They did not even ask friends or anyone for help with Coco once they had to leave their home.
"When I mean they did absolutely zero to try to help this dog. Zero. Not a phone call, not to anyone. They went outside, tied it to the railing, and walked away."
Coco's bloodwork showed she may have kidney stones, as well as a genetic eye condition that affects her vision that is likely a result of careless breeding.
Carson and Lindsey will be charged with animal cruelty, cruel restraint and failure to provide necessary care.
Coco, described as a gentle, loyal, and loving dog by the MCSPCA's staff and volunteers, is not yet up for adoption and will remain in the MCSPCA's care.
Dan Alexander is a reporter for New Jersey 101.5. You can reach him at dan.alexander@townsquaremedia.com
Click here to contact an editor about feedback or a correction for this story.
New Jersey's Top 8 Weather Stories of 2022
Bands That Broke Up in 2022
Sadly, these bands either announced a breakup, went on indefinite hiatus or broke up entirely in 2022.
50 Most Popular Chain Restaurants in America
YouGov investigated the most popular dining brands in the country, and Stacker compiled the list to give readers context on the findings. Read on to look through America's vast and divergent variety of restaurants—maybe you'll even find a favorite or two.