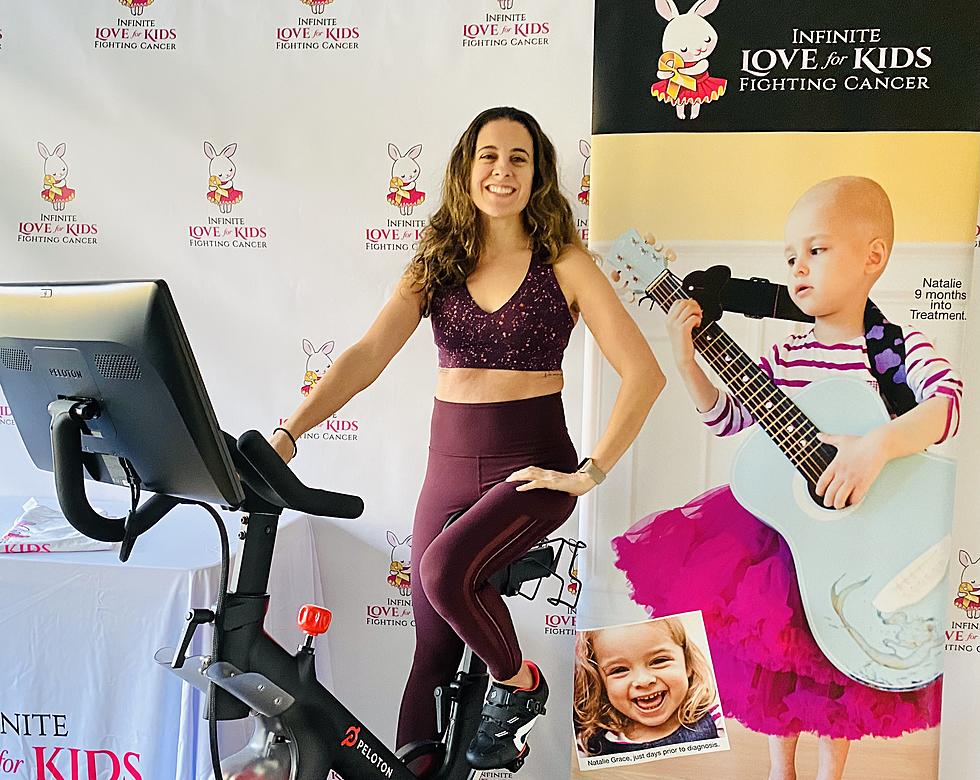 Join Middletown, NJ based 'Infinite Love for Kids Fighting Cancer' in 24-hour pedal-thon fundraiser
(Photo Courtesy: Andrea Verdone Gorsegner/Infinite Love For Kids Fighting Cancer)
A Middletown, New Jersey based non-profit organization has continued branching out to help kids battling cancer in Monmouth County, Ocean County and beyond -- even up to Connecticut -- and are holding a fundraiser this coming weekend where you can have some fun but join them in their mission.
Infinite Love For Kids Fighting Cancer was founded by Andrea Verdone Gorsegner of Middletown whose youngest daughter Natalie overcame her battle with cancer at just 3-years old to become a smiling, happy 12-year old in the 6th grade.
"She's a Leukemia survivor," Gorsegner tells Townsquare Media News. "She was diagnosed in 2012 and had a little over 2-years of treatment and that wrapped up in November of 2014. In that process, when we discovered how underfunded research is for childhood cancer, we just wanted to do something to try and make it feel as though we were helping beat her cancer as well and in our mind that was raising money to fund research for pediatric cancer."
There are so many kids who battle cancer out there and while lots of kids are able to win the fight, others have tragically lost it.
Through fundraising, it is the groups hope to be there for kids and their families battling cancer and for life while also pushing for additional research and one day -- a cure.
Since 2013, "we've already given approximately $1.3-million to research all over the country so to Children's Hospital of Philadelphia, MSK, Dana Farber (Cancer Institute)."
In addition to helping fund research, they also help families.
"We're based in Middletown, New Jersey but we help families all over," Gorsegner said. "We have another branch of the foundation that's actually based in Connecticut as well."
This coming weekend, you can help Infinite Love For Kids Fighting Cancer as they hold their 2nd annual 24-hour Pedal-Thon.
(Article continues below video)
It was at this time last year that the foundation did a pedal-thon fundraiser where Andrea led the biking efforts in pedaling on her bike at home for 24-hours straight (called 'Spin For Kids' in 2021) and encouraged others who also have a peloton to join in for the duration or for as long as they could throughout that time period.
"We started fundraising a (month) prior to that and ended up raising a total of about $85,000 which was pretty awesome," Gorsegner said.
It sparked enthusiasm to hold this fundraiser again here in 2022 and it's coming up this Saturday.
While she would love to partake in the full 24-hours again this year, Andrea may only be able to do a small portion herself following a battle with Covid last month.
"I really wanted to, I had planned on it but like so many of you, I ended up with Covid at Christmastime and while I kind of got past it in a little over a week, I still had all of these side-effects from it that have been very frustrating including some extreme fatigue," Gorsegner said.
Riding the bike for 24-hours straight in her place is Christine Doviak of Toms River and Jim McCaffrey of Connecticut, who is also Infinite Love For Kids Fighting Cancer's Vice-President.
Both Christine and Jim have been personally impacted by a childhood cancer diagnoses.
Jim's daughter Mia was diagnosed at the age of 5 with rhabdomyosarcoma, and tragically passed away 364 days later at the age of 6 in 2017.
He came on board with the foundation five-years ago and Andrea named him as the Vice-President just over a year ago.
McCaffrey, who is also a first-grade teacher, was set to ride in last-years fundraiser event but was unable to due to his own battle with lung cancer, according to The Trumbull Times in Connecticut, but following treatment, he is ready to go this Saturday.
For Christine Doviak, her daughter Carina, who is now 12-years old, battled cancer as well and is currently in remission.
"In December of 2017, she was diagnosed with Leukemia. She had treatment for two-and-a-half years and she finished her treatment in March of 2020," Doviak tells Townsquare Media News. "So, Carina was going through these treatments and, of course, as a parent, you feel completely helpless and I didn't know who to talk to and I was put in touch with Andrea and we heard about this amazing foundation (ILFKFC) who put you in touch with other families, help you financially, emotionally."
Inspired, loved by the help and friendship Christine and her family received during their battle, she wanted to give back and help others moving forward.
"We just really felt loved and cared for and it kind of felt like a place to go when our world had been turned upside down and so I just feel that now that we are on the other side, thankfully, it's my turn to do something and raise awareness for what Andrea is doing for children fighting cancer," Doviak said.
She has and will in so many ways which includes the upcoming 24-hour pedal-thon.
"I'm going to be on that bike, I'm going to stay on that bike!," Doviak said.
Here is where you can sign-up and learn more about the 2nd annual pedal-thon!
Infinite Love's Pedal-Thon Registration Link: 
Link to Donate: 
Infinite Love for Kids Fighting Cancer:
Infinite Love for Kids Fighting Cancer Facebook page: Where you can view the Pedal-Thon live.
Infinite Love For Kids Fighting Cancer
First Responders Appreciation