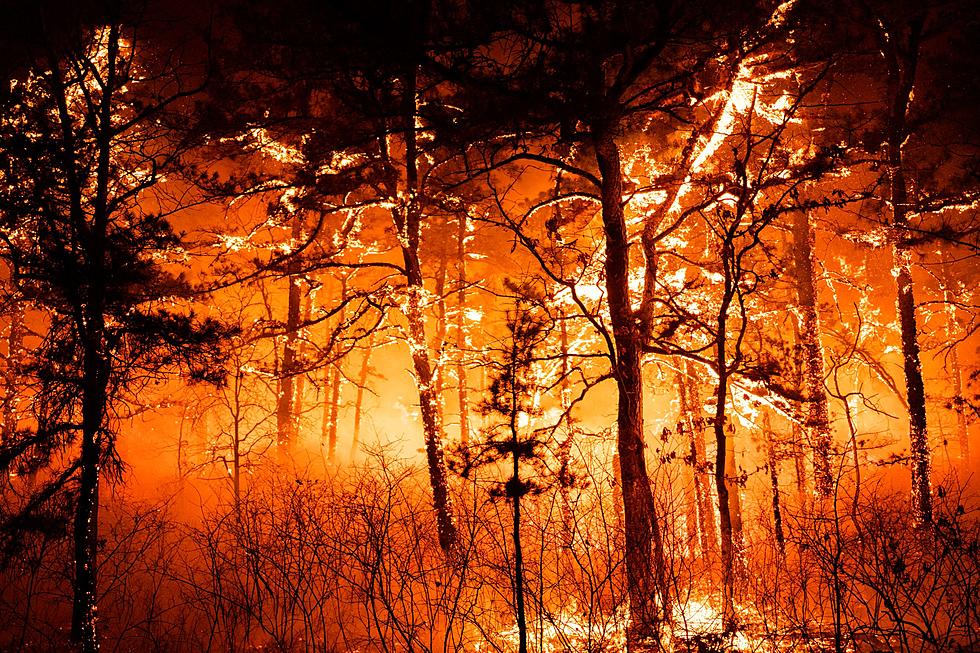 Updates on massive fire that's burned nearly 4,000 acres of land in Manchester, NJ
(Photo Courtesy: New Jersey DEP/Forest Fire Service)
🚒 Updates on massive forest fire burning across Manchester Township
🚒 Approximately 75 fire service personnel have been working on the forest fire from about 32 fire companies
🚒 Flare-ups from the fire are expected on Wednesday, fire not expected to grow
---
As of late Wednesday morning, the massive brush fire in Manchester Township is 50% contained after burning through 3,859 acres of land.
The roads that remained closed are Beckerville Road and Horicon Avenue and people are being asked to drive with caution.
The New Jersey DEP/Forest Fire Service as well as Manchester Police/OEM and other local officials held a press conference announcing the new information.
There have been approximately 75 firefighters from about 32 fire companies working since late Tuesday afternoon on containing and putting out the fire.
There's no imminent impact to residential homes or businesses but fire crews are working to monitor and contain the fire and limit any further impacts to the area overall.
It's been a very active fire season in New Jersey this week and this year alone, with more activity now than at this point last year.
"This fire exhibited extreme fire behavior, we saw a wall of fire with 200-foot flames raining fire embers," John Cecil Assistant Commissioner State Parks, Forests & Historic Sites, said.
The weather played a significant role in the fire that started on Tuesday, from low humidity, strong winds and high temperatures, said Assistant Division Fire Warden Trevor Rainer of the New Jersey Forest Fire Service.
"The initial strategy was to hold the fire west of Route 539, due to the weather conditions, we were unsuccessful in that, the fire jumped Route 539 and was burning east of that going towards Lakehurst," Rainer said. "We had some initial tactics to check up the fire before it got to Lakehurst, but, were unsuccessful in that due to some of those high flame fronts, a lot of embers, a lot of spot fires ahead of the main fire."
The NJ Forest Fire Service and fire crews on the scene used various tactics to get the fires under control and contained.
Rainer gave credit to local and county firefighter crews who provided structure protection to prevent the fire from impacting any homes.
"They were protecting the houses as the wildfire progressed along the homes and the property lines," Rainer said. "The structure protection leapfrogged from house to house, stayed with the fire, and ultimately saved a lot of homes."
There have been at least 15 reported brush fires this week alone and given the wind and warm temperatures on Wednesday, there is some concern for the afternoon in Manchester and Ocean County and days ahead in New Jersey.
"It's probably a worse fire day than it was yesterday, so, we're looking to wrap this fire up quickly and safely and put in a really strong effort with our cooperating agencies and our agency so that we're ready for the next wildfire," Rainer said.
It is too early to tell what caused the fire.
"The wildfire is under investigation at this point," Rainer said.
There are no injuries that have been reported from the fire and no plans to have any additional evacuations of residents.
"We're confident that we have a good handle on this fire and so we're not requiring any additional mandatory evacuations," New Jersey Forest Fire Service Chief Greg McLaughlin said.
The New Jersey Forest Fire Service is taking precautions now to be prepared for any future fires and act quickly.
"We're taking the necessary steps. We've implemented restrictions on agricultural open burning and camp fire restrictions, we've upped our patrol level so there's more people and fire trucks actively patrolling and looking for wildfires," Rainer said. "We have an aircraft on duty ready to take off at a moment's notice. It can drop 800 gallons of water at a time."
How Firefighters training helped put out major fires
Famous Athletes Who Came From New Jersey
Professional Sports Teams That Play In New Jersey
Professional Sports Teams That Play In New Jersey
New Jersey Abandoned Sports Stadiums
The Biggest Music Stars From New Jersey