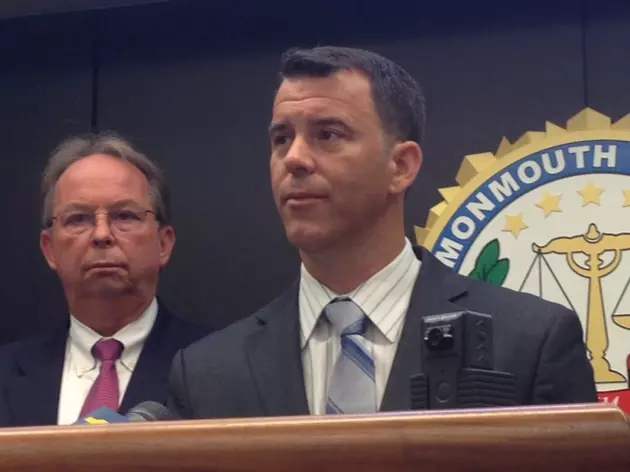 Man charged with selling drugs used in fatal overdose in Howell
Monmouth County Prosecutor Christopher Gramiccioni (Dino Flammia, Townsquare Media NJ)
HOWELL — A Trenton man is being held responsible for the death of a township resident after police say he was the one who sold a fatal dose of heroin laced with even more lethal fentanyl in March.
Christopher McQueen, 24, has been charged with first degree strict liability for drug-induced deaths and other charges, according to Monmouth County Prosecutor Christopher Gramiccioni.
The prosecutor said on the night of March 7 McQueen sold the drugs to 21-year-old Todd Cogar at a motel in Lawrence. On the morning of March 8, Cogar's family found him unresponsive and efforts to revive him, including the use of Narcan, were unsuccessful.
The Howell Township Police Department investigated Cogar's death along with the Monmouth County Prosecutor's Office, the Mercer County Prosecutor's Office, and the FBI.
"The opioid epidemic remains one of the biggest challenges facing our communities," Gramiccioni said, adding that in most cases the user is not even aware they are using the other drug which is "50 times more potent than heroin."
"It is imperative that we do everything possible to help those who have fallen prey to the lure of highly addictive opiates such as heroin," he added. "I will continue to bring the fight to all who profit from this crisis."
In addition to the liability charge McQueen was also charged with third degree possession of a controlled dangerous substance, and third degree unlawful distribution of a controlled dangerous substance.
Gramiccioni said if convicted on the liability charge, McQueen faces a sentence of 10 to 20 years in prison, with a minimum of 10 years served before he would be eligible for parole. The third degree crimes carry a sentence of five to 10 years in prison.
McQueen was being held held in the Monmouth County Correctional Institution pending a first court appearance.
More From WOBM:
Contact reporter Adam Hochron at 609-359-5326 or Adam.Hochron@townsquaremedia.com