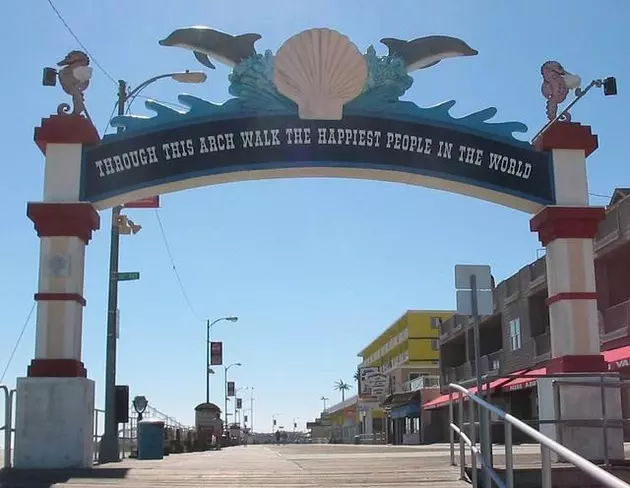 Jersey Shore boardwalks to go smoke-free — smoking advocates fire back
Entrance to the North Wildwood boardwalk (Mayor Patrick Romanello)
NORTH WILDWOOD — This will likely be the last year you will be able to smoke on one of the Jersey Shore's most popular boardwalks.
City councils in North Wildwood and Wildwood have introduced ordinances that, if approved, will prohibit smoking starting Jan. 1, 2018.
"We did that intentionally to give us the summer of 2017 to educate folks. We're going to encourage folks to not smoke on the boardwalk this summer and then next summer it will actually be banned," North Wildwood Mayor Patrick Romanello told New Jersey 101.5.
A vote is expected in Wildwood on Wednesday after the ordinances get a second reading with public comment. North Wildwood gives a second read on June 7.
Romanello said North Wildwood, which shares the two-mile long boardwalk with Wildwood, will run hourly announcements about the new law. Violation of the law will carry a $250 fine in North Wildwood.
"The major benefits to our guests is not exposing them to second-hand smoke. Even though the boardwalk is an open-air location it's very crowded. It would be similar to sitting at a baseball stadium with the guy sitting next to you smoking a cigarette," Romanello said.
There are also numerous small fires in trash cans along the wooden boardwalk and on the boardwalk itself. "We're lucky none of those fires have turned into anything serious but by doing this we are eliminating that possibility."
Morey's Pier on the boardwalk is already smoke free are other major outdoor attractions in New Jersey including Six Flags Great Adventure and Ocean City.
NYC Citizens Lobbying against Smoker Harassment (CLASH) spokeswoman Audrey Silk thinks the ban is nothing more than words.
"It's as good as the words on paper. New York City has banned smoking in parks and at beaches. It's unenforceable; people are still smoking. It will fade into oblivion," Silk told New Jersey 101.5
Silk said concern for public safety and secondhand smoke are "excuses for the ongoing war on smokers."
"You're outside on a breezy boardwalk, nobody is being harmed by smoke. The smokes dissipates immediately in that kind of atmosphere. You're standing on the boardwalk under a carcinogenic sun and you're going to discuss second-hand smoke? That's ridiculous" Silk said.