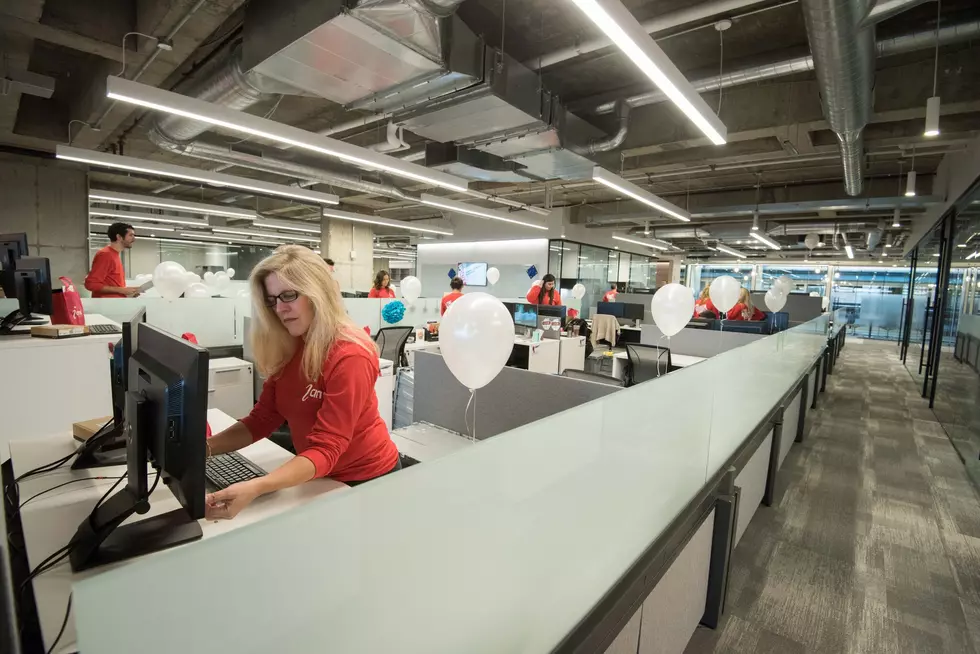 iCIMS, Bell Works firms set Monmouth's path into cyberspace
iCIMS, Holmdel (courtesy Jim Connolly)
HOLMDEL - A military base closes. A devastating hurricane hits. Either of these components can send a region reeling. Monmouth County endured them in the past 10 years, yet remains fundamentally resilient, due in no small part to private-sector ingenuity.
The Fort Monmouth Economic Redevelopment Authority can take a healthy share of credit. But save some for the leaders of tech-savvy businesses increasing populating Bell Works in Holmdel, signaling rebirth of the tract that is gradually returning to revenue-generating levels it hasn't seen since the end of Bell Labs and its progeny.
The most recent arrival, and the anchor tenant, is iCIMS, a leader in the field of cloud-based technology to support human resources departments and hiring managers in talent selection.
The decision by iCIMS executives to resituate their headquarters from their longtime space in Matawan signifies a resurgence in the value of Bell Works as a serious competitor for the title of Silicon Valley East.
iCIMS is one of the new breed of companies that are refining efficient, accurate and responsible use of cyberspace by businesses, continuing the communications trailblazing that won Nobel prizes for Bell Labs scientists when the frontier was satellite transmissions, cellular technology and fiber optics.
iCIMS maintains a roster of more than 3,500 customers for recruitment software, and is a regular on the NJBIZ list of Best Places to Work in New Jersey. The company also holds a spot on the Forbes Cloud 100 of top global private cloud-based companies.
Len Carella, the company's Vice President of Infrastructure, credits Somerset Development President Ralph Zucker for initiating the move, fueled by his desire to restore the tract to a leading-edge tech hive.
Somerset acquired the acreage in 2013, after Holmdel officials deemed it property in need of redevelopment, and has been a hands-on growth partner since then.
"The roots of Silicon Valley actually came from within these four walls," Carella explained. "His vision is to bring in tech companies" to resurrect the region's dominance in the field, and iCIMS advances the vision.
"Since our CEO, Colin Day, signed the lease, a lot of other tech companies - from a five-person start up all the way to Invidia, which produces software for self-driving cars, have been signing leases," Carella said.
Day, who began his rise by hiring technical personnel for Bell Labs, had room for 650 employees on three floors in two buildings in Matawan. He now has enough leased space to reach his target of 2,000 workers, all in one place. For Carella, it opens new vistas for teamwork and camaraderie that the company couldn't achieve in separate spaces.
Carella said that he's organizing meetings with chief information officers of other disparate tenants, including Jersey Central Power & Light, Comcast, International Flavors and Fragrances, and Guardian Life, to explore growth through collaboration and to convince even more next-generaiton technological experts that their back yards have everything that New York and elsewhere can offer.
"The collaborative space within the building allows people to interact, to share thoughts and ideas, technologies and challenges and solutions. It's invigorating, not only to the company itself, but to the companies collectively," Carella said.
Creation of skilled, well-paying jobs is as critical to Monmouth's future as it is to the companies that call it home. Bell Works is emerging as the wellspring for them, and for iCIMS, it pays dividends beyond the campus, as the county's proximity to New York City once again works in its favor, not as a community start point, but as a destination.
Carella says that he has engaged Holmdel Mayor Eric Hinds, and NJ Transit officials, in that vision. "The Park 'n Ride at the [PNC Bank] Arts Center...all those buses come from New York every morning, but they're empty. We'd love to draw more candidates to iCIMS through the reverse commute - pick people up in Hoboken, Jersey City or even New York, and drive them to the Park 'n Ride here, and come to work through mass transit in Holmdel, Monmouth County."