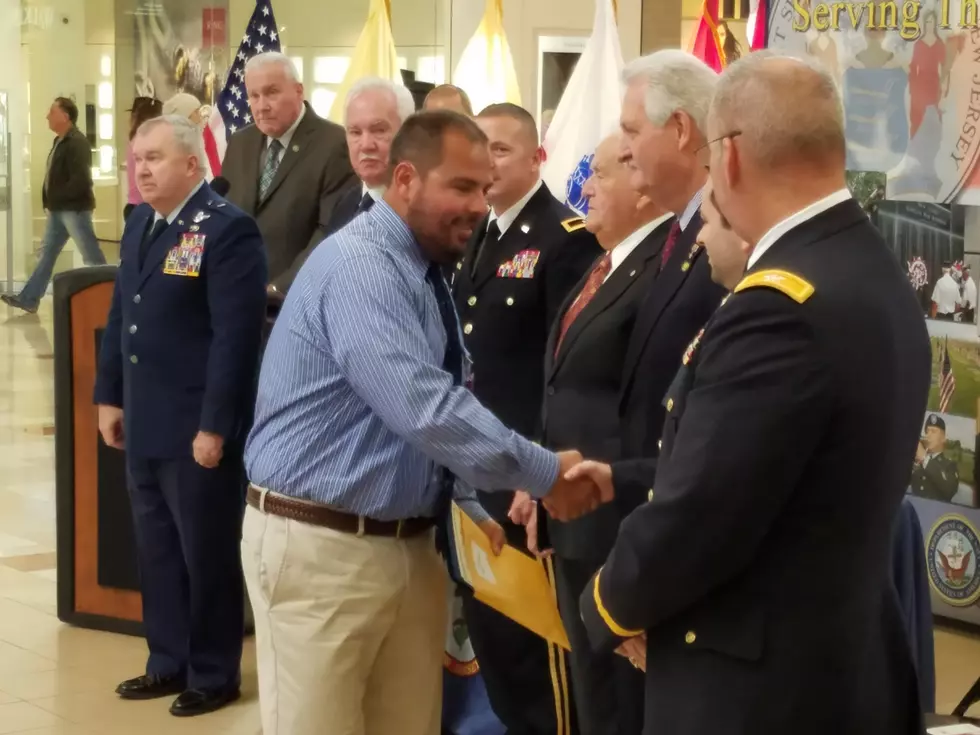 How we can help and honor our military veterans – in their own words
Military Veteran honored with medal in ceremony at the Ocean County Mall. (Vin Ebenau, Townsquare Media)
On Veterans Day, we recognize and remember those who've served our country in various wars and missions, a couple of local folks who placed their civilian lives on hold, to protect our lives, share ideas about how we can honor anyone fighting for the U.S.A.
Robert P. Low, of Mays Landing, was a Corporal during the Korean War. He believes that there's more than one way we can remember our military men and women. But, in the kind of modesty that typifies heroes, all he asks is that it's from the heart.
"There's probably a lot of things...exactly what, I'm not sure, but whatever it is, it's got to be good."
He adds that upon coming home from the Korean War, he was excited because everyone he left behind was waiting for him.
For U.S. Navy Machinist's Mate Second Class Joseph S. Slusar Jr. of Jackson who served our country in Vietnam, another way to help veterans is to resolve conflicts with V.A. (Veterans Administration) benefits.
"That would be a big thing," said Slusar. "Thank God I've never had to use the V.A. hospital or anything, but I know a few of my friends did get hurt over there. Sometimes it's really a trial to get through it."
On the other hand however, U.S. Navy Petty Officer Third Class Thomas M. Dooley, who served during Operation Enduring Freedom, says he's grateful for the service received from the V.A. since coming home.
"I think they've made leaps and bounds," said Dooley. "I think they just need to keep taking those huge steps forward to keep each generation feeling relevant and getting the same amount of care."
Dooley asserts that, no matter what war or branch veterans fought with, or in, they deserve similar care.
With the continued war on terror across the world, Dooley explains one thing that needs to be done to help our military.
"I think we need to bolster up our military again," said Dooley. "It's been depleted for no reason."
Dooley adds that he saw many fellow sailors get their walking papers, and believes there also needs to be a reinstatement of ratings as well.
But regarding the war on terror he adds, "we need to come at this with full force, because their getting stronger and we lessened our forces," Dooley adds. "We're still the best, we're always going to be the best, but I'd like to see us have a bigger service again."
For bonus content from the WOBM-Newsroom watch the videos below: