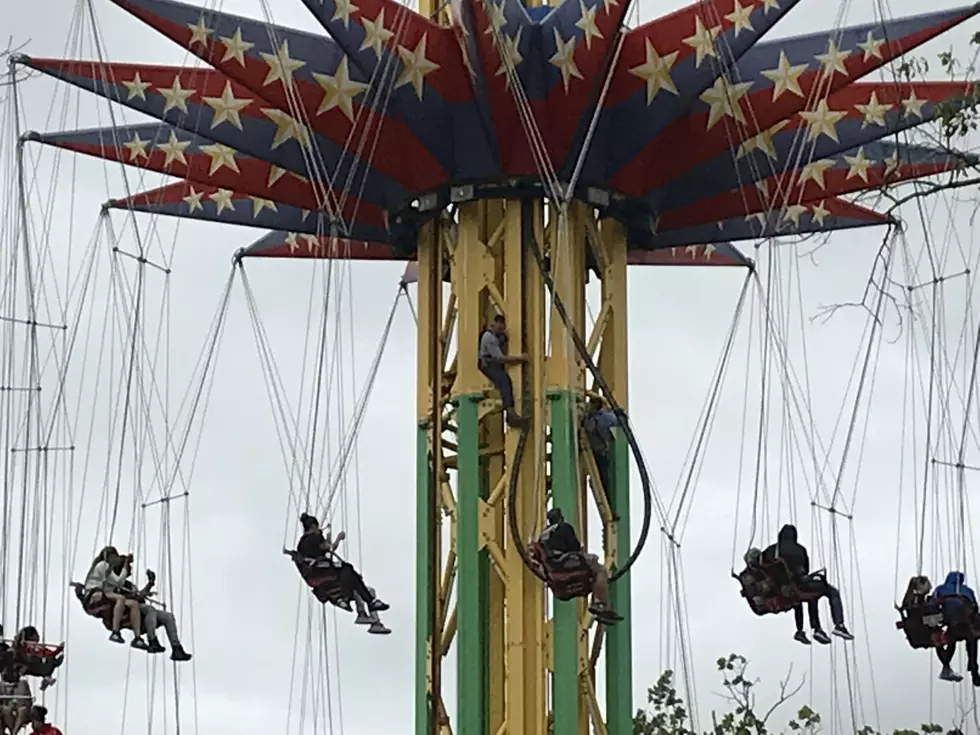 Here are the Top Ten Jersey Shore News Stories of 2018
Matthew J Gracon
As 2018 draws to a close, we're taking a look back at the year that was and the stories that were trending at the Jersey Shore and brought a wide range of emotions and community outreach.
These are the Top-10 News Stories and Videos from our Townsquare Media Jersey Shore stations of 92.7-WOBM, Beach Radio 1160/1310-AM, 94.3ThePoint and 105.7TheHawk in 2018.
Which one or ones were you impacted by the most? Drop us a comment below or on our Facebook page.
*The accumulated numbers are subject to rise in total views.
Here are the Top-10 most read news articles at the Jersey Shore in 2018:
The Brick Township Schools Superintendent sent out a letter to parents after concern began to rise about the "Momo Challenge" found on social media which encourages people to inflict serious harm to themselves that can have fatal consequences.
A body was found under this Jersey Shore borough's boardwalk on Saturday June 16.
The body was found between 9th Street and Ocean Avenue.
Democrats saw important victories on election night 2018 throughout New Jersey as unofficial election results came in from critical races.
Dereal Finklin, 43, of Plainfield made comments on the Facebook page of Congressman Chris Smith including posting a picture of Smith with the caption 'Dead Man Walking'.
Finklin admitted that his purpose in writing the post was to harass the Congressman and then realized those words were actually a threat to physically injure or harm Smith.
A co-owner of Caffrey's Tavern and Steakhouse said in September that the restaurant will rebuilt as the three alarm fire was determined to be accidental by investigators.
The Easter Bunny needed to be transported from the Ocean County Mall to Community Medical Center after passing out while on the job.
An Aberdeen man's two pugs were stolen in October sending out an alert to bring them back home.
A Whiting man was charged with eight counts of harassment in Howell after police said he followed women and their daughters, some as young as 8-years old, around stores in the township while making sexually suggestive, explicit and vulgar comments in their presence.
Howell Police caught a man suspected of an attempted home invasion.
19-year old Tristan Reyes was arrested by Howell Police and charged with two counts each of 1st degree robbery, 3rd degree possession of a weapon for unlawful purposes, 3rd degree unlawful possession of a weapon and 4th degree stalking after he followed a 38-year old woman to her home in the Ramtown section.
Police say he lurked around the side of the house peering into the open garage door.
He was then chased off the property by the woman's Rottweiler who began barking for the suspect to sprint to his mini-van and drive off.
1. Ride Gets Stuck In The Air At Six Flags In Jackson Sunday. (93,127 page views)
Do you have a fear of being stuck on a ride at an amusement park? That's exactly what happened to a group of ride-goers at Six Flags Great Adventure in Jackson on Sunday June 3 who got stuck up in the air and had to be lowered to the ground manually.
Park officials said that one of the ride's safety sensors detected an error and engaged the ride's emergency stop.
Here are the Top-10 News Report Videos of 2018:
10. Interview with Ocean County Prosecutor Bradley Billhimer (265 views)
This was an interview that gained hundreds more views on WOBM's Facebook LIVE with the new Prosecutor in Ocean County as of October 2018, Bradley Billhimer.
9. Implantable cardiac monitor gets FDA approval (434 views)
Angel Medical Systems, Inc. in Monmouth County received FDA premarket approval ahead of this August video for the AngelMed Guardian System which is an implantable cardiac monitor with patient alerting capability.
8. Monmouth County unveils countywide Operation Watchdog program (514 views on WOBM)
Monmouth County Law Enforcement agencies announced the first county wide installment of the Operation Watchdog program in New Jersey to join business and homeowners in solving crime.
7. Brick Police Chief James Riccio discusses 'We Tip' system (549 views)
An interview with Brick Police Chief James Riccio who discusses an anonymous tip system they're making available and encouraging residents to take part in.
6. Celebrating Ocean Gate's 100th Anniversary (592 views)
An interview detailing the 100-year history of Ocean Gate.
5. Alicia Cook Discusses New Book 'I Hope My Voice Doesn't Skip' (628 views)
Toms River author Alicia Cook on WOBM's Facebook LIVE discusses her new book as well as mental illness, getting help, the heroin and opioid epidemic and more. The video also gained hundreds more views on Facebook.
4. Drug Recovery Program for inmates introduced in Monmouth County (697 views)
Law Enforcement and Health Officials have unveiled a new program called 'Next Step' aimed at combating drug addiction and reducing jail reentry by offering a new path for inmates with substance abuse disorder in Monmouth County.
3. Ralph's Italian Ices in Toms River Under New Ownership (1,126 views)
Ralph's Italian Ices re-opens on Fischer Boulevard in Toms River under new ownership.
2. #NotEvenOnce forum comes to Berkeley Township (1,488 views)
The educational campaign known as #notevenonce came to Berkeley Township. Three officers who led efforts at Central Regional High School were joined by two recovered addicts now advocates for change.
1. Berkeley Island County Park Grand Re Opening (1,870 views)
For the first time since 2012, when Superstorm Sandy devastated the Jersey Shore, Berkeley Island County Park re-opened its gates.
Thank you for reading, watching and following our news team this year! We look forward to continue providing the news you need in Monmouth-Ocean Counties as well as beyond in 2019.