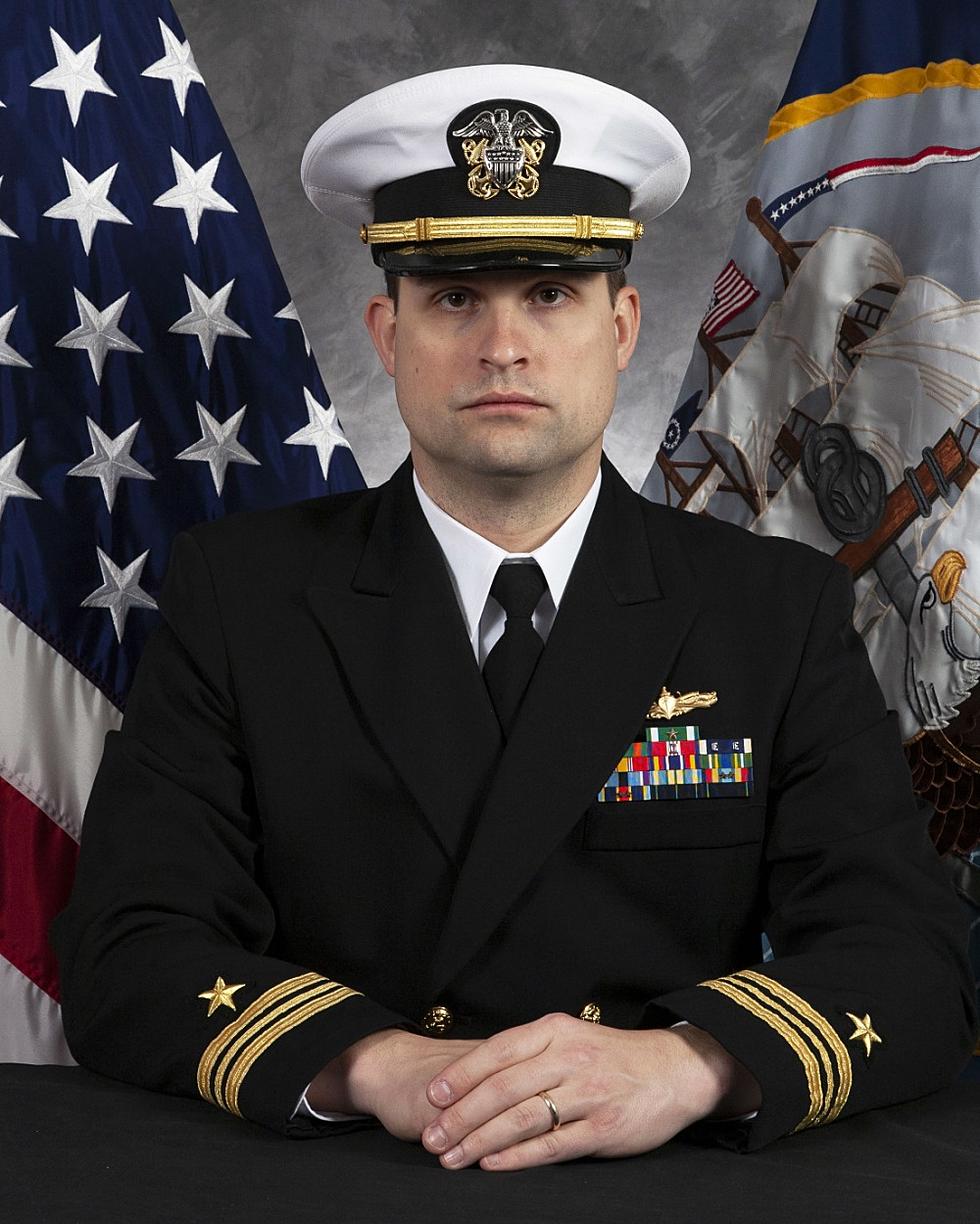 Freehold's Daniel O'Neill is our Warrior of the Week
From Naval Surface and Mine Warfighting Development Center Public Affairs
Congratulations to Freehold's Daniel O'Neill, our Warrior of the Week for the week of October 21st, 2019.

SAN DIEGO (NNS) -- Lt. Cmdr. Daniel O'Neill, an Integrated Air and Missile Defense (IAMD) Warfare Tactics Instructor (WTI) selected for early command will become the Commanding Officer of USS Shamal (PC-13), a Patrol Coastal Class warship, on October 11, 2019.
Shamal is one of three PC warships homeported at Naval Station Mayport, Fl., that deploys in support of U.S. Naval Fourth Fleet operations.
A native of Freehold, N.J., O'Neill graduated from Villanova University Naval Reserve Officer Training Corps and was commissioned May 16, 2008. He completed challenging assignments at sea serving as Communications Officer aboard USS John S. McCain (DDG 56), and as Fire Control Officer and Ballistic Missile Defense (BMD) Officer aboard USS Shiloh (CG 67) – both ships assigned to Forward Deployed Naval Forces, Japan (FDNF-J) – and deployed from Yokosuka, Japan.
"I couldn't be prouder about WTIs being selected for early command, it's a great accomplishment but not really a surprise," said Rear Adm. Scott Robertson, commander Naval Surface and Mine Warfighting Development Center (SMWDC). "We accept junior SWOs with top talent into the WTI program and we provide the guidance, resources and opportunities for them to hone their tactical expertise to become the Warrior, Thinker, Teacher that we are looking for – professionals that are going to develop combat ready ships and battle-minded crews."
O'Neill completed the Integrated Air and Missile Defense (IAMD) WTI course and was selected as the Honor Graduate in May 2014 – graduating at Naval Air and Missile Defense Command (NAMDC) which later became IAMD Division, one of four SMWDC Divisions when the Navy established five Warfighting Development Centers (WDCs) in 2015. The WDCs, were modeled after Naval Strike and Air Warfare Center - Aviation's Top Gun school - now Naval Aviation Warfighting Development Center (NAWDC). In addition to SMWDC and NAWDC, the Navy created Naval Information Warfighting Development Center, Naval Undersea Warfighting Development Center and Naval Expeditionary Warfighting Development Center.
WTIs are the backbone of SMWDC's four lines of operations (LOO) - advanced tactical training, doctrine and tactical guidance development, operational support, capability assessments, and experimentation and future requirements. WTIs support SMWDC's LOOs through training events like SSDS simulators at Wallops Island, Va., Amphibious Ready Group (ARG) and Carrier Strike Group (CSG) Cruiser-Destroyer (CRUDES) Surface Warfare Advanced Tactical Training (SWATT) planning and execution, as well as in the development and review of doctrine and TTP.
Following graduation and qualification as an IAMD WTI, O'Neill was stationed at Aegis Training and Readiness Center (ATRC) onboard Naval Support Facility Dahlgren, Va., where he completed his WTI production tour serving as the BMD Course Supervisor. His responsibilities included Navywide maintenance of BMD curriculum and ensuring top quality BMD instruction at ATRC.
O'Neill's most recent sea duty assignments were aboard USS Chancellorsville (CG 62) where he served as Weapons Officer and then as Combat Systems Officer, and participated in the first ever FDNF-J CRUDES SWATT exercise.
"For me the highlight of SWATT was seeing the Chancellorsville Combat Team plan and execute a complicated multi-mission problem set including a Life Fire With a Purpose SM-2 missile launch event," said O'Neill. "I was reminded of attending the Integrated Air Defense Course at NAWDC, which is taught by a team of Carrier Airborne Early Warning Weapons School TOPDOME WTIs, Navy Fighter Weapons School TOPGUN WTIs, and fellow SMWDC IAMD WTIs. I learned that confident and prepared instructors can effectively pass knowledge and advance a student from a basic level of understanding to a competent tactician over a course of instruction."
SWOs interested in professional growth and development with opportunities to increase the Fleet's readiness and lethality can email the WTI program managers at SWO_WTI@navy.mil. Additional updates are also included in the ALNAVSURFOR message released by Commander, U.S. Naval Surface Forces (DTG 211608Z AUG 19) that highlighted the WTI program.
SMWDC is a subordinate command of Commander, Naval Surface Force, and U.S. Pacific Fleet and exists to increase the lethality and tactical proficiency of the Surface Force across all domains. SMWDC headquarters is at Naval Base San Diego with four divisions in Virginia and California focused on ASW/SUW, MIW, AMW and IAMD.
Congratulations to Daniel O'Neill, our Warrior of the Week.
Do you know a deserving past or present military member? Nominate them now. Every Military Monday, we'll share one of the nominations and honor that person as our Warrior of the Week.
More from Townsquare Media: