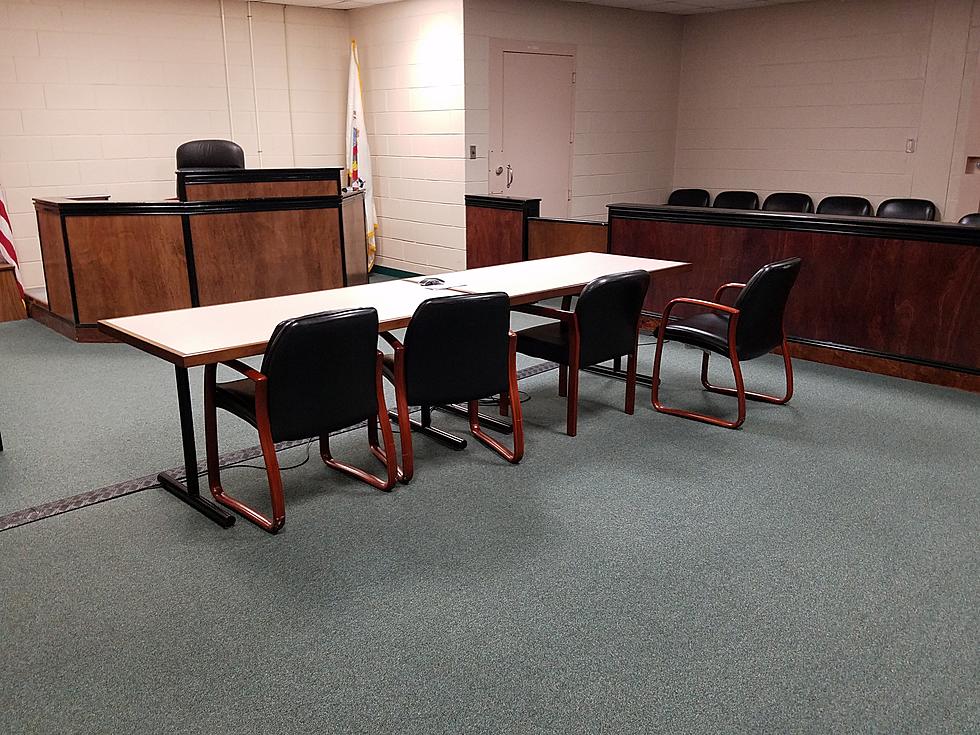 Former Ocean Township, NJ Police Officer pleads guilty to theft and forgery charges
Court room at the Monmouth County Correctional Institute. (Vin Ebenau, Townsquare Media New Jersey)
A former Ocean Township Police Officer who orchestrated and carried out a real estate scheme on properties in Brielle has now pleaded guilty to three counts of third-degree theft and one count of fourth-degree forgery, Acting Monmouth County Prosecutor Lori Linskey announced on Monday.
Cory R. Cole, 51, of Brielle, under the terms of a plea agreement, faces probation with 180 days in Monmouth County Correctional Institution, unless he pays $8,400 in restitution to both of his victims prior to August 12 of this year when he will be sentenced.
If that happens, Acting Prosecutor Linskey said that the State will recommend non-custodial probation, and Cole, regardless, is to not have contact with the victim.
Cole was indicted last June on a nine-count indictment that included one count of 2nd-degree Theft By Deception, two counts of 3rd-degree Theft by Failure to Make Required Disposition of Property Received, three counts of 4th-degree Forgery, and three counts of 4th degree Uttering a Forged Instrument.
The Monmouth County Prosecutor's Office learned through an investigation that Cole, who had a side-job of buying, flipping, and renting real estate, went after his former marriage attorney, who filed a judgment against him over unpaid attorney fees, by forging a letter in her name to buy a property on Borrie Avenue in Brielle.
"Cole would not have been unable to secure the $425,000 loan to purchase the property if the lender was aware the judgment against Cole was outstanding."
He also illegally took in $4,200 in security deposits from two tenants on Fisk Avenue in Birlle and tried to get them to pay more money to him by telling them they owed money for unpaid utility bills, even going so far as to show them a bill -- albeit forged -- from New Jersey Natural Gas.
One of the tenants had planned on renting a property of Cole's on Borrie Avenue he had signed a lease for, but that didn't happen.
The MCPO combed through Cole's bank records and saw that he deposited her $4,200 check into a bank account and then withdrew the bulk of it in cash several days later, Linskey said.
Cole resigned from his employment with the Ocean Township Police Department when criminal charges were filed in January of 2020.
Acting Prosecutor Linskey said that the case is being prosecuted by Monmouth County Assistant Prosecutor Melanie Falco, Director of the Office's Professional Responsibilities and Bias Crimes Unit.
Cole is represented by Allison Friedman, Esq.
How Firefighters training helped put out major fires