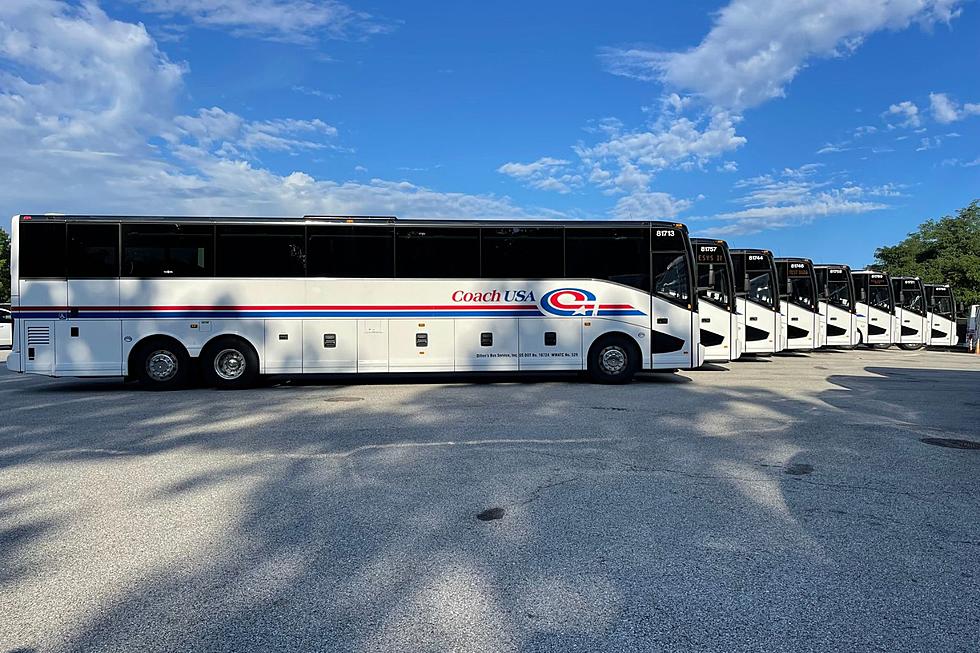 Bus company ends commuter service: Cities look to NJ Transit for help
Coach USA buses (Coach USA)
🚌 Coach USA will end its ONE Bus commuter bus service
🚌 The routes are no longer financially viable, according to Coach USA
🚌 A county commissioner and mayor are seeking help from NJ Transit
---
A decision by Coach USA to end its ONE Bus commuter bus service in October was met with anger and disappointment in the three cities affected.
Service for ONE bus routes 24, 31 and 44 in in Elizabeth, Newark and Orange will end on Oct. 8 because the routes are no longer financially viable to run, according to a statement from Coach USA.
Newel Scoon, vice president of the East for Coach USA, blamed decreasing ridership, driver shortages and inflationary pressures on its operating expenses for the decision.
He said that Coast is "acutely aware" of the importance of the lines to the communities it serves. The difference is that unlike NJ Transit it does not receive any government subsidies.
"In an environment with consistently lower passenger counts and higher incurred costs, the losses are substantial. Revenue only covers about half of the current cost of operating the service," Scoon said.
Dan Rodriguez, Vice President of Public Affairs at Coach USA, said the line will work with government officials to lessen the impact of the cancellation.
Coach USA's other commuter service is not affected.
Impact on Jersey Gardens workers
Elizabeth Mayor Christian Bollwage is most concerned about the effect of route 24 which serves the Jersey Gardens shopping mall and the adverse impact on workers.
"The people who would go home after 8 o'clock in the evening are now stuck with finding alternate transportation, whether it be by Uber or taxi or friends or neighbors. It's really causing a problem," Bollwage told New Jersey 101.5. "I've been in conversation with Commissioner Bill O'Day in Hudson County because they were also adversely affected and we are calling collectively on New Jersey Transit to take over these routes."
Bollwage said he will be speaking with NJ Transit CEO and President Kevin Corbett on Tuesday.
NJ Transit took over DeCamp's commuter service in Essex County by modifying four existing routes. It's also being asked to take over A&C Bus routes on the west side of Jersey City before it ends service on Oct. 31.
NJ Transit is facing financial issues of its own and has a $917.8 million budget deficit for fiscal year 2025. The agency is also involved in contract talks with The Brotherhood of Locomotive Engineers and Trainmen, the union representing its train engineers. Members have authorized a strike to be called by leadership. Talks have been in mediation for three years.
"So I have a very parochial attitude in dealing with the city of Elizabeth and the services to the business community and the people who live here. The 24 bus is a major partner in that effort in order to get people to and from work. The big picture of New Jersey Transit is frankly, above my pay grade," Bollwage said.
Newark Mayor Ras Baraka told NJ.com in a statement the decision is "unconscionable and irresponsible" and would create a crisis for his city.
NJ Transit on Monday morning did not respond to New Jersey 101.5's request for comment.
Report a correction 👈 | 👉 Contact our newsroom
Let it snow: The last time we saw snow for Christmas in NJ
NJ's dry towns: No stores to buy wine, beer or booze
Among NJ's hundreds of communities — more than two dozen remain "dry" as of 2023.
Examples why 440/287 can be both potentially dangerous, and unnecessarily confusing
As if the traffic on NJ-440 & I-287 isn't bad enough.